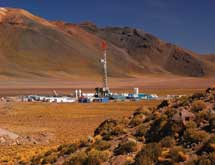 Estrella International Energy Services Ltd.
From its modest beginnings as a drilling services start-up in 2001 to its current status as an emerging leader in the Latin American energy services sector, Estrella International Energy Services Ltd. has grown significantly in its 10-year existence. Today, the Buenos Aires, Argentina-based company maintains 25 rigs and offers a suite of comprehensive services from drilling tools and services to project development, management and consulting.
According to Gary Pidcock, vice president of new ventures, Estrella has never been confined to the boundaries of Argentina and has been growing organically in Chile, Peru and Bolivia. Recent acquisitions have enabled it to venture into the Colombia market while continuing to perform projects in neighboring countries. Nor is Estrella limited to oil and gas opportunities as it also serves the mining and geothermal energy arenas, he adds. "When it comes to drilling and servicing, we like to think there is a way we can share between the different industries," Pidcock notes.
"Traditionally, the geothermal industry has grown up entirely separate from the oil and gas industry, but I think players on both sides realize we have a lot to learn from each other," Pidcock continues. "Consequently, the techniques, systems and technologies that have been developed for the oil and gas industry are applicable to other areas. We have a very modern, high-tech rig that we used for a geothermal project in Chile last year. These days, knowledge is very much a moving target that requires the effort of multiple parties to debate what will and what won't work."
This mindset has been central to Estrella's approach to project management, he adds. "When we started offering a consultancy service, it was to help operators optimize their businesses," Pidcock explains. "So, we weren't so much selling a product as we were a knowledgeable form of process management."
Continued Growth
Despite its rapid growth, Estrella maintains a conservative approach to expanding its business. Pidcock says the company studied the Colombia market for a long time before it decided to make its entrance. "The number of rigs operating in Colombia have almost tripled over the past two years," he states. "The government has been very proactive and offers good terms for operators to come in and work. However, we recognized a year ago that to initiate growth, a single rig or service was not going to make it in the Colombia market. It came down to the fact that acquisition was going to be the preferred entry."
Estrella surveyed a number of companies available for acquisition and shortlisted four candidates. "Out of the four we were able to get two," Pidcock recalls. "The third company was in the process of being acquired by one of those two companies when we did the final deal. Now the challenge is to integrate, promote and develop those companies under the Estrella banner, and bring a more efficient and forward-thinking management approach to that area."
The company gained a number of rigs from its Columbia acquisitions that are presently undergoing modifications and upgrades, Pidcock reports. For now, it has 14 rigs operating in Colombia, as well as four rigs in Argentina, two in Peru, one in Chile and one in Bolivia. "Bolivia was an area we did not look upon for growth initially," he remarks. "However, during our recent decision to go public, one of our directors – who is the ex-energy minister for Bolivia – gave us the confidence that moving into that market was a good decision."
Estrella's management has more than 100 years of experience combined working for major and independent companies. "Between all of us at the executive level, we have worked in every country in South America," Pidcock notes.
One of the company's objectives is to "bring higher technology to the business," according to Pidcock. "South America has not been exposed to some of the services and equipment available in places like the Gulf of Mexico where the focus on efficiency and quality have been a little bit higher," he says. "So, we try to bring in new technology, new equipment and new services to improve that approach and differentiate ourselves from our competitors.
"We realize we've grown very quickly and need to consolidate and establish ourselves within the markets that we currently have," he adds. "However, we will maintain an outlook towards improving technology and being the leader in bringing in new types of services and equipment to the market."