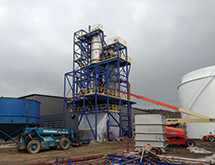 Eureka Resources provides wastewater treatment services for oil and gas producers in the Marcellus and Utica shales. Based in Williamsport, Pa., the company continues to expand due to an increased demand for oil and gas wastewater treatment, recycling and reuse in the region.
Its original Williamsport plant opened in 2008 and was expanded in 2010. The plant treats as much as 420,000 gallons per day. Eureka Resources says its customers appreciate its ability to reduce use of fresh water as well as the costs associated with wastewater sustainability, pretreatment, recycling and disposal. The Williamsport plant also provides a wastewater disposal alternative for exploration and production (E&P) companies in the region in that it employs thermal treatment technology to convert oil and gas wastewater to distilled water, which is ultimately discharged to a surface water following treatment in a municipal Publicly-Owned Treatment Works (POTW). This capability is unique to Eureka relative to other oil and gas wastewater treatment facilities in the region.
Eureka Resources treats wastewater created during exploration and production activities, says Kent McManus, vice president of engineering. This includes water from hydraulic fracturing and flowback plus produced water, gas gathering system condensate, mud and residual solids. Eureka Resources can either recycle the water for additional use or treat it to be safely discharged. The end-results of some processes even produce marketable products that may be used for other purposes.
High Level Of Treatment
"Our model is to provide a high level of treatment and then return it to oil and gas operators, or discharge it with permits to the local sewer or river returning it as clean water to the hydrologic cycle," McManus explains.
"The majority of our competitors are in the recycling market; they clean it up and return it for reuse only," he adds. "There isn't a true disposal option for them if the producer just wants to drop off [the wastewater]."
Despite slightly depressed natural gas prices, production continues at a brisk pace. This has led Eureka Resources to expand and open two new facilities.
In March 2013, the company broke ground on a facility in Standing Stone Township near Towanda, Pa. and the plant was fully operational in the first quarter of 2014.
"Eureka Resources is excited to bring sophisticated process technology to the area that serves the needs of energy producers who are looking for solutions to treat and reuse wastewater as an alternative to deep well injection," Sales and Marketing Vice President George Banashefski says.
The facility is situated on a 22-acre parcel of land owned by Eureka Resources. The first treatment phase performs pretreatment and MVR crystallization. The second phase includes a biological treatment system comprised of a membrane biological reactor process coupled with a reverse osmosis system to provide additional treatment of distillate produced from the crystallizer process. The Standing Stone facility will also have the capacity to pretreat 420,000 gallons per day of wastewater.
In 2013, Eureka Resources opened another site in Williamsport. The Williamsport Reach Road Facility meets the growing need for pretreatment of flowback and produced wastewater from gas wells in the area. The facility can store more than 1.5 million gallons of wastewater from oil and gas production prior to pretreatment, and has permits and approvals necessary to construct a treatment facility similar to the Standing Stone, PA plant.
The Reach Road facility utilizes a treatment scheme that uses cartridge filtration to remove high concentrations of total suspended solids.