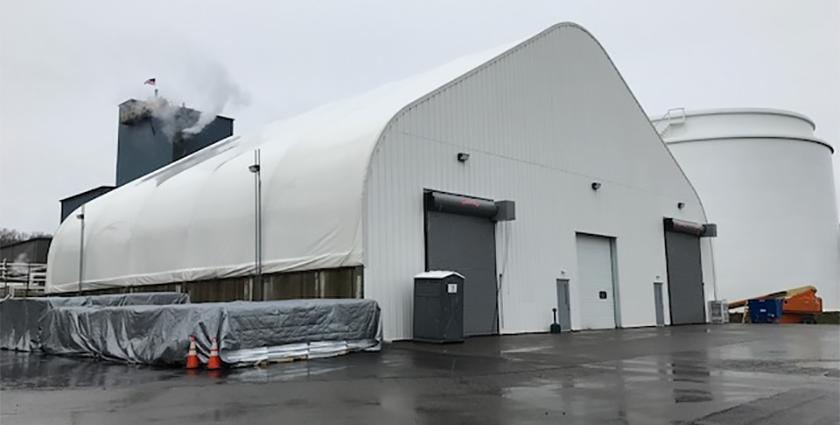 Eureka Resources recovers vital resources from flowback and production wastewater.
It's a good time for Eureka Resources to be in business. "What we're finding is E&P companies are more and more ready and willing to talk to us," co-founder and CEO Dan Ertel says. "This is what we've been working towards."
The Williamsport, Pa.-based company provides a sustainable service to the industry as it pre-treats, recycles and disposes wastewater from natural gas drilling and production operations in the Marcellus and Utica shales. Ertel and Vice President of Sales and Business Development Tim Butters started Eureka in 2008 when they learned there was a need for a brine-treatment facility in the local area.
The two co-founders began serving the oil and natural gas industry when they discovered water from the Marcellus Shale was being treated without the removal of large concentrations of dissolved solids. After looking at ways to remove these constituents, Eureka formed an exclusivity with a distillation technology company.
Over time, Eureka added crystallization technology to convert the wastewater into distilled water and developed its own process to return the fluids to freshwater conditions. This patented process also separates sodium chloride from the water.
"We package sodium chloride and market it as swimming pool salt," Butters says, noting that this is sold into the marketplace. "We produce between 50 and 75 tons a day."
"We also subsequently developed technology for extracting methanol, which we sell back to an industrial wholesaler," Ertel adds, noting that the company also extracts calcium chloride as a liquid solution, which Eureka markets.
Eureka also added trucking service that helps move the water and other products between its plants and its customers' locations. "[It] make sense to make logistics easier for certain customers and ourselves," Ertel says.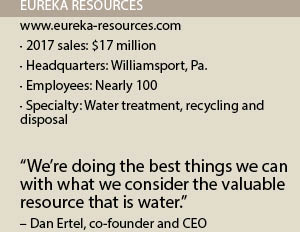 Leading the Pack
Eureka purifies approximately 1.4 million barrels of wastewater annually, which is often used again by E&P companies. "We're also the only company in Pennsylvania that currently returns water back into the hydrological cycle," Butters adds.
Ertel notes that the company has set itself apart from competitors through its willingness to improve its processes. "We're constantly researching the development of new technology," he says.
But Eureka still has room to further develop its technology. "There are other valuable minerals in the wastewater that we would like to extract through our processes," he admits.
The company also stays abreast of environmental regulations, Ertel adds. "We're doing the best things we can with what we consider the valuable resource that is water," he says.
In fact, the company's efforts have earned it frequent visitors at its facilities in Pennsylvania. "We welcome a wide variety of organizations into our facility," he says, noting that many groups including the Environmental Defense Fund and others have taken tours of its operations. "We welcome them, and we share information.
"The Penn State University Cooperative Extension also brings people from all over the world, [including] Germany, Poland, and England, that are trying to develop shale plays and are concerned about water," he continues. "There probably isn't a half a year that goes by when we don't get asked to host some visitors."
Eureka also has won recognition, including being named the "Wastewater Management Company of the Year" at last year's Oil & Gas Awards. "It is very gratifying," Butters says.
Big Opportunities
Eureka is preparing for a business boom. With new pipelines coming online in the Marcellus formation, "It's going to be producing more gas," Ertel says. "There's going to be an increase in produced water over the next few months.
"That's something we've been waiting for," he continues, noting that the pipelines' construction was held up by regulations for several years. "It's great to see the pipeline construction come to fruition."
The company also has its sights on growing its footprint. While Eureka plans to expand its plants in Pennsylvania, "We're currently looking to expand in some other places as well," he says, naming southeastern Pennsylvania, Ohio and Colorado as potential areas to grow.
Eureka also plans on going out west. "We're working on developing a whole new operation and a whole new play in the Permian Basin," he says, noting that this would bring the company to northwestern Texas and southeastern New Mexico.
"We see another huge opportunity down there because of the difference in the water balance," he says, noting that more water comes out of the formations than oil. "We can turn large portions of that volume into freshwater. It's a much larger market than Pennsylvania."
A Win-Win
Ertel sees a strong future for Eureka, as more and more oil and gas companies adopt sustainable water management solutions. "Folks have a deep concern for the environment and [want] a sustainable solution for managing these water solutions," he says.
"You're going to see a migration over time with many E&P companies choosing Eureka or similar companies who can provide a sustainable alternative to injection," he says. "It's a win-win for everybody."
Butters agrees. "The longer this plays out, the more favorable the Eureka solution becomes," he says.