Use the forge
Founded in the early 1970s by Mikel Redín, the current president of the company, Euskal Forging began ring-rolling operations in the 1980s. Originally operating with one manufacturing plant that produced seamless rolled rings up to 1.5 metres and 400 kilograms, Mikel gradually increased the range to 10.2 metres and 80 tonnes by 2015. With three different manufacturing locations, taking up 47,000 m2 in space in Northern Spain, and five ring rolling machines, Euskal Forging today has one of the broadest ranges in the world, going from 0.4 metres to 10.2 metres in the outer diameter and from 30 kilos to 80 tonnes.
The diversity of its portfolio and its long-term experience in the market has resulted in a strong customer base in a broad spectrum of industries, as José Luis Azurmendi, Sales Director begins: "Euskal Forging exports the majority of the volume it produces to more than 22 countries. Our customer base varies from large, globally operating multinational organisations to medium and small companies that act as tier two and three suppliers locally. The large corporations we work with are heavily involved in the energy sectors, such as offshore and onshore wind, nuclear, oil and gas, hydropower and tidal. We are also heavily involved in other industries such as defence, mining, cement, power transmission, marine, food processing and capital goods."
To ensure customers receive high quality products, Euskal Forging employs the finest raw materials, including the highest quality vacuum degassed steels in carbon, alloy, stainless, duplex steels and super alloys. Discussing the company's manufacturing process, Sabino Otaegui, Production Director states: "With an extensive variety of raw materials in place, the heating process is carried out in ten gas furnaces that are programmed to automatically execute heating curves. The manufacturing continues with an automatic punching process, which is considered to be the most innovative design within the sector today. Lastly, the heat treatment, perhaps the most critical process, is carried out within Euskal Forging's facilities with the use of further advanced technology to provide different treatments, such as normalising, annealing, quenching and tempering.
"Within the oil and gas industry, Euskal Forging supplies seamless rolled rings that can have multiple applications depending on the level of added value requested. In this area we provide a one-stop-shop solution where added value isprovided in the way of machining, gear cutting, induction hardening or welding; it is essentially anything that the customer may need to save time and money to avoid costly and difficult transportation from one subcontractor to another."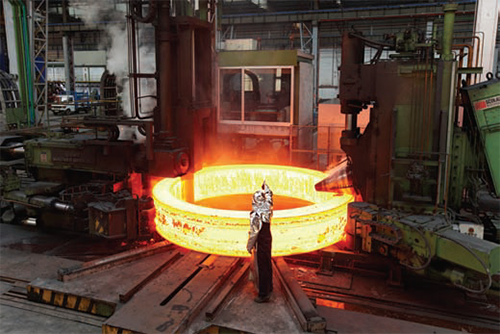 Having defined itself as part of the customer's supply chain, the customer centric company is focused on reducing costs that will enable clients to win orders, make their product more competitive and adapt deliveries to their production needs so stocks can be reduced. "In addition to valuable customer service, innovative machinery and plant location are amongst our competitive attributes. In fact, in 2014 we did a full study of the rivers in Europe that can be used for transport and we have found that our ability to reach customers that use very large rings by barge is 90 per cent," says Josu Ortego, Deputy Head of Sales.
To maintain its leading reputation for quality and punctual delivery, Euskal Forging ordered its fifth ring rolling machine from SMS Meerin September 2013. The machine is currently being commissioned and is set to be the second most powerful ring rolling machine that SMS Meer has built to date. "This machine will help to ensure Euskal Forging continues to meet the ever-increasing demands of the industry for larger rings, as coke drums, rotating machines or autoclaves become bigger, wind turbines become taller and larger generators are needed up to at least eight megawatts, particularly within the offshore sector," highlights José Luis.
The Raw 1000/1000 machine will be fitted with modern ancillary equipment so products such as tower and foundation flanges built for wind turbines can be produced on a cost efficient basis. Moreover, the machine's location by the harbour, alongside the company's ability to load directly into a barge from its facility is to be a key factor in Euskal Forging's ongoing success in the future, particularly when it comes to the transportation of large rings reaching up to seven metres. "This is a special and unique service as no other company in Europe has this availability; we can essentially make projects feasible that would otherwise be too risky due to transport conditions," says José Luis.
Currently the world leaders for flanges in the offshore wind industry, Euskal Forging won five of the six projects it bid on in 2014, a success trend that is certain to continue as the company finds new and innovative ways to continue improving its services. "Over the next 12 months we will focus on new areas at our Iruraplant, namely super alloys and more demanding steel grades. The super alloys are mainly used by the oil and gas and aerospace sector; to meet the needs of our customers within these sectors we have carried out investments and increased our engineering headcount. On top of this, we have received the EN9100 accreditation and are investing to get the approvals from the end customers and OEMs. We are currently running a number of trials with them to get their homologations soon," concludes Josu.
Euskal Forging
Services: Manufacturer of seamless rolled rings and free forged parts
Issue 122 July 2015