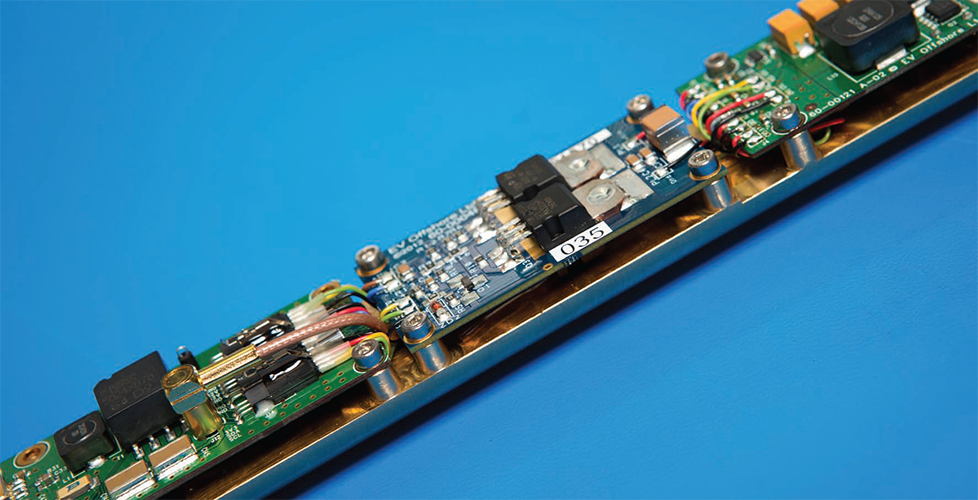 Technological leader
Founded by chief technical officer Jonathan Thursby in Norwich in 2001, downhole video specialist EV began as a small team of engineers who developed their expertise in ruggedized CCTV cameras for use on boats or cars, to give close up views of action related events.
"The original designs were used in racing environments such as the British Rally Championship, Formula One, the BT Around the World Yachting Challenge and also Top Gear," explains Federico Casavantes, VP marketing for EV. "However, in 2004 we were commissioned to develop a camera for a UK customer that would be used for diagnostics in oil and gas wells in the North Sea. From here the first generation of our OPTIS RT-120 was launched and deployed commercially."
Following this strategic move into the oil and gas industry, the company's expertise in this business segment was further strengthened with the appointment of Francis Neill, an experience oilfield services professional, as CEO in 2010. "Mr Neill has taken EV from a small Norwich based organisation to the global service provider it is today," confirms Federico. "Since 2010 we have grown from 15 employees with annual revenues of approximately one million pounds, to a global entity of 115 employees and annual revenues of more than £20 million. In the last 12 months we have run more than 1400 downhole camera jobs in 35 countries and witnessed a profit increase of 109 per cent; this success stems from our consistent delivery of high quality downhole video cameras that are able to operate in the most extreme environments as well as our knowledge on how to obtain images in these conditions. It is not only our leading edge technology that is key to our success but also our highly experienced and competent operations team that is able to advise our customer base on the best procedures and preparation to capture the best video images."
By using the expertise it gained from operating ruggedized cameras in fast paced yet moderately benign environments, EV has been able to transfer and develop its know-how into the oil and gas industry and thus transform itself into the global market leader in downhole video technology. "Our headquarters are in Aberdeen and Norwich, but we also have 17 operating locations across the world; our region head offices located in Canada, the US, Latin America, Europe, Western Africa, the Middle East, South East Asia and Australia," says Federico.
To retain its technology leadership in the downhole video market, the company invests more than ten per cent of its annual profits into research and development, which has resulted in camera systems that can work to 10,000m below the surface in environments up to 125 degrees Celsius and 15,000 psi. Proud of its success i obtaining images that can help customers find solutions in the harshest of environments, EV has a success rate of more than 95 per cent thanks to its ultra-modern technology and expertise in high speed data transmission, video compression techniques, CCD sensors, optical and lighting technology and image processing.
"We specialise in providing well diagnosis services to oil and gas operators; our services are based on a range of downhole video cameras, which we call OPTIS. These can be deployed on electric line, slick line, drill pipe and coil tubing. The main feature of our cameras is that they utilise a proprietary telemetry, which enables us to stream up to 300 kilobits per second of data on a monoconductor cable and can thus provide a full colour video of up to 25 frames per second. We can also record up t 35 frames per second in memory. In terms of ruggedization, OPTIS Downhole Video cameras hit a record in 2013 when a job was successfully run to 28,522 feet/8695 metres for an operator in the Gulf of Mexico," highlights Federico. EV's HD E-line camera works on 35,000 feet of mono-conductor cable; this combined with sensors that also operate at up to 15,000 psi, means customers can rely on quality video diagnostics deeper than ever.
The most recent example of the company's commitment to innovation is its new Integrated Video Caliper (IVC), which provides real-time answers to well integrity issues and is based on EV's proprietary telemetry that transmits data to surface at a speed two to three times greater than industry standard systems. "Thanks to our telemetry, the main feature of the IVC is that it combines qualitative HD video data with quantitative Multifinger Caliper dimensioning. Normally, in the realm of video imaging, it is not possible to quantify the size of the problems or anomalies encountered in the well. However, by combining our cameras with our Multifinger Caliper, we're not limited to only seeing what is happening, but now, we can also accurately assess the dimensions of the problem we are looking at. The benefits of this integration are all too clear; in a single run in the well, EV is able evaluate downhole completion problems like corrosion, pitting or ruptures to even greater detail than has ever been possible before with standalone electromechanical measurement devices," explains Federico.
"With IVC, the axial downview camera is run as the tool goes into the well, capturing a real-time overview of the well features. When at bottom, the Multifinger Caliper is opened to obtain a dimensioned circumferential profile of the well as the tool is pulled out. By switching on the lateral camera we can further inspect any serious conditions or anomalies by taking a circumferential 360 degree video at any point of interest. All this data can be streamlined instantaneously, as it is being acquired, to our customers' remote offices so they can make decisions on whether additional information is required or whether they will begin to deploy equipment to start a repair operation. The thing to note is that when EV pulls the IVC out of the well, our customers have 100 per cent certainty of their well integrity conditions," he adds.
Officially launched in 2014, the IVC has successfully completed in excess of 40 operations, primarily in Canada where it was tested and developed, but also in the UK and Italy. Following the success of this innovative product, Federico anticipates further opportunities for the EV as its remains focused on growing customer awareness of the value of downhole video by providing them with robust, high quality and unique answer products. "As a firm specialising in well diagnosis, our focus is to continue to build on our downhole video expertise to retain industry leadership and to add further value to our customers. Wherever there is an opportunity to provide more robust answer products, we will look to integrate complementary sensors. We anticipate further market growth in the regions where we are already present, and will actively open operating bases in new geographical regions to ensure we are better able to support our growing customer base," he concludes.
EV
Services: Downhole video specialist