Evoqua / Electrocatalytic
The first choice
Evoqua Water Technologies was established in January 2014, following the sale of Siemens Water Technologies. Evoqua has a rich history within the water treatment market, with for example its Wallace & Tiernan® brand being synonymous with disinfection for over 100 years, whilst the name Electrocatalytic has been accepted in the power, oil and gas, and marine markets for over 50 years. Today the company is a truly global operation with 170 locations across the world that employ more than 3000 people, with more than 200,000 installations across the world, serving the water needs of hundreds of millions of people and tens of thousands of businesses.
"Evoqua is a global organisation that is focused on the requirements of customers across a range of industries and applications," explains Vice President Electrocatalytic, Ian Stentiford.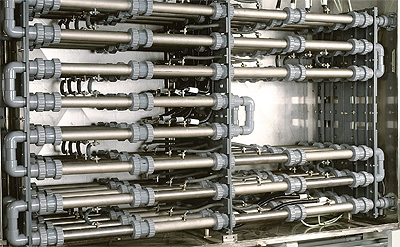 "Evoqua's Electrocatalytic product range specialises in the use of seawater for in-situ sodium hypochlorite generation for disinfection and fouling reduction, and on corrosion control using cathodic protection systems. We understand the environment in which our equipment has to work, our engineering expertise means that we appreciate the specific challenges our customers face and we work within our customers' specifications to meet their standards. Evoqua Water Technologies can also boast of a global service network of factory trained and certified engineers that can offer support 24/7/ 365 days a year for any technical queries."
Evoqua supplies the global oil and gas industry with its industry standard Chloropac® system. The Chloropac hypochlorite generation system provides an environmentally safe method of preventing biological fouling using technically superior equipment for energy efficient, long-term plant operation. Evoqua serves clients in markets throughout the North Sea to Africa, Brazil, Middle East, Far East and Australia. "We have thousands of systems installed worldwide, and have supplied a Chloropac system to 75 per cent of the industry's top rig operators," Ian observes. "The system has also been widely used in the marine industry for biofouling prevention, and we are extending this expertise to our SeaCURE™ Ballast Water Management System for impending IMO and USCG regulations. The Chloropac system is designed to prevent marine growth in seawater piping, heat exchangers, sea chests and coolers. For uninterrupted operation, the Chloropac® system's low-level continuous hypochlorination capability has been shown to be more effective than other types of marine growth prevention systems, and further, the Chloropac system may also be used for shock dosing."
Evoqua's Electrocatalytic product range has been developed in-house and is capable of supplying seawater electrochlorination and cathodic protection systems for a variety of applications.
The Chloropac® system treats water systems to prevent bio-fouling by injecting a sodium hypochlorite seawater solution in to the main water flow. This provides a disinfecting environment in which organic growth is inhibited and where organisms continue with the water flow until outfall from the system. By producing hypochlorite in-situ from natural seawater there is no environmental impact from dosing foreign substances or chemicals.
The current climate within the oil and gas market, brought about by the depressed price of oil, has encouraged operators to seek the most economic solutions in every aspect of the day-to-day running of projects. This has led to the development of a standardised version of the Chloropac® system, to help clients address cost challenges without comprising safety, reliability or quality.
"Our future standard products will be designed to not only boast significant footprint and weight reductions, but will also be economically superior to any other solution – either temporary or permanent. A standardised package removes any concern associated with field life because it may be relocated from platform to platform as demand dictates. This also allows for the attractive propositions of consistent operation and spare parts pooling.
"Another of the Electrocatalyic product family is our CAPAC® system, which automatically and permanently prevents galvanic corrosion by impressing a cathodic protection voltage on the submerged surfaces of sea-going vessels and on fixed or mobile off-shore structures.
"More recently Evoqua has also developed the SeaCURE™ ballast water management system specifically for the impending invasive species IMO and USCG regulations," Ian elaborates. "At the heart of each of these systems is our proprietary concentric tubular electrode (CTE) cell. The cell uses seawater and an electrical current to generate sodium hypochlorite. The CTE cell has a number of benefits, most notably the low maintenance and simple operation it provides. The cell does not require an acid wash or other external cleaning methods, and can realise a 20 per cent whole life cost reduction, and further savings on associated labour costs. There is also no requirement to shut down the system to provide cleaning, meaning the user has the full output available."
Ian concludes: "As an organisation our vision is to be the 'first choice for water solutions'. We will achieve this by remaining honest to our core values of Integrity, Customer and Performance. We have aligned our organisation to be able to focus on our specific markets and their required solutions so our vision is to be using this model to drive the best solutions for our customers. This will enable Evoqua to continue to provide the best market solutions throughout 2016 and beyond."
Evoqua / Electrocatalytic
Services: Water treatment