Evoqua Water Technologies Ltd
Refreshing concepts
January 2014 saw the birth of Evoqua Water Technologies following the sale of Siemens Water Technologies to the investment organisation AEA. "We are a global organisation with 170 locations across the world, employing more than 4000 people," says Darren Dale, Sales and Marketing Director. The company actually has a very long history in the water treatment market, with the Wallace & Tiernan systems brand name being synonymous with disinfection for over 100 years, whilst its Electrocatalytic brand has been accepted in the power and marine markets for over 50 years.
"Through the Electrocatalytic brand Evoqua supplies the oil and gas industry with our industry standard Chloropac® system, providing the most effective, environmentally safe method of preventing biological marine fouling, using technically superior equipment for energy efficient and reliable long-term plant operation," highlights Darren, continuing: "The perpetual growth of sea life (marine fouling) within a platform's or floating vessel's cooling systems can have a high cost, which is often overlooked, not to mention the shortened life of equipment affected by corrosion caused by marine fouling. Marine fouling can restrict cooling flow in pipe runs and certainly reduces heat transfer rates across the heat exchangers and condensers thereby reducing the efficiency of the system and potentially even increasing fuel consumption."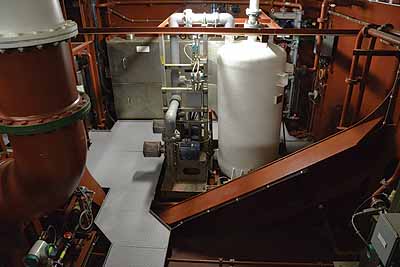 The Chloropac® system treats the water system by producing and injecting a sodium hypochlorite seawater solution in to the main water cooling flow to provide a hostile habitat in which organic life cannot thrive. "The Chloropac® system assures that marine growth is not only prevented, but can clean previously fouled equipment due to fitting ineffective alternative treatments and thereby restoring the efficiency of heat transfer," explains Darren. The Chloropac® system has for over 40 years been of great interest to the marine market, with over 3000 installations globally.
"Currently there is a pressing interest from the Shipping industry in reliable Ballast Water treatment solutions that will met the stringent requirements of the US Coast Guard. We have submitted our SeaCURE™ ballast water treatment system for US Coast Guard testing, which will commence shortly and this is expected to be concluded in the summer of 2015. These tests will take place at US Coast Guard approved laboratories, located within the United States for all three required salinities, including fresh water. The SeaCURE™ utilizes some patented features to enhance reliable operation and has the Chloropac® technology at it's core. First the ballast seawater is filtered before injecting generated hypochlorite (from seawater) back into the ballast line at a consistent and repeatable level, which can be monitored and recorded. The SeaCURE™ design allows the system to be used in a dual purpose mode for marine growth prevention to provide some return on investment on equipment that is otherwise fitted for regulatory compliance." explains Darren. The SeaCURE™ system is available as a compact skid or as modular components depending on customer requirements for installation in new builds and existing ships. "We are also seeing our clients request a standardised container approach," he says, adding: "The system is particularly well-suited for retrofit installations because hypochlorite generation takes place in a small side seawater stream from the ballast water main to minimise footprint. The side stream generation method offers advantages for installation on tankers because the modules can be placed in a way that only the filter and analysers are installed in the hazardous area of the pump room, while the main parts of the system remain in a safe area."
To complete the company's portfolio for the Shipping industry the CAPAC® System (impressed current cathodic protection) for cathodic protection of ship hulls from biological growth and corrosion from attacking the submerged surfaces of a broad range of seagoing vessels and fixed or mobile offshore structures. "Our CAPAC® systems are the ultimate long-term solution to corrosion problems, and are recognised as a superior alternative to sacrificial anode systems, which require frequent replacement. The systems are preferred by ship owners because they reduce fuel cost and work by supplying a controlled amount of DC current to submerged surfaces, using durable long life platinum anodes with a 25 year life." explains Darren.
Understanding the many challenges that owners can face to meet legislation in an uncertain market, Evoqua has optimised its solutions to customer requirements. Current market conditions pose great opportunities, as well as challenges that need smarter solutions, as Darren highlights: "Notably, the recent dramatic drop in oil prices can increase the pressure on our customers to demonstrate best value. Our flexibility as a business to offer a range of upgrade services and certified engineers to go on to the offshore installations, we are able to help owners continue their operations without the immediate requirement for capital investment and demonstrates a willingness to work in partnership."
As a global organisation, Evoqua relies on its vast network to support the product lines, and its experience within the oil & gas and marine markets to deliver the right solution its customers. "Through our engineered solutions that provide technologically sound products to the market, we aim to continue to meet the requirements of our customers, increasing the speed and precision of our service," concludes Darren.
Evoqua Water Technologies Ltd
Services: Water treatment
Issue 125 October 2015