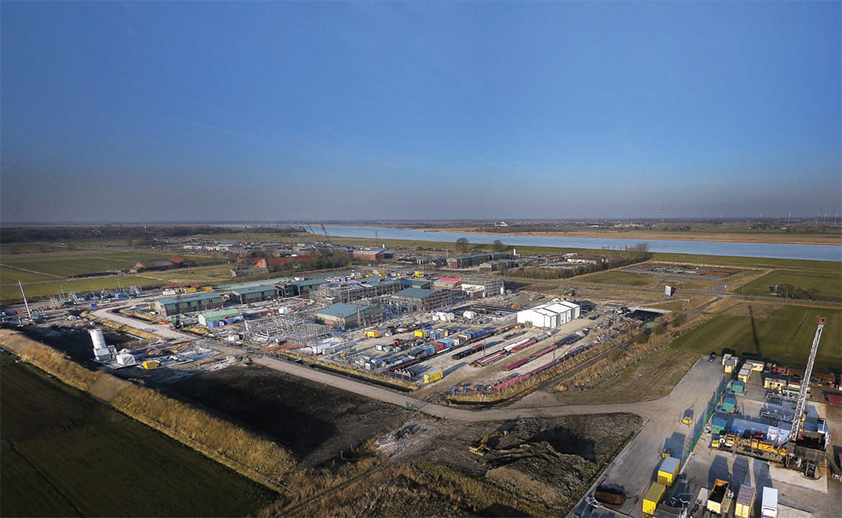 Storing for the future
EWE GASSPEICHER GmbH is one of the major storage facility operators in the German and European gas market.
The company was established as an independent entity as recently as last year, when EWE ENERGIE AG spun off its gas storage division, transforming it into EWE GASSPEICHER GmbH as of 27th June 2012. The company's storage capacity is divided among the natural gas salt cavern facilities EWE operates – Nüttermoor and Huntorf in the northwest of Germany, and Rüdersdorf near Berlin.
Peter Schmidt, commercial managing director, explained that the company is responsible for the planning, building, operating and marketing of gas storage facilities within the EWE Group. "The company was founded in 2012 according to the requirements of German energy law," he added. "Our headquarters are based in Oldenburg and we have a total storage capacity of approximately 1.75 b cubic metres of working gas."
He continued with what he considers to be the key strengths of the company: "We have more than 40 years of gas storage experience with salt caverns and we know the technical and market requirements very well. Therefore we can promise our customers an excellent service with high availability of our technical installations as well as our additional services. In fact, last winter illustrates our position as our clients had an extremely high demand for our gas storage facilities; but despite this we had 100 per cent performance."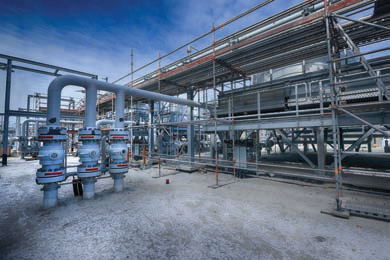 Paul Groenefeld technical director gave some more details about the company's main customers: "These would be natural gas producers, gas sales companies and traders, as well as clients who need gas for market area control energy purposes," he said. "We store high and low calorific gas and we are well connected to several market areas. Jemgum for example is connected to the Dutch TTF, to the German GASPOOL and NetConnectGermany."
The Jemgum facility Paul mentioned is a new storage area currently under construction. He elaborated further about the storage project: "This is an H-gas storage with eight actual caverns. Four of these caverns are in the so-called 'gas first fill' phase and they will be in normal storage operation by the end of 2013. The next four caverns will be finalised by the end of 2014.
"Approximately 85 per cent of the first storage portion has been already sold. A residual amount (approximately 25 mcm of working gas capacity) will be auctioned very shortly [at time of writing]. The further capacity of 160 mcm of the next four caverns will come to the market late 2014. Jemgum is very well located and connected via four pipelines to all the relevant market areas as well as to the Dutch hub."
EWE GASSPEICHER is also working on a project in the Moeckow region, as Peter noted: "Moeckow is a strategic storage project close to Lubmin (Vorpmmern-Greifswald county) where the landfall of the NordStream is. We have all the legal rights in hand to immediately start the construction of the storage facilities. When comparing this to a project in the open countryside we have saved at least two years of approval procedure. Now we are actively looking for the right partner to work with on developing this project."
Although the independent company of EWE GASSPEICHER was only formed in the middle of 2012, it still has a lot of history in the market and as Paul highlighted, foresees both opportunities and challenges ahead: "The development of a gas storage business depends on the future development of demand and supply in the gas market," he said. "One of the questions is how flexible will sources of natural gas be, and what are the flexibility requirements of gas demand? We think that EWE GASSPEICHER's flexible cavern portfolio will be able to cover the requirements regarding security of supply, seasonal balancing and trading opportunities."
Peter added: "The storage market has changed dramatically over the last three to four years. In addition to seasonal flexibility, the market might ask for further trading flexibility, which requires multi-cycle, fast churn storage. In comparison to most aquifer or porous formation storage, salt cavern storage can cope with these demands far more successfully. It might even be the case that some of the porous formation storages are going to be closed, especially in the cases where high reinvestments are necessary.
"Another fact is, in our opinion, that the question of security of supply has not been sufficiently solved. At the moment all gas market players, like transmission system operators, gas traders and so on optimise their respective positions, and it's not easy to observe the integration needed to ensure security of supply. Thus, within the actual market scheme nobody feels really responsible for the security of supply. In other countries this has already been recognised as an issue and gas suppliers are obliged to store a certain amount of their traded or delivered gas into gas storage for safety reasons."
As EWE GASSPEICHER celebrates its first year of trading as an independent company, it can look back on 12 months where it has maintained a close relationship with its customers. "Sometimes this has required us to be creative and our team has a very hands-on mentality, which makes it easier to fulfil clients' needs," Paul commented. "Going forward, our main task is to further develop storage products and to offer the same excellent operational services as we have over the past years."
EWE GASSPEICHER
Services: Gas storage in salt caverns