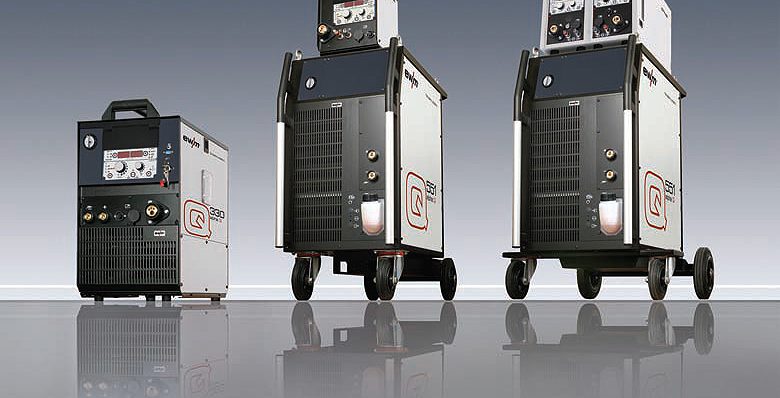 A job weld done
Founded in 1957 by Edmund Szczesny, the EWM Group is a mediumsized, family run business that was originally specialised in the development and production of electronic components, which are supplied to the industry's leading welding machine manufacturers.
In 1993, EWM presented its first in-house range of welding machines at the Schweissen and Schneiden trade fair in Essen, Germany, and in the near two decades since the company has evolved into one that is able to offer a complete range of products covering all areas of professional welding work. Alongside the entire range of EWM arc welding machines and automation components, its customers can also find a comprehensive range of consumables and accessories.
"Utilising the level of competence in electronics and welding it has gained over several decades in its strive for continuous improvement, EWM has become a technology leader for arc welding," states managing director, Robert Stöckl. "Today the company is in a position to offer the whole spectrum of welding technology from a single source. The success of the EWM Total System Concept comes from the fact that EWM welding machines, torches, components and consumables together form a perfectly harmonised system to ensure that users achieve optimal welding results, whilst saving time and costs.
"Highly flexible when fulfilling its customers' wishes, EWM always stays true to its principles. These include its guarantee to deliver high quality, certified processes, a high degree of manufacturing specialism, the most up-to-date production systems and the most advanced methods of testing and measuring. It is the combination of these principles that have allowed the company's innovative welding processes to open up entirely new process solutions and areas of application to the market."
EWM offers several different machine series and numerous processes, with the alpha Q combining all of its gas metal arc welding (GMAW) processes: "The alpha Q is a highly dynamic, fully digital inverter power source," Robert explains. "This power source offers exceptional quality no matter what the task, be it work on thin or thick metal sheets, seam roots or final passes. The alpha Q features the award winning force Arc and cold Arc process technologies and, thanks to its unique inverter power unit with sophisticated microprocessor technology, it also now boasts additional processing options such as pulse welding and the innovative pipe Solution.
"The advantages of this technology when working on metal sheets and pipes in all positions is clear to see. The arc is especially powerful and therefore extremely directionally stable, no matter what the thickness of the material or the position of the metal sheet or pipe. These strengths are particularly beneficial when constructing pipelines, pipe systems and pressure vessels. Once the root has been welded, the alpha Q changes process on demand and welds the filling passes and the final pass with a pulsed MAG process. This innovation is a cost effective welding alternative, offering TIG quality with MAG speed."
In addition to these benefits the combination of pipe Solution and pulse technology significantly enhances performance: "While conventional mechanised processes can achieve a maximum of 21 cm per minute for root welding, pipe Solution brings this rate up to 35 cm. When welding intermediate passes, conventional machines reach their limit at 27cm per minute, whereas alpha Q achieves 52cm thanks to its pulse welding process," Robert continues. "These high welding speeds require rapid regulation of the control and power source in order to ensure the arc parameters remain constant. It is just one of the reasons why industry professionals are united in their belief that the alpha Q control system is truly unique on the international market."
With ten per cent of its total annual turnover being reinvested in research and development, EWM is a company that is always adapting and improving itself and its product offering. The last 12 months in particular have seen the introduction of new multi-process pulse arc MIG/ MAG welding machines. The company's Phoenix 405 and 505, and its Taurus 405 and 505 modular units have already been proven to be the ideal machine for use on construction sites, production sites and in workshops thanks to their superb main voltage tolerances. In addition to these units the company has also company has also introduced its new Tetrix 300 Classic cel DC TIG pipe welding machine. EWM's ability to bring such developments to market has consequently resulted in the company achieving two-thirds of its current turnover from products introduced in the last five years.
Like everyone else operating within the oil and gas industry, EWM has not been immune from the effects of the economic crisis that first took hold in late 2008. Nevertheless, the company has still been able to identify opportunities for future growth, something that it has been able to capitalise on due to its high product quality, its welding process stability and its ability to offer its customers a complete range of secure, cost effective products that cover all manner of professional welding tasks.
"EWM has proven time and time again that it is not one to rest on its laurels. For more than 50 years it has been dealing with the question of how it can achieve maximum quality and cost effectiveness, while providing a wide range of applications in the field of arc welding for all of its customers. As a company its aim is to do more every day to meet its customers' specific welding requirements in an optimum way with innovative services. EWM's 'simply more' claim also means simply providing more quality and cost effectiveness, and it is safe to say it can achieve this each and every day," Robert concludes.
EWM Hightec Welding GmbH
Products Welding components