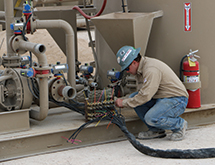 Exclusive Energy Services
Eric Herschap had spent more than 12 years in the oilfield services business before he and some coworkers left the company they were working for to found Exclusive Energy Services in 2011. From a humble 1,000-square-foot shop with rented equipment, the company grew swiftly, expanding to 25 employees after the first six months.
The secret of the company's rapid success is not really a secret, according to Herschap. He says the key to Exclusive Energy Services' growth in such a short period of time has been an emphasis on making sure customers are satisfied all the time, no matter what they need or when they need it. "One of our main values is that we strive for customer service in and out of the field," Herschap says.
Based in Orange Grove, Texas, Exclusive Energy Services concentrates on providing services to oilfield customers throughout the United States, in some of the most active regions of the country. The company's primary focus is on bore-out completion fluids and through-tubing motors, but it also provides coil tubing, water transfers, filtrations, bulk frac fluids and equipment rentals. In everything that it does, Herschap explains, the company strives to work with as little impact on the environment as possible. Thanks to the development of a new patented technology and the booming activity going on in the shale markets, Herschap says Exclusive Energy Services is on track to grow to even greater heights in the near future.
Solid Service
Customer service is a primary focus for Exclusive Energy Services, and the company ensures that its customers always get the level of service they need by having the right people on staff and the latest equipment. Herschap says the company's workforce is made up of experienced individuals with years of experience in the oilfield services market, giving customers a wealth of knowledge to draw from. In particular, the company's mixing plant technicians can provide customers with substantial savings because their experience allows them to utilize 100 percent of the product.
Herschap also stresses the importance of having the most up-to-date equipment in the industry. Exclusive Energy Services understands that a lot of oilfield work is being done with horizontal and multi-stage drilling, which requires specialized equipment designed in recent years to maximize service.
In fact, Exclusive Energy Services is working to advance technology in the oilfield services realm itself, and Herschap says the company has a new patented system that should be ready to be introduced later this year. The company has developed a real-time data acquisition system that will eliminate human error from chemical mixing. The new system can be incorporated into existing direct-injection units, and provides engineers with precise, real-time information about chemicals being used on the site. This will allow crews to know exactly how much they are using and can help them avoid costly mistakes. "It takes all the human flaw out of mixing chemicals," Herschap says.
Green Commitment
Exclusive Energy Services is devoted to providing its customers with the best and most advanced oilfield services on the market, but that's not the company's only focus. Herschap says environmental responsibility is a major component of the company's operations, and a cornerstone of the company's corporate culture.
The company strives to use green and biodegradable products whenever possible. Right now, more than 95 percent of the products and chemicals used by Exclusive Energy Services in the field are environmentally friendly and completely biodegradable. This isn't something the company does for PR purposes, Herschap says – it's a fundamental part of the company's operations and goals. "We try to leave a green footprint behind wherever we go," he says.
Still Growing
Since the company's inception just a few years ago, Exclusive Energy Services has grown into a significant player in the oilfield services market, with facilities in Midland, Texas, as well as its main facility in Orange Grove. Herschap says the company has grown through offering the highest-quality service in the industry and taking advantage of the many long-term relationships within the industry its principals have, and there are plenty of opportunities for the company to grow. "We want to see at least a 15 percent increase in growth, and we'll probably be moving into more northern states, also," Herschap says.