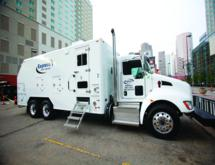 After more than a decade, Express Energy Services Operating L.P. has grown from a modest start to be a service firm with more than 35 locations in the United States. "We're a very entrepreneurial organization," Executive Vice President of Sales and Marketing Mark Haubert says.Based in Houston, the company offers drilling support, completion and production, well intervention and green completion systems. Haubert explains that the company got its start serving the coiled tubing market in the Gulf of Mexico. Today, Donnie "Tug" Goodwin, one of the original founders of Express, still leads the company as president of operations.
"The company went through an evolution over a series of years," Haubert says, noting that today, Express Energy Services employs a staff of 1,650 and enjoyed sales of $235 million last year.
Throughout the years, the company has evolved through the acquisitions of numerous other firms, including Koda Rathole LLC, a Texas-based firm that Express Energy Services purchased this past January. "That significantly strengthened our position in the United States in terms of rat hole services," Haubert says.
For instance, the purchase allowed Express Energy Services to add more equipment and employees to its operations, he says. "They also had strong market positions in the Marcellus Basin and the Barnett [Shale] area," he adds.
Company Pride
A 25-year veteran of the industry, Haubert joined Express Energy Services this past January after working at such companies as Schlumberger Ltd., Baker Hughes Inc. and Cameron. He notes that he was attracted to Express Energy Services because of its growth potential.
"I thought they were a mid-sized organization that could be much more flexible in responding to customers' needs in the market," he recalls. "Their ability to define a plan, map out a strategy and implement it very quickly was very attractive and exciting to me."
He also praises CFO Jim Davis, who Houston Business Journal recently selected as 2011's CFO of Year for Midcap Private Companies, and CEO Darron Anderson, who was featured in Smart Business Houston for leading the company during the economic downturn in 2008 and 2009.
In late 2009, Express Energy Services filed Chapter 11, but reorganized quickly in a six-week period under Anderson's leadership, Haubert says. He notes that Anderson previously worked as a petroleum engineer and in leadership roles with other service firms.
"He has got a great vision in terms of where he wants to take the company," Haubert says. "He also has extremely strong communication, analytical and technical skills, which enable him to communicate on every level and to command respect."
Safe and Sound
Haubert adds that he is impressed with the initiatives of Express Energy Services' leadership team. For instance, under the leadership of Gary Childress, Express' executive vice president of QHSE and human resources, the company has implemented a very strong HSE management system, which includes several components.
"Our '5×5' program challenges our employees to take five minutes to ask themselves five questions about the safety of the operation they are about to perform," Haubert says. "Further, our 'Take 10 For 10' program challenges our management team to take 10 minutes to engage 10 employees each week regarding our safety program."
The company's measures also include issuing every employee a "Stop Work Authority" card, which empowers its employees and gives them the responsibility to stop work if the working conditions are considered unsafe. "We also have a 'Health, Safety & Environmental Improvement Plan' [HSE] that tracks our progress towards achieving our goals and maps out a continuous improvement plan as well," he says.
"The HSE improvement plan includes our HSE objectives, our improvement plan and deployment process, an outline of various HSE system components, training and development, risk assessment and audit processes and key performance indicators."
Express Energy Services also recently started testing the hair follicles of all new employees during the pre-employment screening process. "This helps ensure we're only hiring safe, non-impaired employees so we protect our employees and other personnel at the work site," he says. "We have also implemented a 100 percent random annual drug and alcohol screening process that includes hair follicle testing. That is something that sets us apart from our competitors."
The company also recently opened Express U, which provides core training to employees in safety modules, first aid, CPR and driving.
"New employees usually continue right into their technical and operational training following their core training," Haubert says. "Then, they return to their operations facility for assignment."
Keeping Up
Express Energy Services regularly copes with challenges in its industry, which include keeping up with the demand for products and services, Haubert says. "Another challenge is availability, supply and reuse of water," he says. "Being able to find, attract, train and retain quality personnel also is a challenge for everyone in the industry right now."
However, Express Energy Services is doing quite well, Haubert asserts. "We're investing 100 percent of our earnings back into the company, hiring additional personnel and training them through Express U, investing heavily in maintaining our existing equipment, and purchasing new equipment," he says.
"In our completion and production segment, we have new well testing spreads, new wireline trucks and new pressure pumping units coming in every month and being deployed immediately," he says.
"In our drilling service segment, we are adding additional new casing running equipment, laydown units, rathole drilling units and drill site rental equipment to our operations," he says. "We're spending quite a lot of capex to keep up with the growth in various target basins.
"Similarly, in our well intervention segment, we're adding additional plug and abandonment, platform and pipeline decommissioning, and cutting and milling equipment to keep pace with the offshore Gulf of Mexico plug and abandonment activity," he adds.
Growing Out
Express Energy Services is planning for rapid growth over the next several years, Haubert says. "Our objective is to exceed 1 billion dollars in annual revenues in the next several years," he says. "I see us becoming a market leader in most of our service segments."
To accomplish its growth objectives, the company will strengthen its relationships with major operators, continue to expand organically in existing basins, and acquire portfolios that are complementary to its own, Haubert predicts. "I see us offering select services in select international markets as well," he says.
He adds that Express Energy Services plans to expand its number of facilities. For example, while the company is now very strong in West Texas, "We're opening a new completion and production facility in Midland, Texas, to house our wireline and well testing services," he says.
Additionally, the company is developing a new location for Express U. "We've got a design and an artist rendering for the permanent Express U training facility, which will have a drilling rig and a well bore," he says. The permanent Express U will be located in northeast Houston and is expected to open early in 2012.