Express Engineering Group Limited
Engineering continuity
Established in 1973, UK based Express Engineering operates as a leading global contract manufacturing group with a strong tradition of family involvement and firm financial backing.
"The company was established 41 years ago by the father of our current chairman, who until October 2013 was the majority family shareholder in the business," explains CEO, Nigel Davison. "There has been a long legacy of family ownership, with profits being re-invested to fund steady growth. Then, in October 2013, we went through a private equity deal with Lloyds Development Capital (LDC), to bring in external funding which supported a phase of unprecedented expansion. LDC invested alongside family shareholders and management – a model to generate capital that we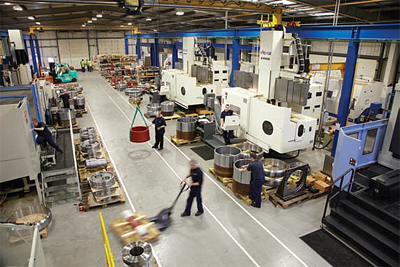 may consider again. However, although the company is no longer regarded as a lifestyle family business, it retains its strong heritage of family ownership and involvement."
The business was incorporated as a precision engineering and tool-making company and today supplies the global oil and gas market with a comprehensive range of highly integrated precision machined components, kits of parts (turnkey supply) as well as fully assembled and pressure tested products – including wellheads, hydraulic actuators for Xmas trees and manifolds, completion tooling, flowlines and connections. These are exported from the main manufacturing base at Gateshead, on Tyneside to clients all over the world, including Aker Solutions, Cameron, FMC Technologies, GE Oil & Gas, Schlumberger and Weatherford. "Our clients are all global operators, which means we deliver products to Angola, Nigeria, Singapore, Houston, Norway and Aberdeen – in every location where our customers are assembling or manufacturing subsea production hardware. We are supplying directly to those regions, so only a very small amount of what we produce stays within the UK."
While the majority of Express Engineering's products are shipped across the globe, increasingly, as the company embarks on a programme of expansion, production is beginning to take place in new regions where its clients are active. The first of these is the new manufacturing facility located in Sao Paulo, Brazil, which operates under the name Petrotec Components de Precisao Ltda.
"Global demand has increased in recent years to a peak in the second quarter of 2014 and we anticipate that following a plateau, there will be further growth beyond 2015. Therefore we are focused on investment in the UK hub to increase its capacity and capability, whilst at the same time we are considering manufacture in other regional areas," Nigel says. "The first such venture is in Brazil, where we have established a manufacturing business over the past five years. Initially this was a joint venture start-up operation, and this is now a fully owned subsidiary of Express Engineering Group.
"The strategy behind this is twofold, we will continue to support our very high demand in Brazil from the UK but in parallel we will build up the capability and the capacity of the Brazilian business," he continues. "The key to achieving that is technology transfer: we took the decision to set up our business in Sao Paulo using exactly the same machines and software that we have in the UK. It wasn't the cheapest solution by far, but it allowed us to have full transferability and capability between our UK technology and our Brazilian facility. We can take established manufacturing processes and transfer them at very low risk and we can also prove new projects and processes before going into production in Brazil, which is a huge benefit for us and adds value for our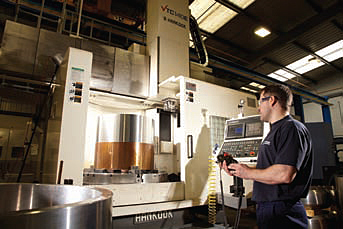 customers."
Having successfully established its first plant outside the UK, during the past 12 months Express Engineering has invested in new UK facilities while continuing to develop its base in Brazil. Within the UK it has recently added 50,000 sq ft of manufacturing space and introduced a further 20 machines to its Gateshead plant. These include the first MAZAK Integrex E800 multi-tasking machine to go into operation within the UK, as supplied by Yamazaki Mazak UK Ltd.
"The E800 machine is capable of machining larger, more complex parts, which previously would have had to be produced on several different machines and over several operations," Nigel explains. "It means that we can condense manufacture into one operation, and allows us to machine components up to 1.3 metres in diameter and six metres in length in one setting. One of the benefits of this is that it allows clients to design a system using fewer components, through a process of parts consolidation. This means that there are fewer joints and therefore fewer seal interfaces where potential leak or weakness could take place. The result is higher integrity, lower cost products."
During the same period the company has increased the number of machines in use at its Brazilian site from 12 to 19, with the total investment through the business reaching a total value of around £10 million. As such, Express Engineering continues to grow as a significant player on the global market and is well placed to continue to deliver value-added service to its clients. "Size is important and we are now one of the largest contract engineering companies in Europe," Nigel says. "Also the fact that we are of a certain size, operating as a roughly £50 million turnover business, means that we can comfortably manage larger projects, which means that customers have fewer suppliers to manage – thereby reducing risk."
As 2014 draws to a close and the company heads into 2015, Express Engineering will navigate the changing tides of the market and continue to expand its footprint in new locations. "I think that in the short-term the market is quite volatile, but it is important to remember that we are in this business for the long-term and have been around for 40 plus years. Now is actually a good time for investing, because finance is cheap and properties are available, so the current climate is not the worst for growing a business," Nigel says, before concluding: "Our core competence is in precision engineering and the most important things to us are very well maintained, high-quality machine tools, and the skilled people to operate them. Investing in both means we can offer the highest level of quality and service to our customers on a global basis."
Express Engineering Group Limited
Services: Contract manufacturing solutions