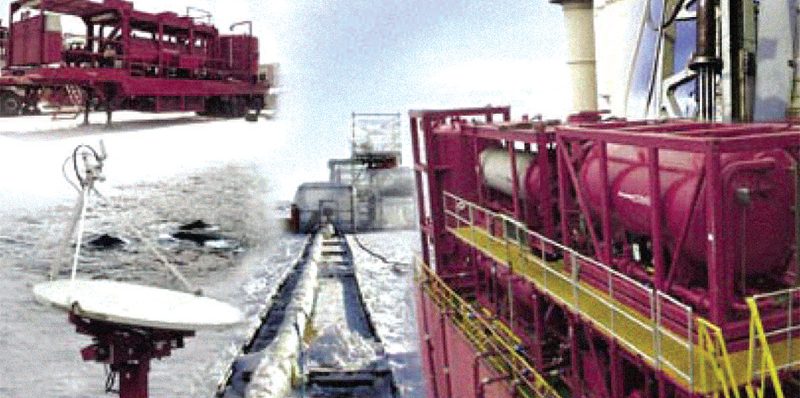 Merger of strength
Expro International Group acquired PowerWell Services in 2006 and is already seeing growth.
The Group specialises in flow management, well performance and production optimisation. Employing over 4000 people worldwide, Expro Group is an innovative leader in oilfield technology, which enables clients to maximise recovery of their reserves.
The company saw positive growth in 2006, both from robust organic growth, and also from the successful acquisition of PowerWell Services (PWS), which was completed in July 2006. The integration of the new company into the group has proceeded ahead of plan and Expro's technology offering is being well received by existing PWS customers.
Commenting on the company's interim results in September 2006, Graeme Coutts, chief executive, identified the PWS acquisition as very a significant moment in the development of the Expro Group. He stated in the report: "This strategic move was a step change in the global development of Expro, adding markets and technologies to our portfolio, whilst at the same time bringing synergies to the Group and enhancing our existing growth strategies…PWS has brought to us a strong business platform in Norway and the increasingly important markets of the Middle East and Brazil."
PowerWell Services is committed to searching for new ways of raising industry performance standards for worldwide well services and through its divisions – PowerWell Testing, Power Chokes and Petrotech – combines the strength and best practices of industry leaders, each with a leading market presence and dependable track records in their segments.
Expro Group supplies services and products fundamental to the safe, efficient and economic exploitation of hydrocarbon reserves and provides the international oil and gas industry with a range of high value added, differentiated services focused on improving well-performance and optimising well production in a safe and environmentally friendly way. The range of services on offer includes: well testing and commissioning, wireline intervention services, subsea connectors and measurements.
The successful business strategy of Expro has established many of its product lines as market leaders. As Graeme Coutts indicated in the Interim Report: "We position ourselves as a safe, innovative and focused provider of services to our customers in all the areas we operate in. In a business environment where our customers are paying record amounts for rig operations, these are increasingly important features for successful service providers."
But Expro is not content to rest on its laurels, and as part of its business review process the strategy is continually challenged and refined. The implementation and evolution of Expro's 'Four Point Strategy', first published in 2004, has been a major contributor to this success.
This Four Point Strategy includes a focus on:
Customer care, backed by investment in skilled personnel and sophisticated intelligence systems. This is critical to delivering sustained success as well as positioning for future market developments.
Technology development backed by investment in world-class people and facilities, designed to keep all Expro product lines in a leading position.
Geographic optimisation to create areas of critical mass capable of effectively and profitably serving local markets throughout the business cycle.
Strategic acquisitions and divestments, which focus and enhance Expro's global market positions.
In addition to the exciting acquisition of PWS, 2006 also saw Expro receive the Oil & Gas Sector RoSPA (the Royal Society for the Prevention of Accidents) award for occupational health and safety performance. This prestigious award marks a first for any upstream oil and gas service company and is clear recognition of Expro's efforts to create and maintain safe working environments for its customers and employees.
This was the second prestigious RoSPA Oil, Gas and Water Industry sector award that Expro has won. Roger Bibbings, RoSPA occupational safety adviser said: "A second prize for Expro, in such a tough category, is a major achievement and is testament to the company's dedication and outstanding performance in improving health and safety across its global operations. The company and each of its employees are ambassadors in the industry and I hope they will be a shining example to others in the sector."
Expro Group HSEQC manager Jim McQueenie said: "It's an honour to receive our second award from RoSPA which is an extremely influential and respected organisation and is recognised nationally and internationally. The award is for our global performance and as such acknowledges the company's commitment to health and safety and the hard work that all our staff, many of whom work in extremely harsh environments, have done to push barriers for better safety performance.
"We invest heavily in safety training, competence and facilities and over the past five years have achieved an 80 per cent reduction in lost time injury frequency."
Even though it is still very early days, 2007 is showing signs of being another positive year for Expro. As Graeme Coutts commented in the Interim Report: "The outlook for the upstream services sector remains positive, driven by the continuing increase in oil and gas demand. In the medium term this position is maintained by the continued discipline of OPEC in regulating supply rather than a fundamental shortage in oil and gas. The long term dynamics are not in doubt, oil and gas remains the only real answer to demand, and the world will need to find and produce materially more oil and gas than is currently capable of being produced."
Another development for 2007 is a change on the board of directors. After 11 years with Expro, including four years on the Board, Mike Martindale retired from the Group on 31st December 2006. Gavin Prise, previously the director of the Eastern Hemisphere Region of the Group, has taken up Mike's role as executive director and chief operating officer. Gavin has worked in the oil and gas sector for over 20 years, the last 11 in a variety of management roles with Expro. Gavin said: "I am delighted to be taking on this role at such an exciting time for Expro. We have highly motivated teams delivering excellence in operations across our activities in UK and across our international activities. My objective is to support their efforts to continue to make the difference to our clients and to Expro."
Within this positive environment, the outlook for Expro is encouraging. Graeme Coutts summed up his feelings for 2007: "The outlook for the remainder of this financial year is favourable and our long term objectives remain unchanged; to benefit shareholders with profitable growth beyond the cycle."
Expro International (PWS)
www.exprogroup.com
www.powerwellservices.com