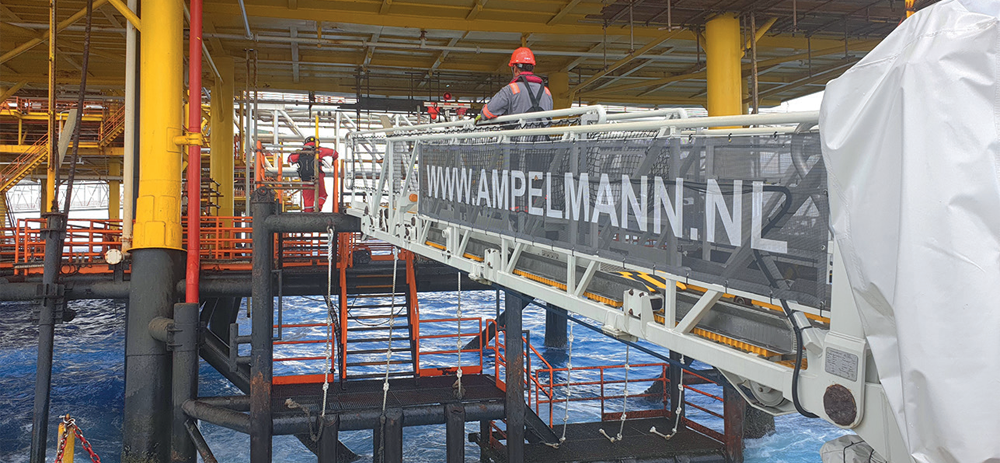 Ampelmann, the Dutch offshore access provider, has signed a new, three-year contract with Brunei Shell Petroleum (BSP) for work in Asia Pacific. The company will provide two of its latest version L-type systems to enable daily crew change operations in the region.
"We are excited to continue our collaboration with BSP and are thankful for their continued trust in our services," said Joeri Poelmann, Ampelmann's Area Manager for Asia Pacific. "This contract is proof of the local industry's push to make offshore access ever safer and more efficient."
Ampelmann's first version of the L-type system was initially developed in collaboration with BSP for their crew change operations and made its first transfers in Brunei back in 2013. After many iterations, the latest system is a compact and electrically powered plug-and-play system enabling continuous access from vessel to offshore platform, and vice versa, capable of transferring 50 people in less than five minutes. The L-type can be deployed in sea states beyond 2m significant wave height, making it possible to use year-round, including during the monsoon season.
The latest version of the system, the version 4, has been in use since 2018. With a proven track record and unsurpassed workability in many regions throughout the globe, it remains the most suitable solution for crew change operations.
Over the past decade, Ampelmann's systems have helped make offshore access in the Asia Pacific region safe and more efficient.
Framework agreement announced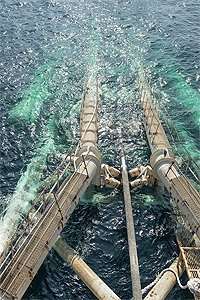 Nova People – together with its subcontractors Fulkrum Technical Resources (UK) and P.U.I. EKO-INWEST S.A. (Poland) – has secured a major contract for a significant role in the ongoing Baltic Pipe Project operated by Gaz-System S.A.
Norway-based Nova People, together with Aberdeen-based Fulkrum and Poland-based EKO-INWEST, will provide specialized personnel to support survey, construction and inspection activities across both offshore pipelay and landfall operations. The industry specialists were chosen to secure the highest level of professional quality in their provision of personnel, specifically relating to survey, construction and inspection activities both onshore and offshore.
The Baltic Pipe Project is a strategic infrastructure project developed in collaboration between Gaz-System S.A. and Energinet.dk (Denmark) and is co-financed by the European Union to create a new inter-European gas corridor that will supply gas directly from Norway via Europipe to the markets in Poland, Denmark and adjacent countries.
Owen Gibbons, Commercial Director, Fulkrum Technical Resources said: "We have an extensive track-record working on both subsea and pipeline workscopes globally, and we are delighted to combine with Nova People's recruitment expertise, to work with Gaz-Systems and support the Baltic Pipe Project."
Nuclear maintenance
Charah Solutions, Inc. a leading provider of environmental and maintenance services to the power generation industry, has announced that its Allied Power division has signed a multi-year contract extension for nuclear maintenance and technical services with Exelon Generation Company, LLC, the largest owner and operator of nuclear plants in the United States and the largest producer of emissions-free energy.
Allied Power will provide maintenance and modification services for 12 Exelon nuclear plants and 21 units in four states as well as fleet wide staff augmentation services through mid-August 2025, with an option for a five-year renewal. Allied Power's services are designed to support Exelon's objectives for safe, event-free outage and operational performance at Exelon's sites in Illinois, Maryland, New York and Pennsylvania.
Testing in Brazil
Benthic has signed a contract with Petrobras to provide geotechnical site investigation services at the Mero field off the coast of Brazil.The work includes in-situ testing, sampling and seismic cone testing at 26 locations in water depths to 2200 meters. The deepwater offshore operations will take place this year, despite the Covid-19 pandemic and current global economic conditions. Following the offshore operations, Benthic will complete advanced onshore laboratory testing at its new, state-of-the-art technology center in Rio de Janeiro.
The company will use its PROD3 seabed drilling and geotechnical testing system, a proprietary portable remotely operated drill that can switch between piston sampling and rotary coring to maximize productivity. The PROD3 is up to five times more productive than a drillship in water depths of more than 500 meters.
Exciting project completed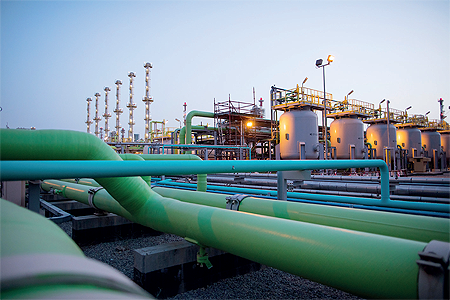 Fluor Corporation's joint venture with Daewoo Engineering & Construction and Hyundai Heavy Industries has successfully achieved final provisional turnover of the facilities for Kuwait National Petroleum Company's (KNPC) Mina Abdullah Package 2 (MAB2) Clean Fuels Project in southern Kuwait.
"This significant milestone marks the completion and successful handover of MAB2 facilities to KNPC," said Mark Fields, president of Fluor's global Energy & Chemicals business. "It has been an honor to complete this megaproject alongside KNPC, training hundreds of their personnel and leveraging multiple local suppliers and contractors."
The Clean Fuels Program is being executed on the three KNPC-owned and operated refineries in Kuwait. As part of the program, KNPC plans to retire existing processing facilities at the Shuaiba Refinery and perform a major upgrade and expansion of the MAB and Mina Al-Ahmadi refineries to integrate the refining system into one complex with full conversion operations.
The MAB2 package facility is comprised of a world-scale hydrogen plant (steam reformers), sulfur block (sour water stripper, amine regeneration unit and sulfur recovery unit) and utilities, off-sites and non-process buildings. It also covers extensive modifications to the existing Mina Abdullah refinery units.
Gold mine expansion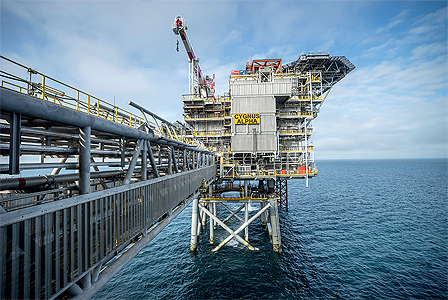 Newmont has commissioned leading global technology company ABB to design, supply, install and provide long-term service for the entire mine hoist mechanical and electrical systems for the mine production shaft at Tanami. The gold mine is located in the Tanami Desert, 563km north west of Alice Springs and 949km southwest of Darwin in Northern Territory, Australia.
The $24 million AUD ($17 million USD) contract marks part of Newmont's Tanami Expansion 2 (TE2) project which is expected to increase the annual capacity of the processing site to 3.5 million tonnes per annum from 2.6 million tonnes and extend the life of the mine beyond 2040. Over a 90-week period, ABB will deliver two complete mine hoist systems; a double drum personnel-riding hoist and a friction hoist.
"The Tanami expansion project (TE2) includes construction of a 5.4-meter shaft that can reach 1460 meters below surface depth to enable recovery of ore. This provides a viable solution to extend the mine and with an additional investment in processing is expected to increase production to 3.5 million tonnes per year," said Neil Steyn, Regional Project Director at Newmont. "ABB's in-house mechanical hoist design capability will help deliver a tailor-made solution in a cost-effective way."
As part of the TE2 project, ABB's solutions package also includes digital applications covering functional safety, a programmable logic controllers (PLC) control system, remote operations, shaft communication and the latest drive systems technology.
Partners for digitalization
Neptune Energy has announced an exciting new partnership with 3D technology specialist, Eserv, as part of the ongoing digitalization of Neptune's assets including its operated Cygnus gas platform in the UK southern North Sea.
Using 3D and Artificial Intelligence (AI) technologies, a digital map of all three bridge-linked jackets was captured, enabling Neptune Energy to detect asset integrity issues early and plan fabric maintenance work on Cygnus.Specialist engineers and integrity experts now have the opportunity to carry out a significant amount of their traditional work from onshore, reducing the cost and environmental impacts associated with travelling offshore.
The digital mapping of the Cygnus gas production platform, which is capable of producing approximately six per cent of UK domestic gas demand, is one element of the partnership with Aberdeen-based Eserv. As part of an ongoing digital transition, onshore teams can take a virtual walkthrough of the entire platform, plan work and monitor changes in the physical structure, identifying potential issues early and accurately.
The AI element of the technology is being 'trained' to identify thousands of individual components, valves and other plant equipment, and is 'learning' how to spot potential integrity issues including corrosion.