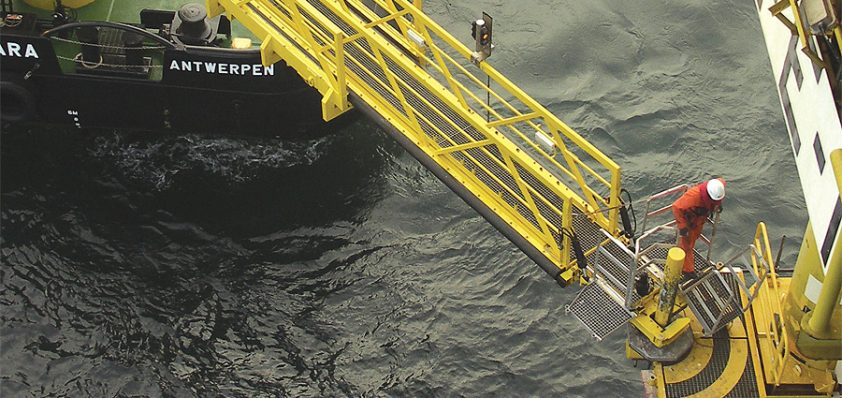 Maintaining the service
Established for more than 30 years, Fabricom Oil and Gas is a leading offshore maintenance and service contractor.
The company provides expertise and solutions to clients in the upstream sector of the oil and gas and wind energy markets. With an enviable knowledge base and a reputation for professionalism, Fabricom adapts rapidly to the changing needs of its customers.
Arno van Poppel, managing director for Fabricom explains the company's key strengths: "We are one of the very few companies, which is able to deliver a total solution. We work closely with our clients and look at how we can reduce production costs for the whole development. We are capable of offering a complete turn-key service including, drilling, engineering, construction, installation, maintenance, operation and even abandonment. This type of tailored service (the whole package, or parts of it) is very challenging to develop, and to provide, but is ultimately very rewarding for us and our clients."
Fabricom is part of Suez Energy Services, which is a group of companies that meets the expanding needs of cities and businesses. As an international industrial and services group, Suez designs sustainable and innovative solutions in the management of public utilities as a partner of public authorities, businesses and individuals. The group aims to answer essential needs in electricity,
natural gas, energy services, water and waste management.
Working as a business partner for its customers, Fabricom recognises the main challenges its clients are facing. With this is mind, the company is continually investing heavily in the development of its product range. One of the main recurring challenges in the offshore industry is operating costs.
One Fabricom solution, which has helped overcome this challenge, is its Offshore Access System (OAS). Developed in conjunction with the company's technology partner, AMEC, the OAS is a modular 'stand-alone' system using standard technology requiring only an electric power supply and a foundation surface on the deck of a ship. The extendable but stable gangway between the service vessel and the jacket or mono-pile structure gives the ship's captain maximum freedom in choosing the ideal position for the ship. Once the gangway is installed it provides a safe walkway from the vessel to the jacket or mono-pile structure.
"The OAS enables our customers to increase efficiency on their normally unmanned installations by 70 to 80 per cent," Arno comments. Recognising OAS' outstanding benefits, the Energy Institute has recently awarded the system the Innovation Award 2006. The OAS meets the need for a more reliable, safe and cost-effective way of carrying out this vital oil and gas production activity.
In 2006, the OAS system also received the Merck Sharp and Dohme award for excellence in safety. As a result of working in the offshore industry, health and safety is extremely important to the company, as Arno explains: "Basically our QHSE track record is our license to operate in the offshore sector. Over time, due to the successful projects we have undertaken, we have built up an extremely good reputation within the industry, which is of a very high standard. Our customers have learnt to place trust in Fabricom for their most challenging projects. Our safety record is considered commendable, brought about by an embedded safety culture within our organisation."
He continues: "The North Sea, especially, is a very hostile environment with respect to QHSE. It is one of the main areas in the world where environmental issues are becoming extremely important. This is a big challenge for everyone working in this area. In addition to this, legislation surrounding these issues is constantly changing, which means we are always adapting and improving our products and services to keep in line with these. The main advantage of working within the North Sea sector, because of the strict QHSE regulations, is that our products and services are very exportable to other areas of the world, as a result of their high standards."
In addition to its vast product range and high QHSE standards, Fabricom provides, to the global industry, fully qualified maintenance and operations personnel – electrical, instrumentation and mechanical – trained to North Sea standards and regulations. Arno elaborates: "In the oil and gas sector a highly skilled workforce is the difference between success and failure. We offer in-house personnel in all disciplines, who are experienced in all the core competencies within the industry."
As fields mature and more maintenance and modifications need to be done, Fabricom recognises new markets to where it can export its North Sea experience. Project-wise, the company's strength lies in the modifications to plants under EPCI contracts, frequently leading on to commissioning and the realisation of novel solutions.
The company has recently strengthened its position in offshore activities through its merger with Genius Vos. The combination of the activities of the two companies will create a unique multidisciplinary service provider, with a complete and integrated range of services and service concepts to the offshore oil and gas market. Arno concludes: "Over the last three years we have grown significantly and we believe there is still room to expand within the industry. Before we start looking into new areas we want to strengthen our position in our existing markets."
Fabricom Oil and Gas
Industry: Offshore maintenance and service contractor