Fairfield Energy – Fairfield Decom Limited
A future vision for decommissioning
It was back in 2018 that Energy, Oil & Gas first documented the activities of Fairfield Energy. Established in 2005 in response to the rapidly developing opportunities for focused independents to acquire and operate marginal fields in the UK Continental Shelf, it became the operator of the Dunlin Area in 2008, before assuming the duty holder role to adopt full command and control in 2014. In the time since, the company has applied its experience as an independent late-life, mature field operator to a complex, multi-year decommissioning programme for the Greater Dunlin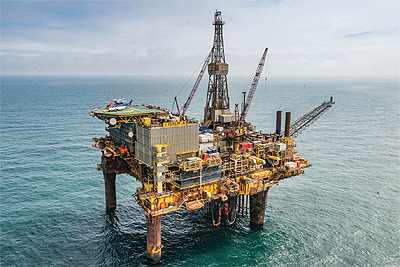 Area.
"Since we last spoke, the Dunlin Platform wells plug and abandonment (P&A) campaign has continued to progress safely and efficiently with 37 of the 45 platform wells completed," begins John Wiseman, Managing Director of Fairfield Energy Limited. "We have finalised the Osprey and Merlin subsea satellite well P&A campaign in good time and under the OGA's P10 target, and we have also recently completed a successful 2019 conductor removal campaign, with the hydraulic workover unit working in parallel with the drilling rig. Furthermore, we continue to bring down the forecasted final project cost, reducing it by a further £60 million in 2019."
One of the biggest recent milestones for Fairfield Energy came in May 2019, when approval was officially given for the company to commence with its Dunlin Alpha Topsides Removal Decommissioning Programme. Consisting of a four-leg concrete gravity base structure, a steel box girder module support frame deck, and two further levels of modules, the Dunlin Alpha installation stands in 151 metres of water and is 240 metres high from the seabed to the top of the drilling derrick. Its topsides, which were designed as a drilling and production facility, span across three levels and weigh approximately 19,640 tonnes.
"Topsides preparation is presently ongoing, and the topsides lift will be carried out by Heerema Marine Contractors, using both the Thialf and the new Sleipnir super heavy lift vessels in 2021/2022," John continues. "From there, the topsides structures will be taken to AF Offshore Decom Vats yard for break-up, recycling and disposal.
"The latter phases of topsides preparation for removal and conductors removal has resulted in a dramatic increase in the number of complex hazardous activities requiring focused management efforts in the field, and much greater levels of workforce engagement to assure safe and efficient progress than for routine production operations. In addition, the challenge of retaining a competent and motivated workforce as the end of project nears has been another big focus area for the management team."
Brand new company
Once the decommissioning of the Greater Dunlin Area comes to its conclusion, Fairfield Energy as it is known today will likely cease to exist. The next chapter for the Fairfield organisation, however, is already in the process of being written, with May 2019 also marking the launch of Fairfield Decom. A joint venture between Fairfield, and the aforementioned Heerema Marine Contractors and AF Offshore Decom, its business model involves taking over operatorship of fields in their final years of production and guiding them through to decommissioning.
"Fairfield Decom is a completely new company, not a division of Fairfield Energy, and the first true Decom Operator in the North Sea," states Graeme Fergusson, Managing Director, Fairfield Decom. "We take the experience of an operator which has been through the end-of-life asset management process, and combine it with the expertise and outstanding track record of two world-leading heavy lift and decommissioning contractors. In doing so, we are able to offer a fully integrated, end-of-life asset management solution that includes ultra-late life operations and can be tailored to the specific needs of operators and asset owners."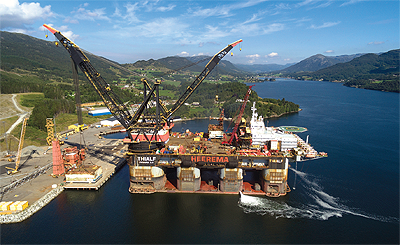 Keeping it simple
As Graeme goes on to add, decommissioning is a distinct activity that demands a specific mind-set. "The North Sea has created outstanding explorers, developers and producers committed to building and safeguarding assets for the long-term. Decommissioning, however, has a completely different set of priorities, and there has been a dramatic increase in complex multi-hazard activities that require a different approach. Fairfield Decom is able to implement innovative/novel commercial models, and our integrated technical solution encourages simultaneous operations which improves efficiency and enhances predictability. In short, we help to keep things simple and we know what not to do!"
Fairfield Decom's vision is to become the recognised innovative and sustainable solution provider to the offshore decommissioning industry. "As a decommissioning operator, we occupy a unique position within the market, providing collaborative solutions that resolve the traditional conflict between E&P and decommissioning activities," Graeme continues. "Our approach is to take control of the field in the last years of its life, which gives us a thorough knowledge of the infrastructure. We manage and execute the entire scope of ultra-late life operations purely with decommissioning in mind, thus creating efficiencies, managing risks, and enabling operators to concentrate their resources on their core E&P business activities.
"We fully understand, however, that funding for decommissioning projects may compete with exploration, development and production enhancement investment decisions, and that the availability of financing is important to enable projects to reach the execution phase. As a dedicated Decom Operator, we have the scale and financial strength to be able to manage this. We have invested a significant amount of time in discussing these requirements with the financial community and developed a range of commercial options, to the point where we are confident that our innovative solutions will give the industry the assurance they need to make decommissioning decisions at the right time."
Fairfield Decom believes that only specialist companies with the capability to take on latelife operations prior to an asset's Cessation of Production (CoP) can provide efficient and predictable outcomes. "Adopting an approach that facilitates a better understanding of the technical challenges enables the initiation of upfront decommissioning work scopes whilst the asset is still producing, resulting in a more economically efficient outcome," Graeme enthuses.
"What Fairfield Decom provides is visionary, but it is not just a concept, it is a new and exciting solution to the challenges the industry faces – particularly in the mature North Sea basin – which is both scalable and sustainable," Graeme concludes. "It provides career opportunities for those already within the industry, ensuring skills and knowledge are retained, whilst at the same time creates new and exciting opportunities for those at the start of their careers."
It is hard to question the belief that 2020 marks an exciting time for the decommissioning sector, what with statistics quoted in the recent OGUK Decommissioning Insight Report showing plenty of work on the horizon. Indeed, Graeme anticipates that in the next 12-to-18 months, Fairfield Decom will have at least two major projects underway, and be in discussions regarding other prospective works and collaborations.
Fairfield Energy – Fairfield Decom Limited
Services: Oil and gas decommissioning