Fleets ahead
Fairstar Heavy Transport NV (FAIR) is ideally suited to clients that are seeking high-end ocean transportation services for the largest floating and non-floating cargoes, and want these services delivered in a reliable, safe and environmentally friendly way.
Rotterdam-based FAIR, quoted on the Oslo Stock Exchange, achieves this through the integration of motivated people, quality vessels and innovative solutions. As a business that thrives on challenge, FAIR offers two of the most modern semi-submersible ships in the world today with a dedicated Dutch team onboard to operate them.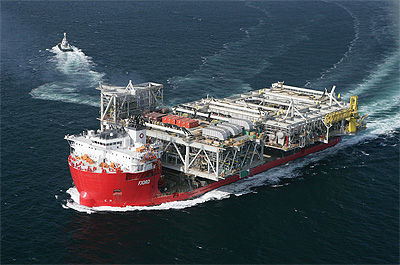 Incorporated in July 2005 and subsequently financed with about $50 million in equity through a private placement in July 2005, FAIR deals with cargoes of extreme value and customers include DSM, Heerema, Chevron and Maersk. In August 2005, FAIR took delivery of the semi-submersible barges BOA 19 and BOA 20 from BOA Offshore AS in Trondheim. The barges, renamed Fjord and Fjell respectively, are among the world's largest semi-submersible barges. In Malta they were converted to self-propelled heavy transport vessels able to transport high value floating and non-floating cargoes over long ocean distances, internationally. The ships will trade in the world markets to transport large floating and nonfloating cargoes, mainly used in the offshore oil and gas industry, such as drilling rigs, floating production platforms and modules.
The Fjord entered into service in the offshore heavy transport segment in March 2008 and the Fjell successfully completed its maiden voyage in May 2009. Its first contract, worth $1.32 million, involved the transportation of a 7000 tonne chemical tanker called Marettimo M from the Cantiere Navale di Trapani (CNT) shipyard in Trapani, Sicily, in order to launch it into a safe location in Trapani harbour. Working closely with Mammoet, the world leader in land-based heavy transport, the Marettimo M was rolled in to the Fjell using Mammoet self-propelled mobile trailers (SPMT). Once onboard, the vessel sailed to a nearby location and submerged to a depth sufficient to allow the Marettimo M to float off the Fjell, for it then to be towed back to a quayside in Trapani.
Dave Hangoor, FAIR's operations manager comments: "For three days Fairstar, Mammoet and CNT worked almost around the clock to prepare the cargo and the Fjell. Mammoet performed with its usual professionalism and once the cargo was on board the Fjell it was up to the Fairstar team to finish the job. We worked within a very small margin of error and we are extremely satisfied that the Fjell performed so well on its maiden contract. Float-offs require a high degree of skill and experience, and Fairstar has served its client safely and reliably."
Philip Adkins, FAIR's CEO, adds: "This contract played to the strengths of our ship and our personnel. The shallow draft and high weight-bearing features of the Fjell allowed us to position the ship at the quay. The advantage of our open stern allowed Mammoet to access the deck with its SPMTs to load on this sizable cargo. The experience of our team resulted in a safe and successful discharge – Fjell and its crew exceeded everyone's expectations and we are very proud of them." The ship's next task is being loaded with a cargo of FPSO components for transport to the DSME yard in Okpo, Korea, which it started immediately after completing its first contract.
In all of its operations, FAIR subscribes to the guidelines and best practice rules of the Dutch Corporate Governance Code, called the Tabaksblat Code, which became effective on 1 January 2005. According to the company, good corporate governance deserves clear anchorage and the business has a management structure consisting of a supervisory board and a management board, meaning FAIR has a statutory two-tier structure. Equally important to FAIR is its HSE policy, whereby the company ensures that all health, safety and environmental risk exposures associated with its marine activities are properly managed so as to protect the interests of all who are directly or indirectly affected by such activities. This, combined with the ongoing success of FAIR's fleet additions, mean that the company is heading towards a very profitable future.
Fairstar B.V.
Services: Sea transportation services