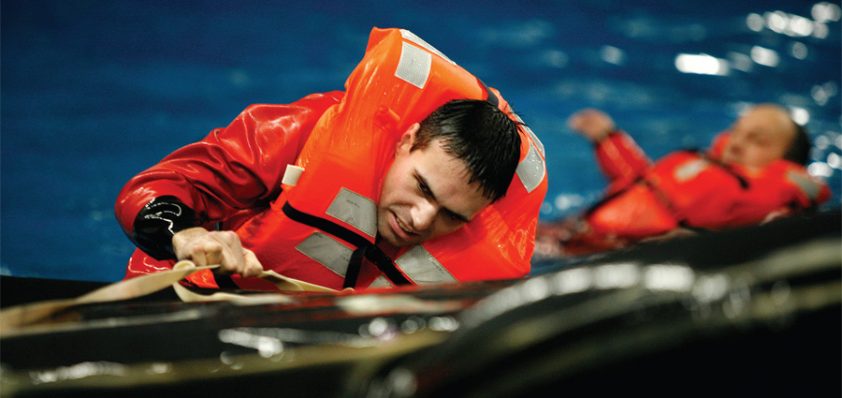 Making industry safe
Falck is a world leader in rescue and safety courses, especially for the offshore sector and the maritime sector.
Also the chemical industry and the military avail themselves of Falck's special competencies, which have been developed on the basis of the company's 100 years of experience in rescue services in close collaboration with its international business partners. Falck's training activities are marketed under the name of Falck Nutec.
Activities are concentrated on training staff at all levels in safe behaviour in order to avoid accidents in the workplace. In addition, staff are trained to react correctly under highly difficult conditions if accidents do occur. These activities take place at the company's 22 well-equipped training centres, located in Angola, Brazil, Denmark, England, the Netherlands, Nigeria, Norway, Malaysia, Russia, Scotland, Singapore, Thailand, Trinidad and Tobago, the UAE, the US and Vietnam.
The business area of training has enjoyed strong growth over the past 10 years; 166,000 people attended courses provided by Falck in 2008, up from 145,000 in 2007. Falck constantly focuses on product development to meet the ever-increasing international safety demands which clients must meet in their often very difficult working environments. Falck will continue to help disseminate these very high safety standards from the North Sea to the rest of the world. The business complies with OLF, OPITO, NOGEPA international standards.
Graham Gall, UK managing director for Falck Nutec says: "We are delighted to be in the position to supply a variety of training services solutions to UK and international industries through our
Falck Nutec and Falck Onsite training divisions located in Aberdeen and Teesside, with the additional benefit of being able to move our expertise and people to where customers require us."
As the company develops, Graham explains how Falck will improve to provide better services: "Our focus is to invest in our resources and people to ensure that we are able to provide our customers with the best possible service, and that they provide excellent health and safety instruction through competence training. In this way everyone can maintain a full understanding and compliance within their associated disciplines and industry sector areas."
He continues, speaking about specific training offered by the company: "Among the safety guidance we offer, the basic and further minimum industry safety training is a recognised entrance and maintenance of skills qualification for recruits to work the offshore sector. It shows that they have undergone a minimum level of training, understanding and assessment to ensure that they have attained the initial competency for working offshore."
Falck Nutec's draws support from its strong relationships with suppliers. Graham elaborates on how these are crucial to the business: "We have a number of key suppliers, with whom we work closely. Maintaining close partnerships with them is imperative to our success; it's not just a matter of cost control, but also dependability and quality. For example, we have worked with Tyco for a long period of time, always maintaining a sound alliance. Tyco supports us across our operations, as we work together not only in the UK sector, but on a number of global projects as well."
In light of recent economic conditions causing a downturn in many industry operations, Graham explains how Falck Nutec is working to combat the negative impact on its business: "Every company has faced major challenges over the past year. I'm sure most of our customers have been affected in one way or another and we like to think that we can work with them to ensure that we offer value in the quality training expected of us."
As the company moves forwards it is looking to grow organically, as Graham reveals: "There's always potential for growth and that means that we need to conduct our business in a different way. As long as we continue to listen to the marketplace, we can grow hand in hand with our customers. We are aiming to implement our expansion through strategic investments. For example, an upgrade to our present course practical helideck facilities in Aberdeen and use of online booking systems for clients, which both provide flexibility and an exciting new approach to high-quality training."
Falck Nutec
Services: Emergency safety training