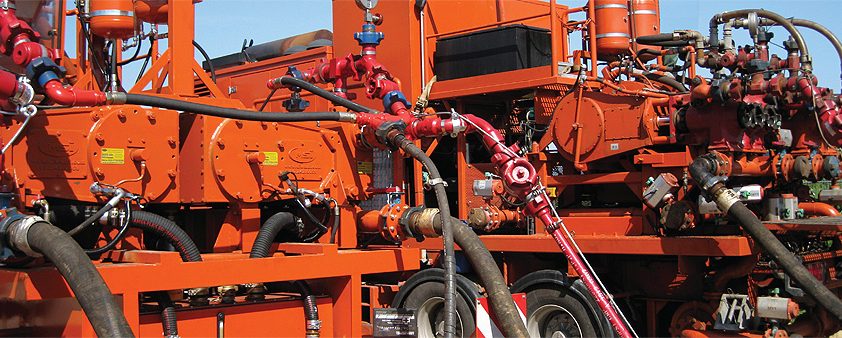 The ideal partner
The highly skilled Fangmann Group is a full service provider partner for well stimulation and cementing services, technical projects, and expertise ranging from mechanical and plant engineering to planning, inspection and maintenance.
The company prides itself on completing ambitious tasks and meeting clients' demands with successful solutions for highly specialised industries. Its overall goal is to offer cost effective services and to deliver flexible, innovative and reliable solutions.
Managing director and company partner Frank Fangmann introduces the Group: "We are a service and engineering company for the oil and gas industry, as well as the geothermal market,
providing innovative solutions for our customers' benefit, whilst maintaining a high level of safety and quality. We have built up more than 40 years of experience and know-how in the oil the gas and energy sector, as well as in maintenance, service, construction, engineering and commissioning."
Fangmann works with organisations like Exxon, GDF SUEZ, Wintershall, RWE Dea, Shell and UGS, to name just a few clients. The work that is presently being carried out by the Group includes cementing jobs in gas/oil/geothermal wells; acidizing work in gas/oil/geothermal wells; pumping services; foam/acid batching in gas wells; dewatering in gas wells; and an acidizing/surfactant/diesel emulsion stimulation campaign in an oil field.
The organisation works in four areas of the oil and gas industry, as Frank reveals: "Our areas of concern are the oil field service business, where we provide stimulation and cementing services; mechanical engineering, where we provide design, construction and maintenance to the oil and gas industry; electrical engineering, encompassing design, engineering, construction and maintenance; and finally, transport and mobile crane services."
The Group takes over the realisation of oil field services, starting with preparation, lab testing according to ISO/API standards and operation, and ending with job analysis at natural gas, crude oil, geothermal and underground storage wells. Fangmann also has three operating companies that carry out everything from fracturing and sand control to process control engineering.
Frank discusses their capabilities: "Fangmann Energy Services covers oilfield services; Fangmann Industrie covers mechanical engineering and logistic services; and Fangmann Automation covers electrical engineering and related activities. We have two bases – the main base is in the eastern part of Germany and we opened a second base in January 2009 in the northwest of Germany, where we are also providing oilfield services to the industry. If necessary we will open more bases, depending on what customers require. We listen and respond to customers' needs, so we can offer a thoroughly beneficial, tailor-made service to our customers."
Continuing, Frank adds: "We are small and independent, so we can respond very quickly to the market. If a customer has a problem, we can find a solution very fast without having long-term decision processes inside our company. We have long-standing experience of providing services to the gas producing customers and there is a great deal of knowledge in our company."
Indeed, the Group has accomplished a great deal in recent years and made strategic investments in equipment in order to propel the business forward. Some of the new equipment includes high pressure pump units up to 2000 HHP, cementing units, fluid laboratory and modern transport fleet consisting of new tank trucks, truck tractors, semi-trailers, trailers and bulk trailers. Speaking about the Group's progress in this respect, Frank says: "We have achieved a lot in the last six years, in terms of investments. We have built up completely new equipment, such as pump trucks, for the oilfield service, none of which is older than four years. An important point to note is that we build our stimulation and cementing equipment on our own, meaning that all of the equipment that we have invested in, we built with our mechanical and electrical engineering department. Since we build all of our oilfield service equipment in-house, it allows us to learn from the field experience, and pass this valuable experience on to our customers. For customers who purchase our oil field service equipment, they benefit as well on that unique advantage.
"We have to invest in new transport equipment, such as trailers, in order to move this equipment to the places where we work. We started investing five years ago and investments are ongoing. Further capacities of equipment, personnel and transport will satisfy the demands of our customers and provide a more reliable and flexible service. Two years ago, we also built a new workshop

and last year we built a new office and social building, which can accommodate up to 50 employees. It's a place our staff can get ready for work, have a break or take a shower after finishing the work. We have grown in the last six years in terms of our workforce, so now there are about 170 employees in total working within the Fangmann Group."
The fact its employee figure has increased in spite of a global recession is testament to the Fangmann Group's status in the marketplace, its ability to continue to secure work and the longevity of the oil and gas sector. "We decided not to reduce our staffing level; instead, we have 25 more people than last year because we have had a lot of work to do and need these employees to help us provide an excellent service to customers," Frank notes.
"The recession affected our business but not to a significant degree because we are providing most of our products to the energy industry and it was not hugely affected. Currently, we are growing more confident and the worst of the downturn is behind us; more and more contracts have been awarded to us in the past four weeks and a lot of offers have been made to customers. We expect the mechanical, automation and electrical engineering areas of Fangmann in particular to receive more work."
The renewable energy market is also of interest to the Fangmann Group and in the past few years the company has analysed the market of innovative conversion processes of biomasses and refusals. The business acknowledges that in the future the increasing utilisation of biomass will substitute fossil fuels, like charcoal, oil and gas, and it will amend its services accordingly.
With thoughts turning to the future of the Group and how customers' needs can be best met, Frank shares his vision for the coming years: "We want to continue to grow in a healthy way, look at what our customers want and provide innovative services. We're very confident that with these principles, we will grow in the coming years as we have managed previously. We are always trying to look at niches in the market so we are not simply offering what everyone else does. For example, if a company is building a process plant, numerous companies can take care of piping, so we are trying to get into areas of plant construction where we don't have many competitors. To this end, we are going to educate our people to provide more than others can, which should enable us to secure work with better profit margins."
Fangmann Group
Services: Oil field services, engineering and numerous other services