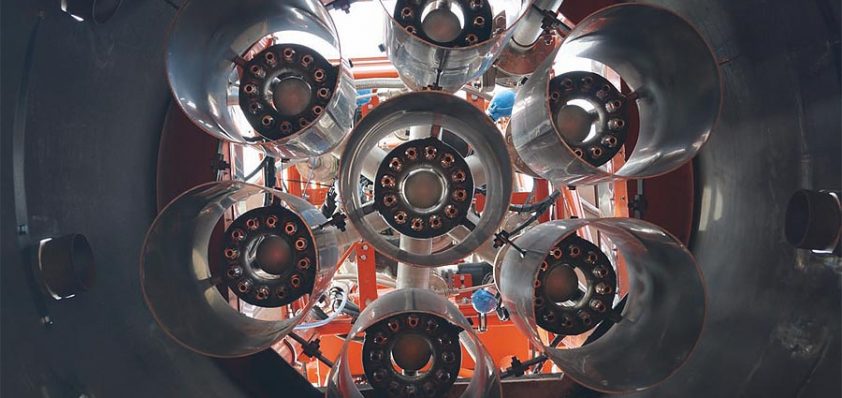 Fangmann Industrie GmbH & Co.KG
Moving technology
For several decades the Fangmann Group has operated as a highly skilled service provider across a number of industry sectors.
Today the group manages three operating companies that provide targeted services to the clearly defined markets. These are comprised of: Fangmann Energy Services, which has operated since 1956 and manages design, preparation and jobs performance, as well as analysis of stimulation and cementing jobs in crude oil, natural gas, geothermal and underground storage wells; Fangmann Industrie, which specialises in superior technical projects and Fangmann Automation, which supplies future-oriented solutions within measurement and control systems. Fangmann Automation has operated since 1992 and offers a full service package comprised of project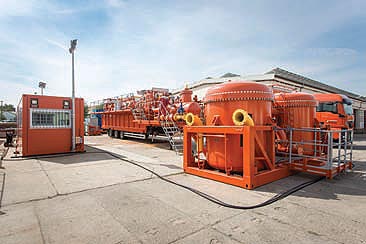 management, planning, engineering, assembly and start-up as well as professional maintenance and repair of plants and systems.
Since the Fangmann Group was last featured in European Oil and Gas Magazine it has continued to grow and build on its reputation for undertaking technically demanding and ambitious projects. The success of the company can be marked by its continued growth between 2010 and the present day, which has seen its workforce grow steadily from around 170 to more than 200 highly qualified and motivated employees. This dedicated team allows the company to offer optimal solutions to its clients' most complex tasks.
Within the oil and gas market the Fangmann Group focuses primarily on four areas: stimulation and cementing services, mechanical engineering, electrical engineering and finally transport and mobile crane services. A more detailed look at the projects undertaken by the company in recent years reveals cementing works in oil, gas and geothermal wells; acidizing in wells, pumping serivcs, foam/acid batching in gas wells, dewatering of gas wells and the execution of acidizing/surfactant/diesel emulsion stimulation campaigns in oil fields. These operations have seen the Fangmann Group work with respected industry clients including Exxon, GDF SUEZ, Wintershall, RWE Dea, Shell and UGS, to name just a few.
A recent development from Fangmann was the unveiling of its mobile flow back equipment for gas wells (MFE) during 2014. Treatment work involving natural gas has several requirements relating to industrial safety and to the protection of the environment. Equally it is important for operators to ensure that works are undertaken efficiently and effectively to limit production costs and keep projects within budget. In developing the MFE, Fangmann considered all of these factors to deliver a solution that would best match the concerns of performance and safety.
The final design of the MFE resulted in a system that is able to operate with a maximum flow rate of 10,000 NM3/h with an input pressure reaching maxX.345 bar and an amount of water equal to 5000 l/h. The MFE is housed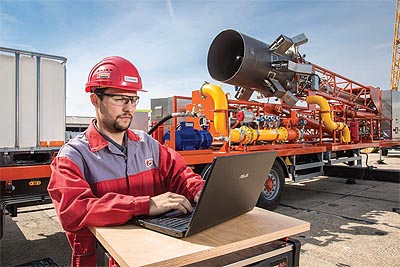 within five mobile skids each containing either a hydraulically hinged torch/flare plant, gas filtering unit, gas separation unit with water separation and cleaning, storage tank or a mobile guidance centre (DATA Van) and workshop.
In terms of operation the MFE is designed to go in service once borehole treatments such as foamer batches and coil tubing have been utilised to remove fluids from the well without causing damage to the local environment. Once the MFE is operational, gas flaring ensures that pressure ratios remain nominal guaranteeing that further stresses to the environment are avoided and that the well remains productive.
Additionally the MFE is designed to facilitate rapid deployment and short preparation times, making the technology a cost-effective means of beginning production quickly and efficiently. Further components are designed to be simple to install and compatible with the MFE via an integrated derrick, allowing for rapid growth and development of the drill site. The MFE is further enhanced by the innovative introduction of a hydraulic folding and sealing mechanism, which allows the system to be dismantled and erected without the need of an additional crane despite encompassing a 20 metre gas flare. The result is a highly flexible and diverse system that is able to meet the changing needs of the field.
The MFE is highly automated with all of its substantial components equipped with pneumatic drives, which can be controlled from the Data Van once the plant has been started. This means that the entire operation is almost entirely controllable from the safety of the Data Van with entry into potentially hazardous areas only necessary for control and sampling purposes. This offers the opportunity for clients to reach new heights of operational safety and all equipment is designed and produced to meet with the most recent requirements of EU legislation.
With fully integrated packages like that of the MFE and turnkey drill-site service solutions, Fangmann is poised to offer market-leading solutions to the oil and gas market well into the future. The company is proud of its position as a small but nimble business that is able to respond quickly to the needs of its clients to offer targeted, bespoke oilfield services.
Fangmann Industrie GmbH & Co.KG
Services: Oil field services, engineering and numerous other services