Landing major contracts
Based in Cincinnati, Ohio, FEC Heliports is an expert in the design, manufacture, and installation of helipads.
The company has been established as a major operator in the US for over a decade, but has only extended its operations around the world in the past two years. At offices located in Buckinghamshire, FEC Heliports Worldwide has been set-up to handle all international sales outside Canada, America, and the Caribbean.
In addition to providing traditional concrete and steel designs, FEC offers modern lightweight aluminium helipads that provide customers with a multitude of advantages. Colin Little, managing director of FEC Heliports Worldwide, details these strengths: "An aluminium helipad is usually about 25 per cent the weight of either of the alternatives, and because no on site welding is usually required, these heliports can be erected at a much greater speed.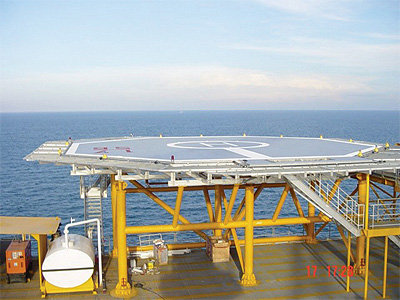 "Assembling the necessary components is straightforward, and so the customer requires no specialised support at all. In fact, it is possible for them to use their own labour following step-by-step instructions that we can simply send. Our preferred alternative however, and the one most customers choose, is for them to request the services of one of FEC Heliports highly trained technical representatives, in which case we will send someone to the job site from America. It is then his responsibility to project manage, supervise, test, commission and warranty the installation."
FEC delivers two aluminium helidecks systems. The HELISLAT is the company's rooftop, semi-elevated and offshore helidecks material which can be extruded in unbroken lengths of up to 60 feet. It boasts a tongue and groove design that, when properly supported, is capable of handling helicopters with a maximum take-off weight in excess of 25,000 pounds. HELOMAT, meanwhile, is FEC Heliports' ground-based heliport. This can reach up to 45 feet in length, and is regarded as not only suitable for new ground bearing helipads but also an outstanding replacement for damaged concrete pads, as the new panels can be placed directly over the existing outlay.
The company's offshore offering was until recently the HELISLAT II, which was a deeper, heavier aluminium section. However FEC Heliports has decided that use of the heavier section is unnecessary and simply by re-designing the structural support HELISLAT can now universally be utilised, thus reducing customer costs.
Colin details some of the major considerations for FEC's customers in the offshore sector: "They require highly robust helipads that are as near to maintenance-free as possible. Often they also need helipad systems and equipment to be capable of being operated remotely either from a shore or mother ship base, or from an approaching helipad. For example, we are currently looking at some platforms in the Mediterranean that are normally unmanned installations where, if a helicopter catches fire for any reason or force lands on the helideck, fire extinguishing systems are operated automatically. We have the necessary systems that enable us to do that."
Alongside its helipads, FEC also sells an impressive range of related design services and equipment. Products include LED and incandescent perimeter lighting, surface floodlights, beacons, obstruction lighting, safety netting, fuel/water separators, and snowmelt systems. In addition, the company has designed an aluminium wind-cone, which offers greater durability than that of its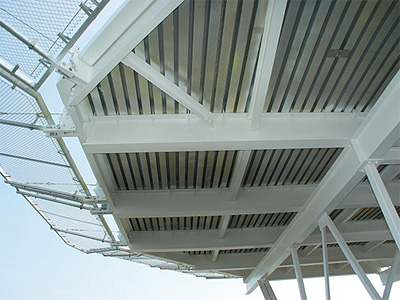 steel-based rivals.
Whilst, as mentioned, FEC has only recently moved beyond its American roots, the company is already winning significant business around the globe. It acquired its first major European contract at the beginning of 2008, which necessitated the provision of a 28-metre wide octagonal rooftop heliport for a large cardiology hospital in Aalst, Belgium. In particular, however, Asia and India are proving particularly fruitful markets at present, and FEC is now entering a contract with a major shipyard in Mumbai, for which it will provide three helidecks for offshore servicing vessels.
"The market in India is potentially extremely interesting," explains Colin. "The Indian government declared 2008 as The Year of the Helicopter, and at the beginning of the year we exhibited at Heli-India. This was a major seminar held in New Delhi at which all of the major industry players, including all three armed forces were present, over the course of the three days. The amount of interest in our products was enormous. The Indian government is wedded to the provision of a helicopter and helipad infrastructure in the country; there is also an exciting market for temporary helipads for religious festivals, political rallies and electioneering, and the commonwealth games will be in New Delhi in 2010.
"Aside from India, we've tendered projects in Dubai, Kuwait, and Bahrain, which include consultancy and advice packages as well as equipment supplies. Closer to home, we are currently looking at five hospital projects in the UK, and three in Ireland. The rooftop helipad market is one which is expanding rapidly, and we are seeing a increasing volumes of interest in that area as traffic densities build rendering emergency and business transport by air within cities more important."
Concluding, Colin explains the ambitious objective that FEC Heliports Worldwide has set itself: "We would like to see the company positioned around the world as it is in America, so that we are internationally regarded as the supplier of choice. We believe that this is possible because we can provide clients with the complete process of design, manufacture, assembly, and installation at a very competitive price. There are of course parts of the world that we have not yet explored, and it is only a question of time before we begin expanding further through a network of local partner representatives."
FEC Heliports Worldwide
Products Heliports and associated equipment