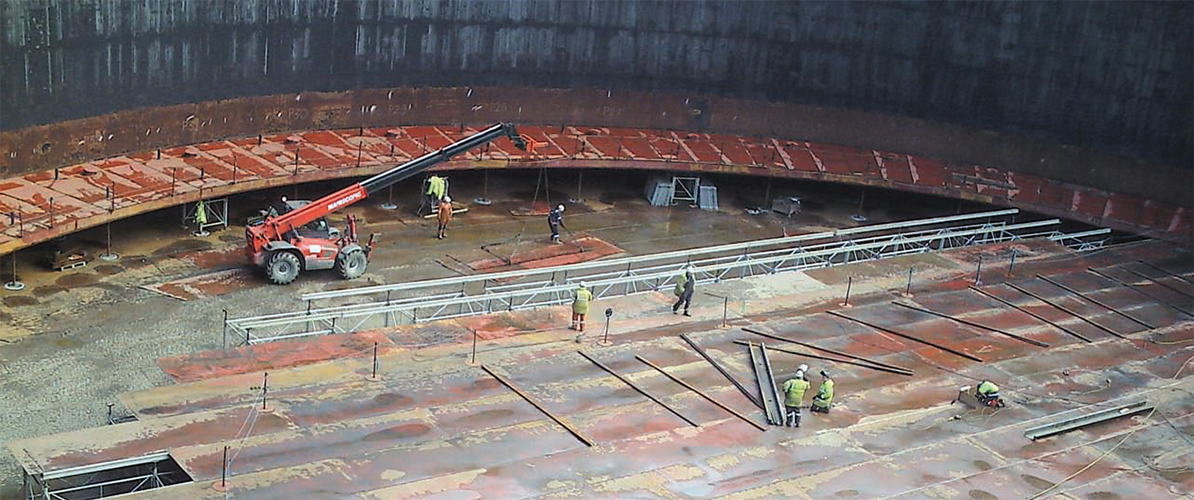 A firm knowledge base
Founded in 2004, Fenelon Storage Tanks Ltd was established as an Irish registered company focused on maintenance projects within the Republic of Ireland. Although the company remained busy for several years within the Irish market, it increasingly took on contracts within the UK, which would go on to become the company's main source of revenue. Following a management buyout in 2013, Fenelon is today a UK registered business that provides design, construction and maintenance solutions for structures including storage tanks, vessels, silos and steelworks. The business is headed up by managing director Dean Sheldon, who brings with him 30 years of experience in the construction and refurbishment of storage tanks. "When I joined Fenelon in 2006 it was a fairly new player in the market and was building up a reputation as a provider of good quality tank design, repair and build," Dean reveals. "However it was obvious that if the company wanted to have a greater impact on the market it would need to put things in place that would allow the business to continue to grow while maintaining its reputation for providing good quality, well managed tank projects."
Indeed the business has continued to grow and further develop the service offering that it delivers to clients. A unique selling point for Fenelon is that provides its own in-house design service that allows it to work closely with clients to deliver truly bespoke storage solutions to projects, both nationally and internationally. "Fenelon is unusual within the tank industry in that it operates its own design department," Dean says. "This allows us more control over tailoring design to take account of client requirements, site conditions and 'designed in' safer construction. Having our own design department also allows our clients to have instant access to our design team from project inception to completion of tank build."
Traditionally the roots of the business have been within Ireland and the UK, where the market continues to remain strong for the company, however as it continues to grow Fenelon is strengthening its global presence by exporting its design expertise and storage solutions in kit form. "Over recent years we have been involved in several projects for overseas companies who require tank design and supply in kit form. This involves designing the tanks to client requirements, fabricating all components and loading from our headquarters into containers for installation by others," Dean explains. "This type of work requires a great deal of attention to detail as to miss something as apparently minor as a couple of roof bracings could have serious consequences to the programme at a remote site. Throughout contracts of this nature we cannot be of the mind-set that once the materials are loaded for shipment then that is the end of our involvement. We need to think 'who will be unloading this container and what equipment will they have?' etc. For example, whenever we load shell plates for erection overseas we always leave the lifting shackles in place on the last plate to ensure that they are available at the other end as soon as the container is opened. We believe details like this make all the difference to the end user."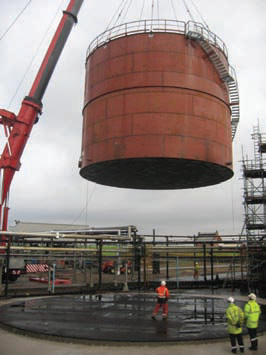 Historically around half of the work undertaken by Fenelon are new builds, while the remainder is comprised of repair and maintenance contracts. As such the company's workforce has ample experience in all major aspects of tank work. This is a vital component in the success of Fenelon at home and abroad. "The quality of our workforce is critical to the success of our business," Dean says. "We have worked hard over the past decade to cultivate a culture within Fenelon Storage Tanks where every individual feels part of a team."
To date Fenelon has delivered kit-form storage tanks to clients in Nigeria and Burkina Faso and is in talks with clients in other regions including the Middle East. Within the UK the company continues to undertake any and all projects ranging from values of £10,000 to £10.5 million, including on-going maintenance projects with clients such as Phillips 66. "Some of the company's current live projects include a long-term maintenance contract in a large Humber Refinery, a major tank refurbishment project in Essex, two new build tanks in Plymouth and a new build tank in Tyneside," Dean reveals.
As the business Fenelon2continues to grow, Fenelon places great emphasis on the training of its current and future employees through apprenticeship schemes and other in-house training programmes. The result is a company that delivers a high level of professionalism, while taking advantage of the personalised client interface and rapid lines of communication of a smaller business. "We have been likened to a 'family business' by many of our main customers. While in meetings with management I heard on several occasions that they liked to work with Fenelon for this reason. Dean notes: "At first I didn't like the comparison as I thought it sounded unprofessional. Then after thinking about it I realised that this was not how the comments were intended. In fact it is a great compliment to our company that we can provide the service that we do and still maintain such a personal and friendly relationship with our clients"
During the coming years Fenelon will combine its strong market reputation, proven track record and firm knowledge base of tank design to export kit-form tanks as well as design solutions to global clients, while continuing to supply UK clients with both design and construction services. As such, Fenelon Storage Tanks can be considered a reliable partner in an occasionally uncertain market.
Fenelon Storage Tanks Ltd
Services: Storage tanks design and fabrication
Issue 122 July 2015