Bulk buyer
FEOSO OIL Malaysia is part of the FEOSO Group, which was founded in 1973. Headquartered in Hong Kong it has offices and joint ventures positioned around the globe.
The primary activities for its plant in Malaysia include the marketing and manufacturing of lubricants with the terminal recognised as a specialist lubricant blending plant, first going live in December 2003 with an overall storage capacity of 10,000 metric tonnes.
"Our portfolio of clients consists of international companies such as BP, Shell, Petron, Penrite, Top One and Fuchs, but we also supply to many local companies, with whom our own brand is very popular," says Gan Eng Kiong, director and general manager. "As a manufacturing plant, we purchase our base oil in bulk, supplied to the port by vessels. Our plant is 700 metres away from the jetty, and we have our own dedicated pipeline that pumps oil in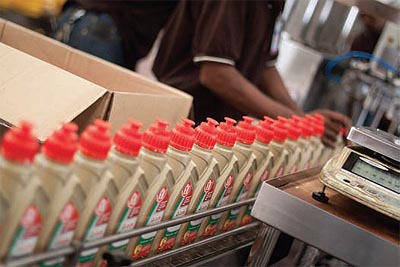 from the vessels into our tanks.
"We also import a large amount of additives, the essential ingredients that define the end use of the lubricant, be it engine oil, hydraulic oil or various others," he continues. The manufacturer of high quality marine, automobile and industrial-use lubricants has worked closely with the world's largest additive manufacturer, Infineum, for several years through the development stages of premium lubricant products, which have gained approval from oil companies and world-renowned engine builders. With all blending carried out according to the specification detailed by the customer, the raw materials for the final packaging of the products are all sourced locally, with the packaging approved by the clients. Commenting on the challenges faced by the business in today's tough economic climate, Gan says: "The majority of our purchasing is conducted in USD, but our local currency has become significantly weakened against the dollar, and this makes it hard to remain competitive.
"Secondly, the cost of the base oil, additives, and packaging materials are moving upwards, making it harder for lubricant manufacturers, such as ourselves, to recover costs. There are in the region of 50 blending companies in Malaysia, of which many are small businesses, conducting low-level operations. The challenge posed by this is that because there is no authority controlling the quality of lubricants, everybody is claiming a huge variety of specifications and able to provide the products at a much lower cost than a large, regulated business is able to match."
Dealing with international oil companies, FEOSO OIL Malaysia's processes and product quality are regularly checked. As a business it is also very strict on health, safety and environmental factors, conditions, which have ultimately led to its success in achieving contracts with industry leaders. "Working for major oil companies also attracts interest from many smaller companies that are keen to work with an authentic business that has a good product and well developed assets.
"Additionally, being located in a free trade zone we can ultimately be very competitive when exporting to different regions," explains Gan. As part of the FEOSO Group, the business has access to financial assistance when required, but has not had any requirement to rely on the corporate identity or buying power associated with the wealthy company. However, as the business continues to mature, group cohesion and communication will ultimately play a major role.
With new lubricant brands becoming available on the market on a regular basis the choice on shelf for the average consumer is particularly vast. Although a competitive market is in many ways good for the consumer, a non-
regulated market can have very much the opposite and negative effect. This is an aspect of the industry that the business takes very seriously as it seeks to ensure all blending companies operate on a level playing field, without making false claims about the products offered. "I think it would be a very positive step to create a regulatory force that monitors the lubricant industry. It is important for the country to actively promote that its lubricant industry is of top quality and to a high specification," says Gan.
Holding a good portion of market exclusivity with oil companies, confirming its position as a market leader, the business was recently able to secure a base oil contract with ExxonMobil. Co-operating with large independent oil businesses that has a very specific brand and range of products does in many ways produce a cap on the available market. As such, FEOSO OIL Malaysia has developed a strategy as it works towards future expansion. "In terms of regional expansion we are looking to supply our products to China and other countries in South East Asia, and to grow our interests as far south as Australia and New Zealand, both of which are not in a position to be competitive in the manufacturing industry.
"Due to the total market cap, we are also looking to develop a one-stop-shop for our customers, providing warehousing, and transportation for end-users and also into providing tank facilities on a rental basis for large oil companies. To this end, we expect to double our tank capacity in the coming years," Gan points out. The expansion plans detail developments on nearly its entire seven acre site, with units dedicated to serving new markets, such as producing specialised industrial lubricants, the production of grease and the manufacture of additives.
As the business looks towards the future it recognises the sense of uncertainty, as the instability in the Middle East remains current, which ultimately has an effect on all aspects of the oil industry. Comforted by the regular supply contract for ExxonMobil, it continues with an eye on oil prices, with oil being the fundamental ingredient for its lubricants, as well as its plastic packaging cost. "Although the raw material price fluctuates easily, it is not so simple to pass on to the customer.
"Expansion for our company is not just restricted to the oil business. Our parent group is not only involved in the marketing and manufacturing of lubricants, but also bunkering services, the construction and management of oil and gas storage facilities, owning and managing petroleum, liquid petroleum gas (LPG) retail stations, oil trading and property investments. These are certainly markets that we are in a position to move into," concludes Gan.
FEOSO OIL Malaysia SDN. BHD.
Services: Specialist lubricant manufacturer