Contained growth
It has been 15 months since the Ferguson Group was last featured in the pages of European Oil & Gas Magazine – and over that time the company has witnessed a significant number of expansions in its range of offshore containers and accommodation modules.
Graham Donnelly, partner development manager, explained that the changes have all been very positive and designed to aid the Group's growth into the future. "Over 2013 and into 2014 we have expanded the global fleet with a range of new products including DNV 2.7-3 lifting frames, Zone 2 workshops, NORSOK workshops, low profile sealed waste units (six tonnes), ISO tanks, acid tanks, chemical tanks, helifuel tanks and new cryogenic tanks," he said, starting the story with a focus on products.
"We have listened to our customers and that is what has encouraged us to expand the tank fleet," he added. "The DNV 2.7-1 10ft cryogenic tanks have a 7901 litre capacity, and have been designed for the transportation and storage of liquefied industrial gases, with a maximum 25-day hold time for liquid nitrogen.
"The new 6000 litre DNV 2.7-1 acid tank is configured vertically within a frame, and is a T14 UN portable tank, approved IMDG, ADR, RID for use with hydrochloric and other acids. We are also providing several other sizes and variations in order to meet market needs."
Graham noted that in relation to Ferguson Group's tanks and indeed, all its containers, modules and refrigeration units are designed and manufactured in accordance to DNV 2.7-1/ EN12079 standards. The group recently held a seminar in Singapore to discuss the benefits of DNV GL accreditation – the accepted standard in every offshore environment. "In Singapore we work closely with DNV GL to host meetings for the oil sector to explain the importance of using assets that are designed to these standards," added Graham.
The Asian market is very important to its operations – for example it used the opportunity of appearing at the 14th Asian Oil, Gas & Petrochemical Engineering (OGA) exhibition and conference in June 2013 to announce a new six-metre accommodation unit. This has been designed specifically to address the heat in the southern hemisphere; it is proving to be a popular addition to the fleet in Singapore. Noted Graham: "The new unit had a face-lift with newly designed interior fittings, built-in furniture (bed, cupboards/storage) and a space saving desk/work area. Each bed is now fitted with a USB socket located nearby, letting crew charge or use IT equipment comfortably. The new module's HVAC system was upgraded so that it could keep its crew cool in the high temperatures that can be experienced in the southern hemisphere."
The attention to detail that Ferguson Group puts into its products is clear from the description above, and alongside continually updating the product range, the company is also keen to expand its network of partners in order to meet the needs of customers wherever they are located. In 2014 the group increased its global footprint with new partners in Vietnam, Nigeria, East Africa and most recently the Netherlands.
Graham explained how this last location will benefit both Ferguson and its customers: "In July 2014, in a move designed to expand our presence in the European energy markets, we joined with a new Dutch partner, Norsco Oilfield Services," he said. "Norsco Oilfield Services operates from a base in Ter Apel in the heart of Northern Europe and is near to a transport hub, making transport throughout Europe simpler than ever. The new partnership means we can halve delivery times, as we didn't previously have a base for central Europe, and had to ship from the UK."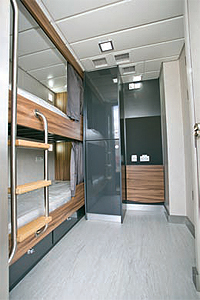 Ferguson Group hopes to see the relationship with Norsco become as successful as previous arrangements – for example the relationship it has with Dominion Gas has now been ongoing for four years. "Our partnership with Dominion Gas in Ghana was set up in late 2010 and is now an established success for the group. We work with Dominion Gas to support our West Africa clients with the provision of a complete range of Ferguson Group's containers, tanks and baskets. Our product specialists are regular visitors to the region to meet clients and support the Dominion Gas team in staying up-to-date on the new products we have been bringing to market," said Graham.
Working in East and West Africa does bring its own challenges, and here Ferguson Group calls on the services of another partner, Alpha Logistics. "They are a well established company in the region with an infrastructure in place to manage the rental of the Ferguson Group assets to offshore platforms/rigs," Graham explained.
Given how successful it has found the partnership approach, it is no surprise that the group is always on the lookout for new companies with which to work: "Our partners across the world have proved to be a very effective way of servicing and supporting our customers in-country more quickly and efficiently," said Graham, clearly proud of the network the company has established.
Looking into the future, there is more growth and development on the horizon for Ferguson Group. In September 2014 Brambles Limited, a supply-chain logistics company acquired the Ferguson Group. Graham explained that this move enables the Ferguson Group to maintain the existing momentum of its growth strategy, as well as continuing to flourish and grow as part of a broader listed entity. "We can increase our investment into the fleet and expand our range of services worldwide," said Graham.
"We have already seen significant growth in the last 15 months and we have a very healthy pipeline," Graham concluded. "October especially sees us very busy at a range of European events, which includes OTD in Bergen (15-16 Oct), Marintec in St Petersburg (7-9 Oct) and the Offshore Energy in Amsterdam (28-29 Oct). Members of Ferguson Group will be on-hand to meet with clients and prospects to discuss their requirements for offshore containers.
"I envision the next three to five years will see more growth, as the Ferguson Group expands its services further worldwide, coupled with further expansion of our offshore fleet of containers, tanks, refrigeration reefers, baskets, accommodation and engineering workspace modules."
Ferguson Group
Products: Supplies and distributes offshore containers, and manufactures offshore accommodation modules