The global connection
The Ferguson Group began as a family company supplying containers and accommodation modules to the oil and gas industry, originally in the North Sea.
It has grown to become a global company that today has bases in industry hubs all over the world. In September 2014 the business, valued at £320 million, was acquired by the Australian logistics specialist Brambles Ltd, and as the group begins a new phase of growth, it remains with its headquarters in Aberdeenshire, Scotland, employing more than 210 people worldwide.
Established in 1976, for over 35 years, the Group has serviced the global oil and gas and renewables industry, operating out of the UK, Norway, Australia, Singapore and UAE and from partner bases around the world.
"After a period of rapid geographical expansion and investment in our rental fleet, we are now seeing the benefits. We are increasingly offering a solution-based approach to our customers. As an example, in previous situations we may have supplied just tanks or cargo baskets to our customers, but today we are additionally able to project manage chemical filling, transporting, storage, emptying and cleaning of the tanks. In addition to design and fabrication of accommodation and workspaces, using in-house expertise we are able to design and manufacture supporting structures including walkways and stairways," says MD UK Business Unit, Gary Wilson.
The Group has a wide spectrum of clients, ranging from the service supply companies to small engineering consultancies. As commodity suppliers, Ferguson Group products can be founds in all parts of the industry, from Exploration and Production, to Cementing, Completions, Well Stimulation, Abandonment and Decommissioning.
"We believe it is important to build a good working relationship with our customers, as a better understanding of their business means we can provide better customer service."
The group continues its investment into engineering innovation to ensure that its product range meets the needs of its customers. The Ferguson Group's engineering team regularly examines every offshore asset in its fleet, liaising directly with customers about the products they use. By working with its clients, the in-house design team is able to develop specific products where necessary, or to adapt existing ones.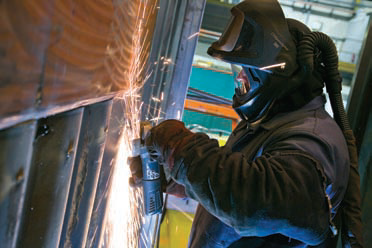 In essence, the business is value engineering the product range to further ensure that each piece of equipment can meet its function, and more importantly investigate where and how safety features can be enhanced. The Ferguson Group has just completed a large order for an accommodation complex designed with walkways, stairwells, sewage and water systems. Its skilled engineering and manufacturing teams had the solution designed and installed in a matter of weeks.
Through its policy of continually improving operations and standards in every aspect of the business, Ferguson Group undertakes the manufacturing process to the highest industry standards. Not only does this provide the reassurance to its customers that they are using modules that comply with the latest HSE regulations, but furthermore it is able to highlight its commitment to health and safety, quality and the environment through the numerous ISO and OHSAS certifications it holds.
Well versed in global expansion, the business recently made the decision to open a new larger facility in Singapore, in the Layong Offshore base, a key industry hub. The new site is ideal for the rental fleet being so close to clients' bases.
Building up its global portfolio is extremely important, particularly at a time when the market has been affected by the drop in oil price. "Given our geographic spread, we are able to continue to expand to support the ongoing needs of our customers," Gary adds. Beyond its own divisional offices, Ferguson Group has long established strategic partnerships, such as the one in West Africa with Dominion Oil and Gas and a Nigerian partner, as well as directly supporting other clients throughout the African continent.
"Our ability to respond in a timely manner to our customers' requests, with the high quality products that we offer certainly contributes to the strong reputation which we have built. We move forward with investment as a top priority and continually invest in new product development and product enhancements,"concludes Gary.
Ferguson Group
Services: Rental equipment specialist for offshore energy