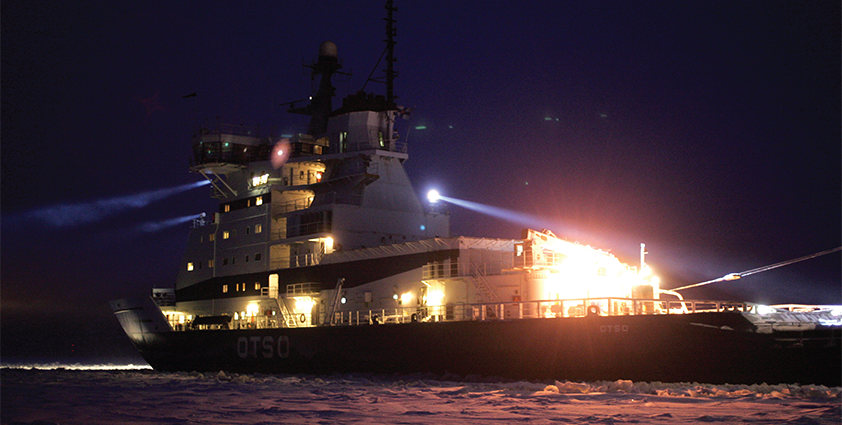 Ice work
Finstaship is a state-owned shipping enterprise that was founded in Finland in 2004. The shipping enterprise provides a range of services for the shipping industry that include icebreaking and fairway services, specialised offshore and marine construction services, and ship management and ferry services. I
ts fleet is comprised of 29 vessels that range from small island vessels to large icebreakers, all of which are kept up to date through refitting and conversions. The enterprise will be incorporated fully on the 1st January 2010.
Because Finland's ports and surrounding areas freeze every winter, there is always a need for safe and reliable marine traffic routes to facilitate international trade. Finstaship builds upon the country's traditions of icebreaking expertise with one of the world's most powerful icebreaker fleets, which consists of five conventional icebreakers and three multipurpose icebreakers.
Manned by nearly 400 experienced professionals, Finstaship's fleet of icebreakers provide a range of services to help secure a safe passage through the ice, including towing, assistance and traffic control. The company is the only shipping enterprise in Finland to provide icebreaking services with its own icebreakers, and it also offers additional support services such as co-operation with port authorities, charterers, the VTS and SRS stations and pilots. In addition, it supplies both traffic and operation to these stations and sends ice reports to the Ice Service Unit at the Finnish Institute of Marine Research.
The vast range of icebreakers in the fleet includes Voima – which is the company's oldest ship, manufactured in 1979; and Botnica, a modern 97 metre long multipurpose icebreaker manufactured in 1998. The geographical service area that the fleet covers encompasses not only the Gulf of Finland but also both the northern and southern parts of the Gulf of Bothnia, in the Baltic Sea. In addition, these icebreakers also operate outside of the winter season on commissioned offshore service jobs as well.
Two vessels within the Finstaship fleet that are also ideal for offshore operations are Fennica and Nordica, both of which are 116 metres in length and equipped with diesel-electric propulsion systems and a working deck of 1000 square metres. This means the vessels can hold large machinery ranging from 160-tonne pedestal active heave compensated cranes to underwater machinery control and pipe laying systems. Both ships have a 15,000 kW power output and 230-tonne bollard pull, making them well suited for seabed ploughing and towing or anchor-handling operations. In addition, both possess a main engine and generator that allows heavy-duty maintenance without compromising on operating ability.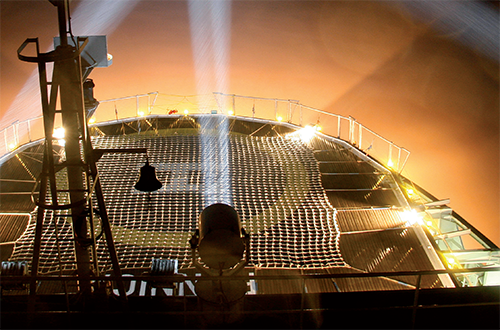 Fairway maintenance is another vital part of Finstaship's business, and it has several vessels dedicated towards repairing, constructing and ensuring the correct placement of the buoys and navigational markers that line the Finnish coasts. There are some 10,000 of these landmarks along the country's inland waterways, and a further 3,500 large navigation marks in the surrounding sea. The duty of Finstaship's vessels is to ensure that all of these beacons are lit and fully operational for when icy conditions begin.
The vessels designated with this task are Seili, Letto, Linja and Sektori. Capable of operating all year round, these vessels are equipped with heavy-duty hoisting gear, allowing them to handle loads of ten to 20 tonnes. This is further supported by Oili 1, in the Gulf of Finland, Oili 2 and 3, which are situated in the Archipelago Sea, and Oili 4, based in the Gulf of Bothnia. Each one of these vessels is manned by a crew of three and all are designed to handle five tonne buoy weights and sandblasting equipment.
Finstaship also utilises its vast knowledge of the territory to provide ferry services in all conditions. Carried out in conjunction with the Finnish Maritime Administration, the company's Archipelago shipping unit consists of twelve vessels – Aura, Aurora, Antonia, Falkö, Jurmo II, Rosala II, Viken, Kaita, Kivimo, Bergö, Finnö and Fiskö. These are all designed specifically to meet the demands of ferry traffic and can operate nearly all year round, transporting an average of 200,000 passengers and 50,000 vehicles every year. The network covers the majority of the inhabited islands that surround the country, and the company operates communication along nine ferry routes and 100 operating points.
Finstaship's environmental policy is another important aspect of its day-to-day operations, and the company also has vessels that are designed specifically to handle oil spill prevention and response. These are part of a programme led by the Finnish Environment Institute and they are all manned by a highly skilled crew who are continually being improved and developed through annual oil spill prevention and response drills.
Recently, the Finnish Maritime Administration entered a joint two-year venture with Finstaship that sees more icebreaking operations taking place. The contract is expected to bring nearly 30 million euros to the company over a period of 600 operating days, and it is a testament to Finstaship's ongoing success.
Finstaship
Services Icebreaking, fairway  services, marine  construction, ferry services