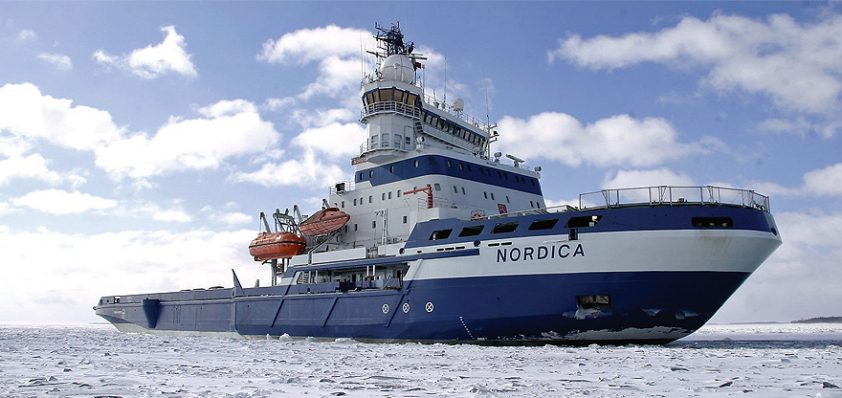 Real ice-breakers
Finstaship is a key player in the offshore construction market, offering icebreaking services, offshore services, and ferry traffic and ship management solutions.
With a long tradition of ice-breaking operations and expertise, the company has moved further into offshore operations recently with its three state-of-the-art multipurpose ice-breakers – the Botnica, Nordica and Fennica. The vessels' capabilities place Finstaship in an ideal position to capitalise on the increasing activities of the oil and gas industry in harsher regions.
Esko Mustamaki, president of Finstaship elaborates on the company's current role: "In 2004 operations in the offshore market comprised of around 20 per cent of our total turnover, whereas this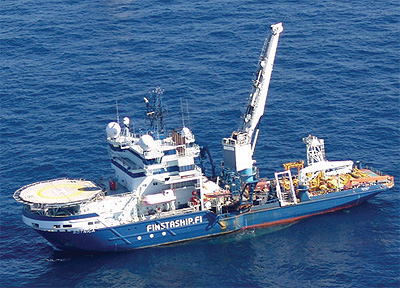 year it is around 50 per cent, so it is a market sector that is certainly growing for us, and will become increasingly interesting. We are looking at the Arctic area in particular as the one that will become more prosperous for us, and where major growth in the offshore sector will happen over the next five to ten years."
The company's experience with ice-breaking vessels, and operations in ice-infested waters, means that it is set to capitalise on any significant growth in such regions: "Although Finstaship started operations as an independent enterprise in 2004, the company has more than 100 years of experience in operations in the Baltic area," says Esko. "We know a great deal about operating vessels in ice-infested waters, and about the demands such conditions place on the ships, which is something that a large amount of our competitors do not have. I believe that we are very lucky to have a combination of ice-breaking heritage, together with experience operating vessels in the offshore oil and gas sector."
Esko elaborates on the demands that such environments place on vessels and subsequent operations: "In Arctic conditions the ships have to be strengthened against the ice forces that place pressure on the hull, and they have to be powered to be able to cope with the resistance of the ice. Our three offshore vessels are the first of their kind in our fleet that combine true state-ofthe- art offshore capabilities with traditional icebreaking characteristics. The key driver was to make a vessel that could perform in ice, as this is where we see future development, but is still very good in open water. This is a harder task than imagined, as the hull form requirements are very different for both jobs.
"To this end, the relationship that we have with the vessel designers, ILS Consulting Naval Architects & Marine Engineers, is extremely important. They are very skilled at developing ships that meet the requirements we need," Esko continues. "The boats are built and designed to be used for Finnish ice-breaking in the winter months, but on the other hand they are highly capable, very well equipped offshore vessels. Two of them have very large cranes onboard, and the Botnica has a sizeable moon pool, making them useful for deepsea operations in demanding conditions. It is a field that is growing in offshore, so we are very well placed for the coming five to ten years."
The demanding nature of Finstaship's operations naturally means that safety is a paramount concern throughout the business: "It is vitally important that we always consider health and safety," Esko elaborates. "The requirements for offshore operations, particularly in ice conditions, are the most stringent imaginable meaning that we have to cope with the ever changing demands. Additionally, we have to ensure that we regularly rotate our workers between offshore oil and gas operations, and ice-breaking as the two are entirely different tasks."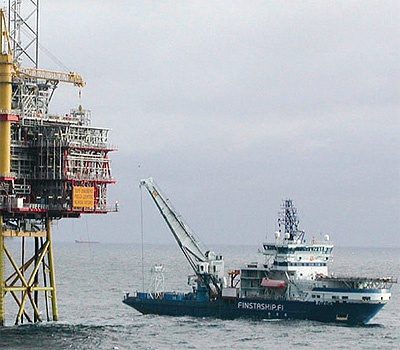 Finstaship services a number of major customers: "We have several important customers, including Ot2K and Subsea7," says Esko. "We are not targeting a certain sector when moving into the oil and gas industry. Despite primarily operating in the North Sea, particularly the Norwegian region of the North Sea, it depends upon the individual demands of our clients and how they wish to use the vessel to suit their operations.
"We have secured a major contract with Shell to operate two vessels in Alaska for three seasons, which is a significant breakthrough for us in Arctic offshore operations," he continues. "The project involves us to provide ice management services in the area. The vessels have arrived and are presently being readied with the correct supplies and equipment, and I anticipate it being a very exciting operation for us."
Esko looks to the future with much enthusiasm: "At present the industry looks very good, and the activity levels are high. There are a number of new builds entering the market in the coming years, which will certainly change the competition in the sector that we are working in, but overall I think that offshore oil and gas operations in the Arctic sector will continue to expand. There is a huge potential in the Russian Arctic, as there is in Alaska and Canada, which we hope to be involved in the future.
"The first four years of the business have been about learning and consolidating our considerable expertise, whilst growing in the offshore sector. I hope that in five years time we will introduce new vessels to consolidate our strong position in the emerging new market," Esko concludes.
Finstaship
Services: Offshore and icebreaking vessels