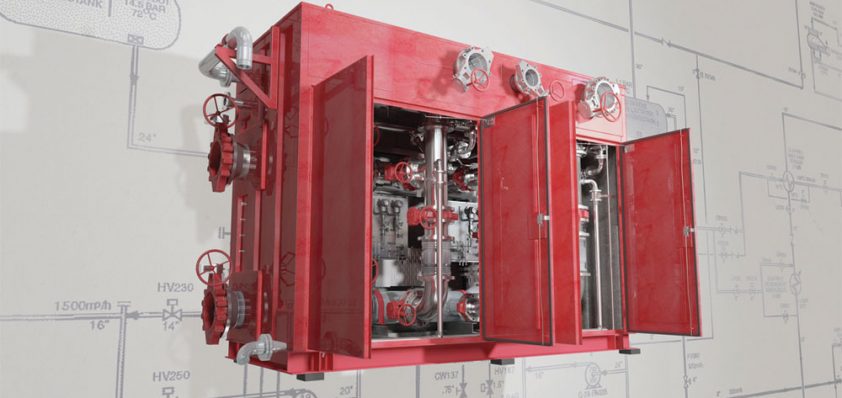 Fire Protection Engineering AS
Keeping safe
The task of Fire Protection Engineering AS (FPE) is a simple, but critical, one in supplying fire fighting systems and equipment to the offshore, and oil and gas industries.
The company was founded in Stavanger, Norway in 2000 by a group of individuals with a long-standing history within the supply of fire protection systems for the oil and gas sector. As of May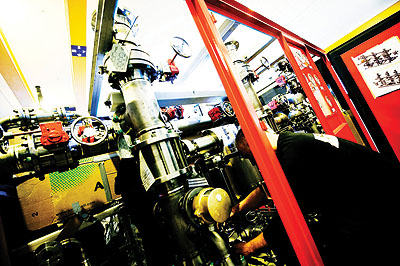 2007, FPE was taken over by Bjørge ASA, which was registered on the Norwegian stock exchange. In early 2011 Bjørge ASA was then divided into two separate companies, and as such FPE now comes under new business Align AS, which itself is owned by Hitec Vision and Converto Capital AS.
Through its headquarters, and a newly opened additional branch office in Houston, US, FPE services the domestic and international oil and gas industry – both onshore and offshore. This includes fixed production platforms, floating production units, petrochemical plants, onshore oil and gas production plants, and drilling rigs. Key customers are end users such as Statoil ASA, ExxonMobil, ConocoPhillips, and Woodside, and EPCI clients like Aker Solutions, Aibel AS, Hyundai HI, Samsung HI, Worley Parson, and Mustang Engineering.
Given the wide variety of oil and gas activities, and the numerous safety requirements that go with these, FPE's product range is particularly expansive as it aims to cater for all needs, as well as the most stringent requirements. This includes deluge systems, nozzle integrated helideck systems, hose-reels, gaseous systems, surge pressure compensators, dual agent units, fine water spray systems, active hydrophore units, firewater hydrants, and a series of nozzles and adaptors.
However, it is not this portfolio that sales and marketing director Svein Roar Sivertsen believes most sets FPE apart, but the expertise with which it is executed: "All of the key people within the business have a strong background in the sector, having started working in fire protection systems between 1977 and 1992. As such, we know the product lines very well, and have continued to follow the new regulations as they are introduced during the intervening decades. Compared to our competitors, our engineers are well known and recognised as being highly skilled, which is a key differentiator."
FPE's offering goes beyond the supply of individual products, with an emphasis on a complete project approach including project management, design, engineering, production and assembly, installation and commissioning, training, and maintenance and servicing. Each assignment is treated according to the individual requirement of the client, with the use of state-of-the-art 3D modelling computer software, and tailor-made equipment where necessary. The company also boasts in-house facilities for full flow and performance testing of all equipment.
One of the main challenges that FPE faces in the oil and gas industry is convincing customers that when it comes to fire protection equipment they need to consider high-end quality materials and reliable products that have been engineered in accordance to specification. The company also believes that fire protection isn't an afterthought, but an integral aspect of developing an asset, and therefore it works with clients in the FEED phase and early studies to design pressure surge equipment that is feasible for their requirements.
In 2010 the company also acquired Sontum Fire & Safety AS, which now operates as a daughter company of FPE. This has enabled the business to become an even stronger player in its market segment, particularly with regards to service and maintenance on the NCS. Having operated in its own right since 1983, Sontum is well versed in the planning and implementation of periodic maintenance, inspection and recertification of fire safety, refilling of fire control equipment, pressure testing, and training courses and exercises.
Over the past few years, FPE has been involved in many key projects, including the installation and commissioning of deluge systems on Snorre A for Statoil, and periodical inspection and full scale of testing of these systems on both the Snorre A and Snorre B fields. The company has also commissioned deluge systems on the Statfjord field for Statoil, and all sorts of extinguishing systems on Oseberg Field centre and Kristin, also for Statoil, Ringhorne for Esso, and Valhall Flanke North and South for BP. The business has also been involved in a number of key international projects with deliveries/installation and commissioning to the ExxonMobil Shakalin project, Woodside North Ranking A/B, and the Pazflor FPSO, which was built by DSME in Korea for the French giant Total.
Clearly the need for safety and protection of personnel and assets from incidents such as fire is taking priority for operators, particularly in the wake of industry disasters of recent years. As such, Svein sees this sector as being some way from reaching its potential, and FPE is poised to take advantage of this: "We believe that the market will grow by 20-25 per cent over the next two to four years, and this is mirrored in our own ambitions for organic growth of 25-30 per cent by 2015. In order to achieve this, we simply want to be known as the preferred supplier and manufacturer of engineered fire fighting systems and solutions for the oil and gas industry."
Fire Protection Engineering AS
Services: Fire protection systems