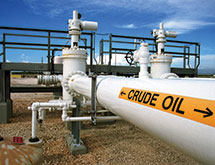 Smaller crude oil producers are typically underserved by pipeline infrastructure despite representing a significant portion of total onshore United States crude oil production. This is because of the lack of volume per producer and credit strength that is needed to justify the expenditure.
In its first year of operation, First River Energy LLC is looking to change that. "We are building a business focused on a niche, underserved market," founder and CEO Johan Themaat says. "The small independent producer is underserved in terms of quality, reliability, transparency of service and pricing – and we are going after that."
The Denver-based company is active in the Eagle Ford Shale, Permian and DJ basins, and working to grow its gathering and marketing network throughout North America wherever smaller independent producers are looking for improved logistics services. "These are the basins with a large number of smaller producers, as well as the lowest producer cost and they are the most robust – even in a low crude oil environment," Themaat says.
First River Energy buys barrels from small producers with typically less than 1,000 barrels per day. It then hauls the barrels by truck to a terminal and sells the crude oil to a purchaser. "There is not a large midstream company focused on that space, so we are building our company to focus on them and service them well," Themaat adds.
The company believes relevant, accurate and timely data enables superior decision making and improves efficiency for its customers, and are investing in the systems and processes to capture, analyze and share this data. Through its websites, the company provides its customers with access to transaction and logistics information that better enables them to manage their operations. Information currently provided to the customer includes transaction information and tickets from the field, dispatch information, and run statements.
The company is working on additional features, including tank measurement and transport tracking in real-time. "In the end this is all about moving oil as safely and efficiently as possible, and at a better price, and sharing that information with our customers and partners," Themaat says.
To offer its customers accurate and attractive netback prices, First River Energy captures actual logistics volumes, cost and transportation data throughout its network. The company combines the logistics data with commodity market prices, contract terms and accounting information, and reports this information in real-time through its website. "We are taking the old school industry and bringing it into the 21st Century," Themaat adds.
Experience Matters
Although the company is only in its second year of business, the management team at First River Energy has more than 60 years of collective experience in the energy business. Themaat was the former vice president of mergers and acquisitions for High Sierra Energy, an NGL Energy Partners company where he was responsible for closing in excess of $1 billion of midstream acquisitions. President and COO Jim Imbler and CFO Chris Philpott – also from NGL Energy Partners along with CIO Robert Throckmorton and Vice President Paul Donavan – were instrumental in helping Themaat found First River Energy.
Imbler was executive vice president of crude oil at High Sierra Energy and former president of the Koch Petroleum Group where he was responsible for all aspects of the crude oil and refined products businesses. Philpott was the vice president of finance at NGL Energy Partners where he was responsible for global budgeting and helped raise capital in secured debt, high yield and equity markets.
Throckmorton was vice president of infrastructure security at First Data, where he was responsible for securing financial transactions and managing a global program of more than $10 million. Donavan leads capital projects, including pipelines, gathering systems, oil terminals and field automation. He previously worked as a facility engineering specialist at EOG Resources and in several leadership positions at ExxonMobil Corp. "We are very proud of our team and none of this would be possible without them," Themaat notes.
Pipeline Potential
First River Energy is in the process of acquiring a company – that is not yet being disclosed – in the next few months to help it realize its dream of building its first pipeline for the small independent producers. "We will have enough barrels to start our first pipeline project this year," Themaat says. "We are working with the excellent team that will join us through this acquisition to make it a reality."
Building a pipeline dedicated to service smaller, family owned producers is seldom done because even a small pipeline can cost $10 million to $20 million, Themaat explains, and the individual producers are not producing enough volume to justify the price. "In the midstream space this is a small project, especially for someone like us that is backed by private equity," he adds. "It's a small amount of money."
First River Energy customers will benefit from the pipeline because it will lower their logistics cost and in a low crude oil price environment customers are focused on greater efficiency and lowering the cost, Themaat says. For example, if First River Energy hauls crude oil 50 miles by truck at $3 per barrel, but develops a pipeline 25 miles into that haul, it shortens the truck's travel distance. "At that point we have half our transportation costs eliminated and can pass that through to the producer," Themaat explains. "At the same time, that frees up some of our trucks to serve new customers."
Once First River Energy's acquisition is finalized, the company plans to begin building the pipeline later this year. The company expects the development to take 12 to 18 months, depending on the length of the pipeline it chooses. "We are bringing professionalism and attacking the market with infrastructure and technology," Themaat adds. "We want to bring another level of sophistication, transparency and reporting to our customers."
The goal for First River Energy moving forward is to purchase small, family owned marketing and gathering companies, and keep the people in place, but upgrade their systems and performance. "They are great at looking after customers, but we want to enable the back office to scale and provide their customers with a way to get online and access real-time information," Themaat says. "We will also expand the pipeline and terminal infrastructure to lower logistics cost and become a meaningful mid-stream player."