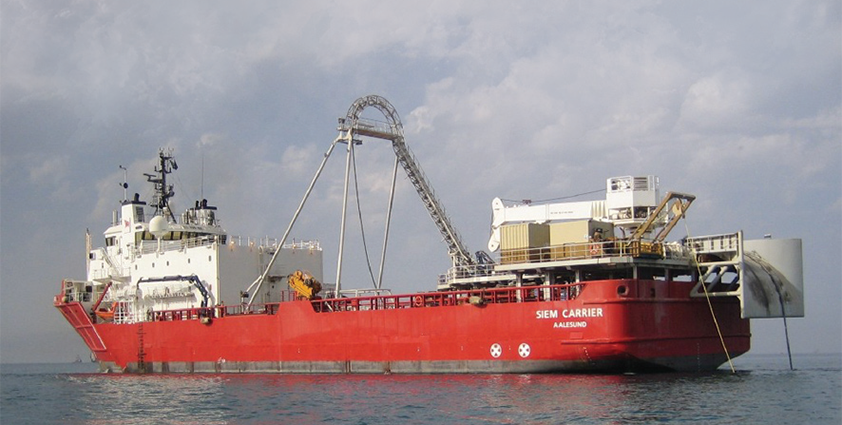 Between the lines
Five Oceans Services (FOS) is a German-based subsea engineering and submarine cable installation specialist operating in regions throughout the world, with a focus on the Middle East. Running the cable lay vessel 'Siem Carrier', FOS specialises in the installation of submarine composite cables for the oil, gas and offshore wind farm sectors.
Established in 2003, the company has undertaken a large number of contracts including recent projects for Khafji Joint Operations, RasGas, QatarGas, Maersk Oil and Shell Qatar.
Perry Balls, corporate manager for FOS, discusses the company further: "We install, maintain and repair submarine cables in waters of up to 1000 metres. However, not only do we get involved in the installation, maintenance and repair but we have our own survey division that was set up at the end of last year. The management within this company is technically widespread and strong as we have all come from different backgrounds. Lars Muck, Hans Huijskens and I have been involved with civil engineering, offshore inspection and maintenance type activities as well as hydrographic surveying, engineering and submarine cable installation works over decades."
To carry out submarine cable installation projects, FOS has a long-term charter on the 'CLV Siem Carrier' from the vessel supply firm Siem Offshore and hires on an ad-hoc basis vessels from a.o. Zakher Marine International and Topaz Energy and Marine, with whom the company has a close working relationships. Having made corporate agreements with companies such as LD TravOcean, Subtech Offshore and Fugro Subsea Services, FOS is also in a position to provide related services such as diving, trenching and remotely operated vehicle (ROV) support.
To ensure the highest quality possible, the company focuses on medium and high voltage composite power cables and umbilicals rather than attempting to spread it skills and finances over a wide range of services. One such example is the 2009 installation of four 13.8 kV composite power cables as part of the QatarGas 3&4 Field Development Project offshore Qatar, whereby a total of 144 kilometres of cable have been installed and some of the longest duct-based shore operations in the industry history have been successfully completed.
Perry highlights how widespread the company's interests are: "Our primary focus in the recent years has been the Middle East, whereby FOS has built-up a support base in Abu Dhabi. However we have also bid for work all over the world, for example we've bid for projects in Canada, Brazil, east and west Africa and even on projects in the Far East on occasions. We haven't ventured that far yet though because, as you can imagine, relocating a vessel from the Middle East to Brazil is a very expensive exercise."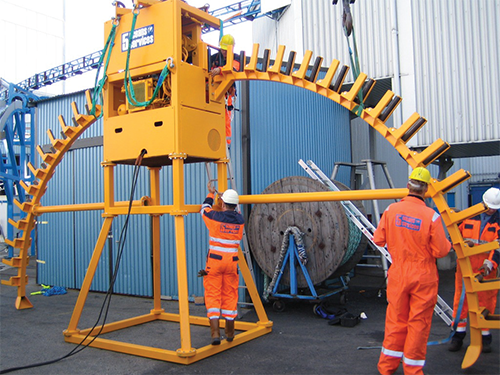 Nevertheless, this hasn't prevented FOS from making active expansions into new markets. Currently it is involved in the Offshore Grid Interconnectivity Project (OGIP) of Oil and Natural Gas Corporation (ONGC) in the Mumbai High Fields in India. Perry explains further: "Our job is to install a new central power and telecommunication network in-between various life wellhead and process platforms. Hereby we install 26 individual submarine cable segments crossing 302 subsea facilities. With so many crossings it is important to establish the correct protection level and method, so we will do the pre-installation surveys before putting it all in place and will than plug it all in."
Offshore windfarms is the other market segment FOS has begun investigating. Until now, despite its rapid rise to popularity, the company has remained somewhat cautious over getting involved due to the industry's relative infancy. With so many other organisations having become involved only to crash out soon after, FOS was intent on not repeating the same pattern. However, it is gradually becoming involved, whereby potential clients have shown great interest in FOS's unique position as independent installation contractor and the significant track record of successfully completed projects in the offshore oil and gas industry with its high HSE standards.
The basic principles for wind farm projects remain similar to any other cable laying exercise, and as such the company is already well equipped and well versed for carrying it out. However, Perry describes one area where it is a little more unusual: "The biggest challenge for wind farms is the fact that subject to the chosen foundation type such as monopile, tripod, tripile or jacket, a suitable cable entry and protection system needs to be designed in order to meet the operational requirements and to sustain the harsh environmental conditions over the design life-time. At monopile foundations for example the cables are now more frequently fed internally, directly from the seabed, rather than being on the outside via a conventional J-tube. Therefore it demands a different style of engineering, but we are working with both the foundation designers and suppliers as well as with suppliers of cable protection systems to develop specialised systems and techniques."
FOS is a company with a clear-cut plan for the future. Having weathered the financial crisis with the invaluable support of its partners a combination of expansion into the offshore renewable energy market and numerous consecutive projects for major oil and gas companies, the next few years present the company with exciting prospects. Further growth in the Middle East, into countries such as Saudi Arabia, Qatar and Egypt, is a definite possibility over the next five years assuming the economy recovers at currently predicted rates; India, too, is a region FOS hopes to move into.
Perry highlights the path he hopes the company will take going forward: "We would obviously like to become the contractor of choice for oil companies, as we have primarily been working with EPIC main contractors and engineering companies to date. As we've expanded, we have gained more direct exposure to oil and gas companies, and eventually I hope we can gain frame agreements with the sectors major operators".
He concludes: "We are looking at India and Egypt as potential markets, but there are difficulties we will need to overcome. For example, Egypt delayed its deep-water development quite significantly over three years ago and it is still not fully back on track. When it is, though, it will once again require different spreads and different techniques to what we are used to – not different in terms of the installation process, but in terms of the assets needed to support the projects. Eventually, we would like to acquire more vessels, increasing our fleet and then maintain a healthy market share in three regions; India, the Middle East including Egypt, and Europe."
Five Oceans Services
Services: Subsea engineering