Sparrows Group has been awarded a five-year contract by Spirit Energy for the provision of crane maintenance and lifting services across its Morecambe Hub assets in the East Irish Sea (UK Continental Shelf).
The Morecambe Hub comprises of six fields, three of which have been operated by Spirit Energy for over 30 years. Gas-producing, the North Morecambe, South Morecambe and Rhyl fields are located approximately 25km south west of Walney Island, west England.
The contract will see Sparrows deliver crane maintenance on all fixed lifting assets across the Morecambe Central Processing Complex, DP6, DP8 and DPPA platforms. The provision of crane engineering, design services and technical authority will be managed from the company's headquarters in Aberdeen.
Stewart Mitchell, chief executive officer of Sparrows said: "Having recently refurbished the DP6 and DP8 cranes for Spirit Energy, we're excited to be working with the team again to deliver a longer, more sustained lifting inspection and maintenance campaign in one of the UK's most important gas producing hubs.
"Having a clear strategy for managing lifting assets is essential for reducing equipment downtime and increasing safety. I am extremely proud of our dedicated people who consistently deliver a high-quality service to our clients and we look forward to working with the Spirit Energy team to support their ongoing operations."
Extended offering

Metso Outotec is extending its mill reline equipment offering with a high-capacity Mill Reline Machine (MRM). The new robust MRM has a capacity of 4,000 kg, enabling easy and safe replacement of steel lining systems inside even the largest grinding mills.
"Replacing steel lining systems inside the confined space of grinding mills is a time-consuming and demanding job requiring strict safety measures and highly reliable equipment. With the addition of the high-capacity MRM, Metso Outotec now provides a comprehensive range of Mill Reline Machines designed to ISO and IEC standards. The new MRM is designed for heavy-duty lining replacement tasks, with safety and efficiency as our top priorities," says Jared Le Cras, Senior Manager, Mill Reline Equipment at Metso Outotec.
The Metso Outotec Mill Reline Machine features multiple benefits, including efficient mill relining enabled by unique mechanical design features, maximized reliability, thanks to easy data access and spares replacement, minimized risk, thanks to industry-leading safety features and comprehensive service support via Metso Outotec's global service network.
In addition to mill reline machines, Metso Outotec's mill reline equipment offering includes feed chute transporters, Tube MRMs and bolt hammers.
Field trials begin
Aberdeen-based, oil and gas production technology business, Pragma, has combined innovative design and additive manufacturing (AM) techniques to bring the industry's first 3D metal printed, ultra-high expansion, bridge plug to market. Pragma's patented M-Bubble bridge plug has successfully completed final lab testing and is due to begin field trials by the end of 2020.Following an intensive R&D programme, Pragma has designed and manufactured the M-Bubble bridge plug in line with established AM codes and guidelines, as well as emerging oil and gas specific AM codes such as DNVGL-ST-B203. Prototype production has demonstrated extremely high levels of repeatability, not found in conventional machining, and the AM process can halve delivery times so products are produced on demand, resulting in less stockpiling and lower costs.
Leak finder
Q.E.D. Environmental Systems, Inc., a leading manufacturer of innovative environmental products and subsidiary of Graco Inc., has introduced the Huberg LASER One™ natural gas leak analyzer for sale in North America. The LASER One instrument provides precise and reliable findings when detecting methane leaks, with accurate detection of leaks of down to 0.5ppm in a response time of 2.5 seconds or 3.5 seconds with a probe. It is not sensitive to cross-gas contamination and does not require a gas cylinder for operation, which makes it ideal for the detection of natural gas leaks in underground natural gas distribution networks. However, it can be used for both underground and above ground pipelines and it quickly warms up in just 30 to 60 seconds.
Wave power pioneers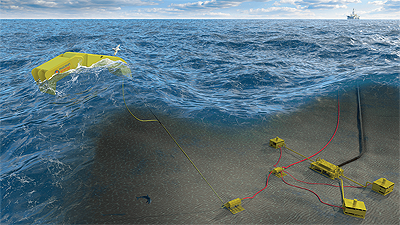 Wave power specialist Mocean Energy has secured major new investment to accelerate the commercialisation of its ground-breaking wave energy technology. The Edinburgh start-up has raised £612,000 equity seed funding plus £250,000 from Innovate UK to advance the design of its Blue Star wave machine and drive its adoption in subsea oil and gas.
Mocean Energy's funding round has been led by business angel syndicate Equity Gap and includes investment by Old College Capital, the University of Edinburgh's in-house venture investment fund, and the Scottish Investment Bank, the investment arm of Scottish Enterprise. The equity funding unlocks a further £250,000 from Innovate UK, the UK's innovation agency.
"Our goal is to produce a commercially-available wave machine which can deliver low carbon power for tie backs and future fleets of autonomous AUVs [autonomous underwater vehicles]," explains Mocean Energy Managing Director Cameron McNatt. "We are currently working with firms in the Scottish supply chain to build and deliver our first prototype, which will commence testing at the European Marine Energy Centre in Orkney in 2021."
Spanish partners
OVO Energy customers in Spain will now be able to harness the sun, powering their homes with rooftop solar plus a battery thanks to an innovative technology partnership between OVO and Sonnen.
This new customer offering marks the first of a series of tech-enabled revolutionary products in the Spanish energy market that will take advantage of the intelligent energy platform, Kaluza. Kaluza and Sonnen are already partners in the UK and together have pioneered a number of industry firsts involving the optimization of Sonnen batteries to support local grid balancing. Soon, homes in Spain will be able to generate, store and export solar energy to the grid during peak times to help ease grid constraints.
With accelerated adoption of rooftop solar expected to create grid challenges, Kaluza's real-time cloud platform will enable Spanish consumers to take charge of their energy and benefit from cheaper bills, while supporting the development of a smarter, greener energy system.
Households in Spain benefit from the policy of 'auto-consumo' which provides the ability to sell excess energy for use by neighbors in the local distribution grid. This additional income can also lead to a reduction in the payback period. As a result, rooftop solar is expected to be an important contributor to Spain's target of achieving 74 per cent electricity generation from renewables by 2030.
US growth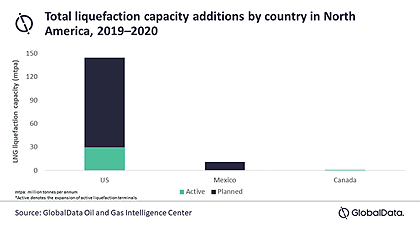 The US is expected to lead the liquefied natural gas (LNG) liquefaction capacity growth in North America by 2024, accounting for around 92.6 per cent of the region's total growth. Approximately 144.6 million tonnes per annum (mtpa) is likely to be added by the US by 2024, says GlobalData, a leading data and analytics company.
GlobalData's report, 'LNG Liquefaction Industry Outlook in North America to 2024', reveals that liquefaction capacity in North America is expected to increase by 156.2 mtpa, from 69.9 mtpa in 2020 to 205.1 mtpa by 2024, registering an average annual growth rate (AAGR) of 26.9 per cent. Of the total capacity additions in the region, 125.5 mmbd is expected to come from planned projects, while the remaining 30.7 mmbd is likely to come from the expansions of active/operational projects.
Adithya Rekha, Oil and Gas Analyst at GlobalData, comments: "In North America, the US is likely to witness capacity additions mainly through the commencement of 11 planned and announced liquefaction terminals during 2020 and 2024. Of these, Rio Grande liquefaction terminal in Texas is one of the largest new-build projects with a capacity of 16.2 mtpa. It aims to monetize abundant, low-cost unconventional gas in Permian Basin and Eagle Ford shale as exports."