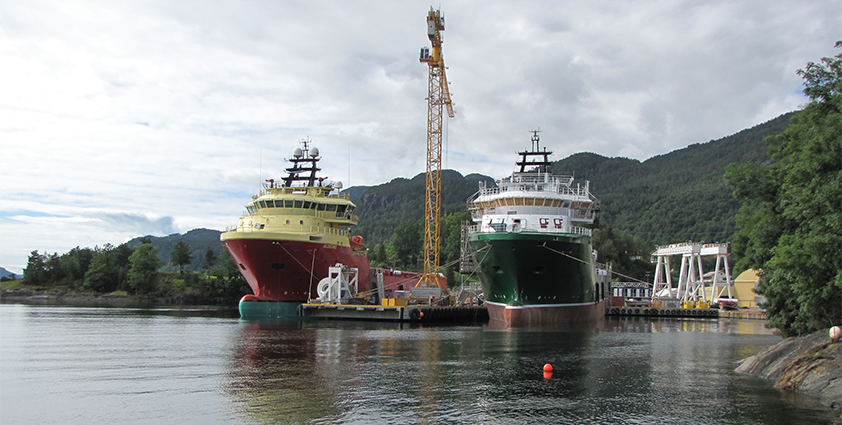 The longest yard
"We have a perfect quay facility here which is relatively new. It runs to over 120 metres so it can accommodate two to three offshore vessels at the same time," describes Nils Aadland, managing director of Fjellstrand.
With approximately 7000 square metres of heated production halls, 1100 square metres of closed storage space and a total pier length of 400 metres, Fjellstrand is a modern shipyard located at Omastrand on the west coast of Norway. The yard was founded in 1928, employing some 100 people specialised in developing, manufacturing and marketing technically advanced high-speed vessels and OSV vessels. It has also built a reputation for designing and building superstructures, accommodation modules, ROV hangars and other offshore constructions utilising lightweight materials.
One of the key features of its operations is the incorporation of aluminium into the construction process. Accepted by operators and classification societies as a low maintenance material, aluminium is renowned for improving stability and provides a potential weight saving of 65 per cent compared with steel, making it more cost effective.
Two of the PSVs built by Fjellstrand, the Havila Clipper and Far Server, which were recently delivered, showcase the quality of work the company has come to be known for: "Havila Shipping is a very good brand and is well known in the market so when we decided to pursue this contract we competed like everyone else," Nils explains. "It was not easy for us, but after a tough start this project was a great success for the company and we have received praise from Havila for the very high quality of the vessel."
The Havyard 832 CD design, a medium-sized platform vessel, complies with all current and future market requirements while its energy optimised diesel-electric propulsion arrangements meet the environmental regulations for 'clean design'.
One of the key strengths of the company is its development division: "We are working all the time to improve our designs and looking into new markets. We are known as a very creative shipyard, always trying to create new products and this is so important to our engineers. They want to work with the latest tools and the latest technology to create new ideas and then market them to our customers," Nils says emphatically.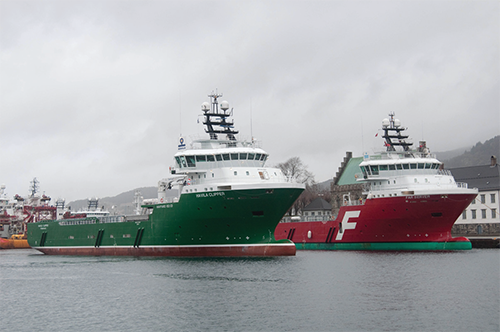 To maximise its business potential, Fjellstrand also provides repair, rebuilding and engineering services. Utilising its employees' extensive knowledge and experience along with the shipyards' facilities, Fjellstrand can design new and alternative solutions for new buildings or second hand vessels. Tasks that can be carried out include on-site repairs, the supply of spare parts at short notice, rebuilding and upgrades.
Being located in Omastrand, Hardangerfjord, also offers a unique business opportunity, as it is a prime location for tourists coming via Norway on ferries in the summer months. The result is that various ferry companies are able to get a first hand look at what Fjellstrand can offer.
Fjellstrand's team of highly qualified naval architects and engineers have designed and built a number of leading cutting-edge vessels and components for various applications around the world. Co-operating closely with the customer at all times, the in-house design team cover all aspects of the design process from hull optimisation and motion damping to mechanical engineering and retrofit design.
"Over the last year the market has been very up and down as a consequence of the financial crisis and so we have to focus on different markets. As a company we have taken a look at the whole of the offshore market to see where there is demand for supply and special purpose vessels," Nils points out: "There are a lot of things going on at the moment, markets are changing and we are working heavily on new projects right now.
"We foresee a continued need for offshore and special purpose vessels and there is definitely demand for maintenance and upgrade work, which is of interest to us. Existing vessels will need repair and replacement work and we can rebuild these units using aluminium," Nils continues, highlighting that the future for Fjellstrand also lies in the development of environmentally friendly solutions: "The focus going forward for the industry will be on lowering fuel consumption and emissions and we are currently working on several zero emission projects. With our skills when it comes to using lightweight materials, like aluminium, the future will prove very interesting for us indeed."
Fjellstrand AS
Services: Construction of special offshore vessels