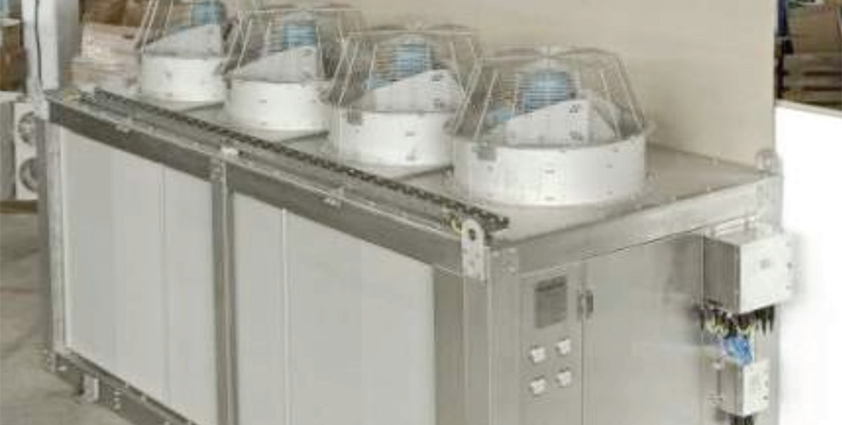 The perfect atmosphere
Since its establishment in 2002 following the merger of two companies (Fläkt and Woods), Fläkt Woods has become a leading provider of Intelligent Air Technology based solutions with energy efficient products and system solutions for Indoor Air Climate ventilation and air treatment solutions for buildings, as well as Air Movement fan solutions for industry and infrastructure applications.
With its focus on reliability, quality and technical leadership, the company produces a range of innovative and practical products from fans to air handling units, and components to energy recovery units.
One of the main drivers behind Fläkt Woods' product development and engineering is a keen focus on energy efficiency and the design of solutions that combine that efficiency with the demand for a clean and comfortable air atmosphere in the most demanding of situations. Accordingly, clients in a range of industries and market sectors from cruise ships to offices, mines to electronics production, pharmaceuticals to oil rigs and platforms, know Fläkt Woods as a provider of 'green' and energy efficient solution provider with strong application knowledge.
As mentioned, Fläkt Woods' products cover an enormous range of applications served by offices and local subsidiaries located globally including Sweden, Finland, Columbia, Missouri US, Dubai, India, Singapore, Korea and China. While the demand for clean, comfortable air is a given for every person, no matter what the location or conditions, Fläkt Woods understands that each market sector has its own very specific requirements, and as such its range of specialist engineers and highly skilled employees are always on hand to offer advice on the special considerations needed for a project, as well as do all they can to cater for that client's needs.
The offshore oil and gas sector offers an excellent example of this. This particular market has some of the harshest working conditions worldwide, where equipment must not only be reliable enough to survive many hundreds of miles from service stations, but must also be strong enough to contend with extreme environmental demands such as different climate zones, severe weather, hazardous and potentially explosive atmospheres and corrosive elements. As a result, for every product and solution that Fläkt Woods provides to oil and gas customers, it has one key aim – to exceed their expectations regardless of environmental, technical, safety or accessibility related demands.
The company's products in this market are currently used in a myriad of applications including FPSOs, FPUs, rigs, platforms, accommodation modules, support vessels and onshore installations. These products comprise of air handling units (AHUs), air terminal devices, ducts, fans, chillers and condensing units to help customers build a complete heating ventilation and air conditioning (HVAC) system. In addition the business also supplies spare parts through its global network in order to ensure through-life accessibility and profitability.
With such a complete range of products and services, it is little surprise that Fläkt Woods is currently the market leader in HVAC products for the oil and gas industry. Its high specification products have all of the functional features needed to offer the flexibility demanded by the oil and gas industry, with each component used in construction being optimised to conform to the latest standards, certifications and guidelines. The company was a pioneer with the introduction of HVAC systems requiring ATEX rated products, supplying the first ever ATEX Zone 1 certified AHUs for an FPSO project in Nigeria and to customers around the world since then. This kind of experience and knowledge in the field makes Fläkt Woods the ideal choice for clients, particularly when the operating parameters are extreme.
Another example is the Ekofisk project in the Norwegian North Sea, which is one of the most significant oil and gas projects in Europe in recent years. For this particular operation Fläkt Woods supplied high quality Stainless Steel AHUs for accommodation modules for the offshore field.
Of course, with global oil and gas E&P operations expanding all of the time, it is not just the cold that Fläkt Woods' products must be able to cope with. The business also has considerable experience in developing units to be used in hot and arid climates. As an example, Fläkt Woods was contracted to supply HVAC products to retrofit an existing offshore field in Thailand. More recently, the company was also awarded the contract for the supply of AHUs, condensing units, fire dampers, fans, ATDs etc. for a hazardous area offshore gas platform in Indonesia. In Korea, Fläkt Woods also has the capability to deliver similar products to ocean going vessels like LNG carriers built in the Korean shipyards.
While many people may think of drilling equipment as being the essential tools for modern oil and gas exploration and production, the current nature of the industry means that this work is taking place in some of the harshest conditions imaginable. With Fläkt Woods' products ensuring that wherever the operation is, the air is clean, comfortable and safe to live in the employees, employers, engineers and specialists working in these environments can rely on Fläkt Woods to continue to provide a breath of fresh air.
Fläkt Woods
Products: Air handling units, industrial fans, fire dampers, cabin units, ATDs, ducts