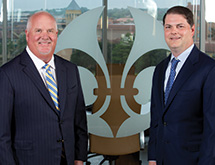 Headquartered in Dallas, Fleur de Lis (FDL) Energy is a private energy firm focused on acquiring, operating and exploiting oil and gas assets in North America. Through a partnership established in early 2014 with Kohlberg Kravis Roberts (KKR) & Co., FDL has deployed in excess of $1 billion to build a diverse portfolio of oil and gas properties.
Founded in early 2014 by Porter Trimble, FDL takes a disciplined acquisition approach by using engineering, geological and geophysical data to realize an asset's complete value, ultimately generating attractive, risk-adjusted returns and stable cash distributions to its investors. So far, the company has built a portfolio with assets located in Mississippi, West Texas and Wyoming, employing 150 people and producing around 20,000 BOE's per day of oil and gas.
"FDL looks for opportunistic purchases of oil and gas assets that are on the market or divested by other companies," COO Jake Plunk says.
"We've been able to build our portfolio by acquiring high-quality assets from companies that were deemed non-core to their business," Plunk adds. "We saw opportunities to enhance the properties and put capital into those sites, seeing their divestments as a chance for us to grow our business."
Strong Foundation
Although FDL is still young, it has already made significant investments into its technical team. FDL's technical employees perform rigorous internal engineering and geological evaluations on every potential acquisition. FDL then uses these evaluations to make sure it is acquiring the right assets at the right price.
"In an environment with low commodity prices, we need to make sure we are spending our capital prudently," Plunk says.
"The focus needs to be on cost consciousness, and we have worked to optimize a level of spending that makes economic sense," he continues. "There is a lot of evaluation around daily expenses as we look for areas where we can cut costs. When you are in high commodity price environments, you may be able to take more risks, but finding the right balance is critical because of current market conditions."
One of the most important aspects of FDL's business strategy is to maintain a constant awareness of the activity that is taking place in the market. It is critical that the company knows what assets are potentially available and may be divested from other oil and gas companies in the basins where it has a presence. FDL is striving to be proactive in that arena so it can quickly evaluate assets and extend viable offers whenever assets hit the market for sale.
Over the last few months, there has been a bit of a disconnection between buyers and sellers due to the volatility and lower commodity price environment FDL has observed. Although that means fewer transactions have been taking place, it also means that there will eventually be opportunities for buyers and sellers to agree on transaction prices if commodity prices stabilize and the "bid-ask spread" closes on assets that are being marketed.
"Our largest presence now is in the Rockies in Wyoming, and that is a logical area for us to look for some bolt-on acquisitions," Plunk says.
"We are very hopeful we can make some additional acquisitions in the next 12 months," he adds. "Right now, we have some offers out but nothing under contract just yet. It is possible that we may choose to be active in the mid-continent region at some point. The Permian Basin and Gulf Coast are areas where we have a relatively small footprint but where we see opportunities to grow as well."
Positive Outlook
Thus far, FDL's partnership with KKR has proven to be highly successful for all. The majority of the capital used to fund its acquisitions has come about as a result of the partnership. FDL is looking to continue that partnership going forward.
"We are excited about the opportunity to grow our partnership as we work together identifying future acquisitions of oil and gas assets," Plunk says.
As the market has trended downward, FDL has taken advantage of the opportunity to bring in more top engineering and geological talent and has assembled an entire accounting and financial staff.
"We've been able to do that because of our presence in the Dallas/Fort Worth area, where there are a lot of high-quality technical and administrative people who are expert in the oil and gas industry," Plunk says. "That has allowed our company to construct a talented and very well-rounded team."
With plenty of capital to deploy, the largest challenge facing the company at the present time is identifying the right assets to acquire. In the current lower commodity price environment, assets may be harder to attain, but FDL believes that its team will continue to be able to find the right opportunities.
"For any organization to succeed, it must be built for growth and also have an entrepreneurial environment," Plunk says.
"Our main focus is to continue to invest in high-quality assets," Plunk adds. "Even in a challenging commodity environment, we feel we can do that, succeed and continue to grow."