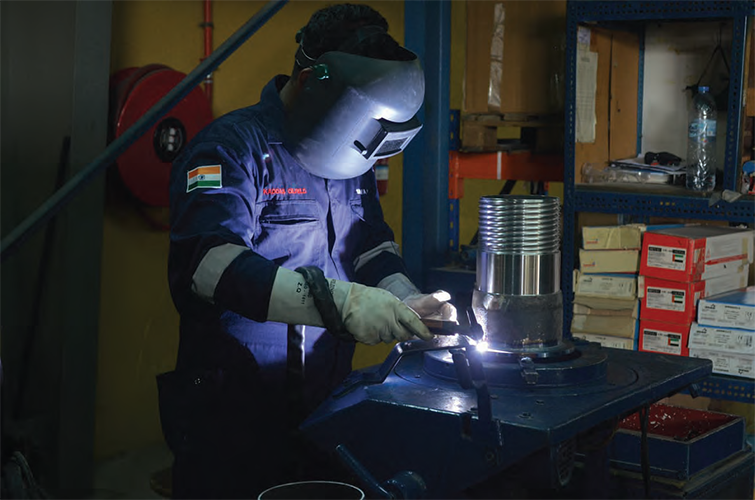 End-to-end flexibility
Since the company was established in 1998, Flexiflo Corp has earned a world-class reputation for the assembly, welding, testing and certification of hoses and fittings. The company is headquartered in the Jebel Ali Free Zone in Dubai, UAE from where it operates in a stateof- the-art 6,000 square metre workshop that caters to the flexible handling industry, with its total facilities covering an area of 12,000 square metres. For close to over two decades, Flexiflo Corp has differentiated itself as a company driven by enthusiasm and a genuine passion for its products and the industries it serves. "The company was founded by three partners and we said 'lets start something that is going to be fun to work, what we enjoy doing, and do it really well' elaborates director of operations, Anand Ranganath. "The business started as a small company and slowly added more members to the team and after nearly 17 years we are still having fun, which is a good thing – it's been a good ride!"
Flexiflo started with hydraulic hoses at the core of its business and has since extended its product range to include every type of flexible hose required by clients operating within oil companies, oil servicing companies, refineries, tank farms, distribution companies, marine and bunkering operations, dry docks and chemical companies. "What we do best is hoses – we don't do anything else," Anand says. "When we started the company we decided to work with the market-leaders to provide the products that the end-user needs. We approached each manufacturer and used our experience to tell them what we can do and what we can't do and demonstrated that we can supply link-ends of hoses to various industries."
Throughout its history, Flexiflo has built long-lasting and close relationships with several leading hose suppliers, allowing the company to combine world-class products with its own leading assembly, testing and certification capabilities to deliver turnkey hose solutions to the end-user. Some of its world renowned partners include Dantec Ltd., Aflex Hose Ltd, ELAFLEX, OPW, Parker, Mandals, CAT etc, all regarded leaders in their respective fields.
The company's combined experience as a team coupled with its unparallel service levels, allows Flexiflo to deliver the highest levels of technical expertise as well as innovative and unique solutions. At the heart of the business is its team of 40 professionals that each take pride in the job and maintain the company's philosophy of quality and its aspiration to being the premier fluid handling specialist in the region. "Over the years we have picked up an excellent team of professionals and people who have actually grown with us. It is a strong team that has grown with the company as such, we have an excellent base of professional resources available to us," Anand reveals. "This is our biggest strength, because you can have the best product and biggest and most impressive of logos with all the bells and whistles, but if the company does not have the right skills and the right people you may as well shut shop."
Presently Flexiflo is focused on operations within the Jebel Ali Free Zone as well as several joint venture operations within Saudi Arabia, Bahrain and Kuwait. From these locations it is able to remain close to its clients and supply globally recognised end-users including oil companies like Saudi Aramco, PDO, BAPCO, ADNOC, Emirates National Oil Company (ENOC) and chemical companies such as Shell, Petrochem, Sasol, Dow Chemicals and so on. It also works with oil servicing companies like Halliburton, Schlumberger, Baker Hughes, Weatherford and all major drilling operators are serviced by Flexiflo workshops in the region.
To ensure that it is able to remain close to its clients, Flexiflo has expanded its presence significantly in recent years. Arabian Gulf Hose, a 100 per cent Flexiflo owned company was set up in Oman in 2013 as a sales office. This year it has acquired a warehouse to build a custom made hose depot in the Industrial area of Ghala.
Additionally during 2014, Flexiflo Corp further increased its presence in the UAE with new facilities in Abu Dhabi and Hamriyah Free Zone, Sharjah. Within Abu Dhabi Flexiflo opened new offices and stock facilities as well as accommodation for new crimping, welding and testing machines in the Musaffah Industrial Area, which are operated under the name Kaddas Hoses LLC. The company also increased its operations in the Northern Emirates of the UAE with the acquisition of holdings in the Hamriyah Free Zone to assemble, weld, test and certify marine hoses and loading equipment required for terminals. This company operates under the name of Flexiflo Corporation FZC and employs a full team of technicians and office staff to offer 24/7 service to the area's terminal and associated operations. "We have expanded into several new locations in the past few years and although we're a local entity, we are looking at increasing our work resources to be close to clients. When a client needs a hose, we want them to think of Flexiflo," Anand explains. "Although we were already present in UAE we opened our new facility in Hamriyah Free Zone Sharjah, because it is a critical area with many terminals – so it is very important that we be there. During the past six months we have focused on the Free Zone to have a strong base and to ensure that we are at the door step of our clients and always first in mind."
While the oil and gas market has struggled in recent months, Flexiflo has remained highly active and keen on expanding its presence. As the company moves forward it will continue to focus these gains to drive further business and growth as the market recovers, as Anand concludes: "Last year when the market began to crash a lot of people started to panic and there were a lot of kneejerk decisions in the market, what we did on the contrary was opening dedicated new workshops. The message is very clear; we are here to stay. We want to be the best at what we do and for us the best does not mean numbers – we have never been in the big numbers game. For Flexiflo the proof-of-thepudding is when the end-user comes back to you and says 'we will be coming to you for our next project.' The next 12 months will certainly be challenging, but I think we will come out strong as always and continue to grow.
"To sum up – we are not serious but sincere, we are passionate, we are professionals not mercenaries, we work with suppliers and customers as partners and we do not follow but lead the market and lastly – we are not proud, but have pride in our work."
Flexiflo Corp
Services: Hose and fitting specialists
Issue 122 July 2015