Maintaining integrity
Unbonded flexible pipes have been deployed in the global oil and gas industry for more than 30 years, and historically they have proved their extreme reliability.
However, like all long serving products, they can suffer integrity problems over time, and a lack of inspection or maintenance can be one of the biggest issues affecting their performance.
Life of field subsea engineering and technology company, Flexlife is an expert in providing specialised support to the subsea sector and has a sound knowledge and proven track record in understanding the design and manufacture of flexible pipes, and is well placed to advise on their integrity, having carried out hundreds of inspections on such pipes over a number of years. Its approach to subsea integrity management combines systems development, operational execution and product/service deployment in an integrated package to minimise risk and maximise asset uptime.
The company was established to offer true operational experience and a 'solutions-based' philosophy. Flexlife offers a range of service offerings and engineered solutions to meet the needs and subsea challenges of its customers including inspection, monitoring, protection and repair solutions. The company has accrued an enviable breadth of Subsea Integrity Management (SSIM) and Subsea Project Management (SSPM) knowledge through its breadth of work with operating companies in the UKCS and globally.
The company has grown up fast, now in its seventh year, in large part because it has positioned itself in a very specific niche in the integrity of flexible production riser systems. Following an extremely successful and busy 2013, Flexlife continues to drive its expansion globally with a particular focus on the Gulf of Mexico, where it is finding that the US operating companies based in Houston have a growing interest in flexibles and the expertise that Flexlife brings to this market.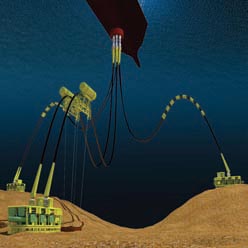 Flexlife recently presented at the NACE Corrosion 2014 Conference in San Antonio, Texas. This event was designed to collaborate, educate and research recent innovations and mitigate corrosion.
As part of the technical programme, Flexlife gave a presentation on the concept, results and benefits of applying an index-scoring model for pipeline corrosion risk assessment and management of the Apache North Sea pipeline network. The talk focused on how the model, which incorporates established corrosion assessment techniques, has been used by Flexlife to quantify the threat of corrosion and lessons learned through implementation, this presentation was well received by the GOM operating community.
Corrosion is only one problem that can significantly reduce the operating life of a pipe, which can then lead to failure and potentially a risk to life or the environment. As an example, for a typical riser of about 350 metres in the North Sea, Flexlife has estimated the financial impact at approximately £3 million, once vessel time and replacement costs have been included. Add to that a current lead time of at least a year, with all the implications associated with deferred production, and it becomes clear that effective integrity management, including regular inspection, repair and ongoing maintenance of risers is a much more cost-effective solution.
The North Sea has traditionally led the way in developing robust and proactive riser inspection and integrity plans on the back of stringent regulation. However, regulatory requirements around the world differ. An outer inspection by an ROV may miss outer sheath damage leading to internal issues in such a complex structure as a flexible pipe. It only takes a hole the size of a thumbnail in an outer sheath, letting seawater in, to potentially create localised corrosion and corrosion fatigue.
The Houston branch of Flexlife is an important division for the company, working closely with the Aberdeen head office. The company moved to Houston looking for a broader variety of clients, and it is now working with a wide range of blue-chip customers, including Petrobras and Murphy Oil. In fact, Flexlife has generated a lot of interest from its Houston office, and the company has plans to expand its operation there over the coming months.
Flexlife chief executive Ciaran O'Donnell said of the office in 2013: "The Houston base has gone from strength to strength in recent months and we have no doubt our operation will continue to grow in its capabilities and contract wins. Flexlife has established itself as a major player in North Sea operations, and these skills transfer well to the Gulf of Mexico. With our growth in Houston, Flexlife has continued to add to its reputation of offering complete subsea integrity solutions internationally."
Its Tyneside satellite office has also seen success, as Ciaran noted: "With our growth in Newcastle, Flexlife has continued to build on its reputation for offering technical excellence, assisting our clients to cost-effectively manage all of their subsea assets and infrastructure. Essentially, we help give our clients peace of mind that they have accurate data on their subsea equipment and the Newcastle base has played a major role in this.''
Operations in Newcastle focus on flexible pipe technology, delivery management, and integrity management, along with providing support for the wider Flexlife organisation. The Newcastle office has assisted international clients in the Gulf of Mexico, UK and West Africa.
The story of Flexlife has been one of quick success and engineering solutions to meet the challenges customers face has been a strength that has positioned Flexlife as the 'go to' for flexible risers. The company has developed a number of innovative technology solutions, which it has brought to market and which are now becoming the norm in the North Sea. One such technology, Neptune, is a unique ROV mounted subsea inspection tool designed by Oceaneering and utilising Flexlife's patented UT scanning technology in order to determine the state of a flexible riser's annulus with 100 per cent accuracy. Global growth of this scanning technology is planned for 2014.
An industry leader in flexible pipe engineering and technology, and managing the whole subsea infrastructure for major operators in the UKCS and globally, Flexlife has proven itself as an innovative and forward-thinking company, and its investors and management, are all keen for Flexlife to continue its rise to support the future subsea needs and challenges of its customers.
Flexlife
Services: Flexible pipe technologies and engineering services