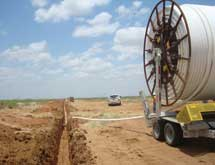 Oil and gas companies that are looking for a new way to build their pipeline infrastructure are turning to Flexpipe Systems for both advanced pipeline products and related services. The Calgary-based operation manufactures and sells coiled composite pipeline systems used for oil and gas gathering systems, water disposal, enhanced recovery pipeline systems and other applications.
"We view it as a better way of pipelining than traditional systems," Vice President of Technology Sam Bouey says.
The company manufactures its products in Calgary and operates several sales, service and distribution facilities in Western Canada, Mexico, Latin America and throughout the United States.
Flexpipe System's pipeline products can be found in major North American oil and gas exploration areas including the Marcellus Shale in the eastern United States, the Eagle Ford Shale in Texas, and the Canadian and U.S. sides of the Bakken Oil Play, explains K. Dean Zipse, vice president of U.S. sales and field operations.
Product Advantages
The company's pipeline products, FlexPipe Linepipe and FlexCord Linepipe are made of a flexible reinforced thermoplastic pipe and offer several advantages over the traditional pipelining materials of steel and stick fiberglass. Flexpipe's pipeline products are produced in long lengths of up to a kilometer – 3,281 feet – per reel which allows for easy transportation to the project site. Three diameter sizes are available: two, three and four inches.
In addition, Flexpipe's products are built in a controlled environment as opposed to being constructed in the field in variable environmental conditions, Bouey says.
"This offers less of a safety risk and less potential damage to the environment," he explains.
Both the length and manufacturing method make Flexpipe's pipeline products more cost-effective to install than traditional pipelines. FlexPipe and
FlexCord are available in larger segments than traditional materials; it is easier to unspool and join the pipeline system and therefore less time-intensive to install.
Flexpipe's products also are corrosion resistant. Products are designed to have a life of 20 to 50 years, depending on the application. "Much of North America's pipeline infrastructure is slowly corroding away and has a significantly limited life," Bouey says. "The advantage of our product is we've prevented that by using alternate materials."
Flexpipe Systems offers two product lines. Its marquee pipeline system, FlexPipe Linepipe, is a high density polyethylene (HDPE) pipe reinforced with wound fiberglass over which another layer of HDPE is extruded and acts as a rock jacket. This product is designed primarily for static service or pipelines subject to moderate pressure fluctuations, the company says.
In response to the growing number of pipeline applications subject to severe pressure cycles, Bouey explains, Flexpipe Systems increased the cyclic capability of its pipeline system and designed FlexCord Linepipe.
FlexCord's reinforcement layer is made up of galvanized steel cords which provides the structural integrity of the pipe and its cyclic robustness. FlexCord is used primarily for, but not limited to, water pipelines.
"With this product, we've basically responded to our customers' needs," Bouey adds. "Our customers have a need to move water through injection applications that are subject to severe pressure cycles; FlexCord is designed especially for those applications. FlexCord's cyclic rating for on/off cycles is 0 to 1500 psi, up to 10 cycles per day for a 20-year life."
In addition to FlexPipe and FlexCord Linepipe, the company also developed crimp fittings that allow lines to be joined directly to steel lines or standard flanged connections. The metallic Flexpipe fitting is installed using specialized installation equipment that energizes the fitting, creating pressure that holds and seals the pipe in place.
Flexpipe Systems is ISO 9001:2008 certified. Products meet a number of industry and regulatory standards including those set by groups such as the American Petroleum Institute, the American Society of Mechanical Engineers and ASTM International.
Service Focus
Flexpipe Systems' service to its customers begins even before a sale, Zipse says. "In many cases we conduct a comprehensive review of the pipe application and will help our client with financial modeling or working with them to ensure they're receiving a cost benefit on the installation," he adds.
Service continues throughout the life of the product, and training and technical support are also offered.
"We view ourselves as partners to our clients rather than suppliers," Bouey says. "We stand behind our product throughout its lifecycle."
Expanding Reach
The company was founded in 2001 as a research and development initiative to design an alternative pipelining system. The first FlexPipe Linepipe commercial sale was April 2003, the company says.
Global energy service company ShawCor Ltd. purchased Flexpipe Systems in 2008. ShawCor specializes in products and services for pipelines and pipe services, as well as the petrochemical and industrial segments of the oil and gas industries and other industrial markets, the company says.
ShawCor operates more than 60 offices around the world, giving Flexpipe the opportunity to expand its global reach. "The purchase really helped to enable Flexpipe Systems' next phase of growth," Zipse says. "We're leveraging a few of their divisions that have sales and service support, as well as their client base, to grow internationally."
Flexpipe Systems recently started operations in Mexico, and plans to continuing building its presence there as well as throughout Latin America, he adds.
The company recently aligned itself with two service providers in Australia, as well as a South American distributor.
Flexpipe's product lines also continue to expand. Flexpipe Systems is working on technology to extend its products' temperature capacity, as well as developing larger diameter systems.
"Throughout our history, there has been a constant flow of new product development," Bouey stresses. "Our biggest challenge right now is keeping up and getting new technology to market fast enough."