InterMoor recently completed work for the installation of the new Floating Storage and Offloading (FSO) facility Benchamas 2 (FSO Benchamas 2). Previously, the Benchamas Explorer FSO,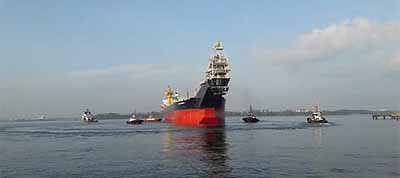 owned and operated by Chevron, was installed in 1999 in Block B8/32 in the Gulf of Thailand. The FSO began initial production in 1999 and after operating the facility for almost 20 years, Chevron decided to replace the aging facility with the new FSO Benchamas 2.
The new floating facility FSO Benchamas 2 was delivered by MISC Berhad, one of the world's leading provider of energy related maritime solutions and services, and was converted from an Aframax sized crude oil tanker. The project marked MISC's maiden foray into Thailand's Oil & Gas market.
InterMoor's scope for the project included project management, engineering and manpower for the tow of the FSO Benchamas 2 from MMHE shipyard in Malaysia to the Benchamas field, offshore Thailand. InterMoor also chartered two Anchor Handling Tug Supply (AHTS) Vessels for station keeping during the hook-up of the FSO and provided engineering and analysis to support the hookup of the FSO and installation of the riser system. The new FSO is turret-moored at the same location and connected to the existing mooring system and piles, in 71m water depth.