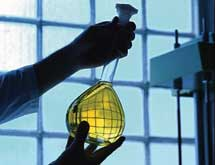 For Flotek Industries Inc., its strongest assets are not just its products or services, but also its various teams of employees. "No one person or group of people are solely responsible for [Flotek's] success, but rather the entire company commitment to provide both technical and economic value to our clients," says John Chisholm, chairman of the board and president.
The Houston-based company supplies drilling and production-related products and services to the energy and mining industries, as well as specialty drilling, completion and production chemicals to the service and production companies. Flotek has three divisions: specialty chemicals and logistics, drilling products and artificial lifts.
Originally, Flotek Industries started operations in British Columbia in 1985 and slowly migrated to the United States, Chisholm says. Throughout the years, the company enhanced its capabilities through numerous acquisitions, including Spidle Sales and Services Inc., a downhole tool company with rental, sales and manufacturing operations in the Rocky Mountains.
Today, Flotek employs approximately 300 employees and serves such clients as Halliburton, BJ Services and Schlumberger Ltd. "In the downhole tool [market], we do a lot more selling to the oil and gas producers, such as Shell, BP and Chesapeake," says Steve Reeves, executive vice president of operations, business development and special projects. In the chemicals market, the company sells to service companies and the end user through Sooner Energy Services.
Leading in Green
Flotek Industries is proud of the work of its specialty chemical division, Reeves says. The division specializes in products and services for maximizing recovery in new and mature fields.
"Our CESI branded microemulsions >> are patented and therefore, unique in the oil and gas market," Reeves says, noting that the products are composed of renewable plant-derived cleaning ingredients and oils, and are biodegradable. "Some of these have received approval for use in the North Sea, meeting some of the most stringent oil field environmental standards in the world.
"We were at the forefront years ago, coming out with this biodegradable micro-emulsion [product]," he says. "We're pretty proud of the [fact that we were] one of the first to do it, if not the first."
Staying Focused
A longtime veteran of the energy industry, Chisholm joined Flotek Industries eight years ago. Previously, he founded Wellogix Inc., a developer of software for the oil and gas industry.
In addition, he started Chisholm Energy Partners, an investment fund that targeted mid-sized energy service firms. Chisholm came to Flotek Industries as a director on Flotek's board. Today, as president and chairman, he takes a larger role in "the day-to-day operations within the company," he says.
Reeves, who joined Flotek Industries five years ago, also carries extensive industry experience. Previously, he spent 30 years at Halliburton Energy Services Inc. in many roles, progressing from field engineer to global operations manager. He says he has enjoyed his time at the company because of its entrepreneurial philosophy. This philosophy has enabled the entire company to grow.
"I started building the downhole tool division approximately five years ago," he says. "We have built something pretty special over this short amount of time."
He says Flotek Industries plans to continue growing its specialty chemical division. "We have implemented some new strategies [for] working with the oil and gas producers," he says, adding that the company will continue to develop environmentally safe products. "We have a state-of-the-art research facility in the Woodlands with a top level staff of Ph.D.s and chemists that realize the need to make environmentally friendlier products for our customers."
Chisholm also says Flotek Industries will stay focused on providing value by searching for new opportunities.
"I think sometimes people get unfocused," he explains. "By constantly encouraging our people to look for new ways to improve our products and services while keeping quality as our No. 1 objective, we feel there are many more opportunities [that] will open for us in the future."