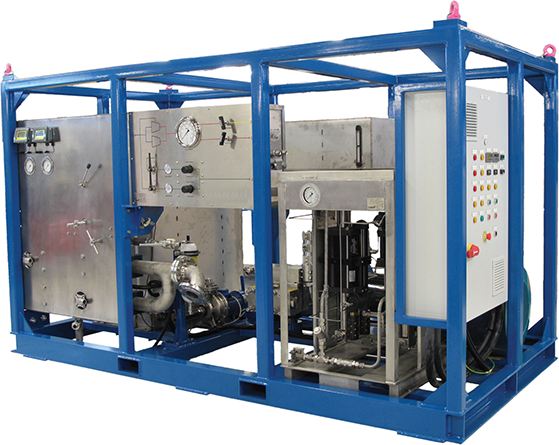 Pumped-up performance
"In the last year, even in the face of a difficult global economic environment, Flowplant has managed to make good progress, with both its UK and US operations performing in line, or ahead, of the company's strategic growth plan," explains managing director, Mark Bastable.
"In that time period demand for the company's products has grown strongly in the UK oil and gas sector, while it has also seen further expansion on its export markets, again with the oil and gas industry leading the way. Such has been the level of this expansion that Flowplant anticipates 60 per cent of its turnover for 2012 will come from exports."
Synonymous with the brand name 'Harben', Flowplant Group has been manufacturing pumps and related high-pressure water jetting equipment, from its facility in Wiltshire, UK, since 1971. Having retained an emphasis on quality and technical innovation, today Flowplant supplies pumps and equipment to a wide range of industries, and a variety of different applications, from surface preparation in the marine sector, to process activities in the automotive industry.
"Flowplant has always boasted a wide geographical spread of customers, exporting to approximately 80 countries," Mark continues. "While business as a whole within the Euro zone continues to be flat due to financial constraints making the investment process more protracted, the US, Asia and other emerging markets such as Brazil are showing positive growth trends, opening up greater opportunities for companies like Flowplant."
In a market where many businesses boast about customisation while actually only offering standardisation, Flowplant is winning business due to the flexibility and responsiveness of the approach it offers its customers: "The company has found is that the vast majority of its newer customers are most impressed with its ability to provide them with the right solution to meet their needs," Mark says. "The combination of its experience and commitment to real customer service ensures that
Flowplant is best placed to deliver its customers' requirements to the highest standards of quality and compliance, on time and with complete documentation." While demand remains strong for its Harben P type and Century bare shaft pumps, and its Aqua pump range, growth has been particularly strong for its flushing units and its hydrostatic test units: "In the last year Flowplant has supplied flushing units to both Proserv and Aker Solutions," Mark highlights. "Meanwhile, it is also working diligently on a project for TWMA and continues to be an important supplier of service pumps to the likes of Halliburton, Maximator, BJ Process and Pipeline Services and Oil Spill Response.
"Most recently the company has been awarded a contract to supply a hydrostatic testing unit for a pipe lay vessel (PLSV) to Subsea 7 in Aberdeen, as well as several contracts to supply hydrostatic testing units and umbilical flushing units to TL Offshore in Malaysia, again to be incorporated onto the PLSVs the company is building."
Even when faced with the challenges presented by the ever-increasing global spread of the business and ever-changing compliance requirements that are needed to flow down through the supply chain, Flowplant's ultimate goal continues to be to supply high-quality products to customers that find it easy to deal with the company. What it has found over the years is that once such a message has been instilled within the organisation's working culture it becomes that much easier to help its customers achieve their objectives, whatever they may be.
In the recent past Flowplant has been keen to stress that it understands that in order to maintain its level of success it needs to continuously work to improve on and refine its offering. This requires it to invest significantly in its business, its product range and its people. At present the company is recruiting engineering staff to its technical department and has begun collaborating with the University of Bath's Department of Mechanical Engineering in order to enhance its product. In addition to this, the company is also working closely with the Manufacturing Advisory Service to improve upon its already lean manufacturing programme.
"As its customers become larger, be it through mergers, acquisitions or joint ventures, it is all the more crucial that Flowplant ensures it has sufficient critical mass to service their needs," Mark states. "This is an ambitious company, one that believes that its commitment to its customers and the quality of its products leave it well placed to expand organically and through acquisitions in the years to come. Furthermore, the company needs to ensure that it continues to support its existing customers with their own expansion plans and projects, build strategic alliances in the supply chain and remain well resourced.
"Flowplant has worked hard in recent years to build a strong foundation and it is from here that it can now develop further as a business. Nevertheless it is important to remember that the bar continues to be raised and that standing still is not an option in this industry. That is one of the reasons why the company has been so successful, it knows the value of hard work and the necessity to always fulfill its customers' expectations."
Flowplant Group
Products: Pumps