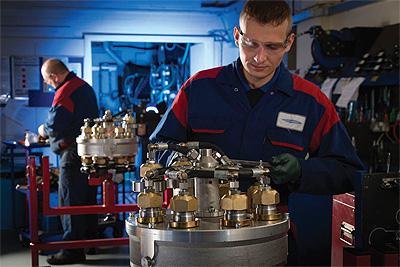 Flow of innovation
Flowplant Group Limited has been designing and manufacturing high-pressure pumps and pumping systems since 1971. The business is based in Salisbury in Wiltshire, with a further subsidiary in Atlanta Georgia, USA and employs around 50 members of staff across the company. Flowplant was originally founded as Harben Systems and started operations as a manufacturer of high-pressure radical piston diaphragm pumps and these pumps remain a core product of the business today.


Over time Flowplant continued to expand through organic growth and acquisitions, to provide the broad base of pressure pumps and pumping systems that it offers today. "With the acquisition of Aqua Hydraulics, the company was encouraged, by its customers, to design and manufacture complete pumping systems and pressure testing units. In recent years, again led by its customers, Flowplant has become increasingly involved in the provision of units with sophisticated data reporting whose complex control systems are managed by PLC's with a HMI interface," explains Managing Director, Mark Bastable. "Today Flowplant provides the oil and gas industry with high-pressure pumps (capable of subsea operation and handling of aggressive media), HPU's, flushing units and pressure testing units. Flushing and hydrostatic testing units are used in a number of on-shore and off-shore applications such as PLSVs. In addition the company supplies a range of units which are aimed at oil-spill response and decommissioning work. Flowplant operates a service division with technicians trained in the service and repair of pumps and equipment."
In addition to its work within the oil and gas market, Flowplant regularly assists clients and customers in the marine and chemical industries, as well as in the maintenance of on-shore facilities with equipment for surface preparation, process control, water hydraulics and cleaning. This presence within a broad base of industry sectors has enabled the company to work with several globally recognised market players in several sectors globally. "Flowplant has a long list of blue chip customers; our main clients within oil and gas are the oil services companies such as Subsea 7, IHC, Halliburton, Oceaneering, IKM and Sapura, as well as Aker Solutions and Rolls Royce but there are a number of others within the SME category of customers who are doing exciting and innovative work," Mark reveals. "Fifty to 60 per cent of our output is exported, and most of that production is exported outside Europe. Projects and destinations range from our work on PLSVs in Brazil, to a fuel transfer system in the Falkland Islands, surface cleaning equipment to Nigeria, and flushing units in Malaysia."
Core to the success of the business it its ability to provide tailored solutions that address the niche requirements of its clients within their respective market areas. This allows Flowplant to develop close and long-lasting relationships with clients that are based on both trust and collaboration. "Many of our clients come to us with specific issues that require bespoke solutions. We have a very well resourced engineering and technical department, as well as links to the Manufacturing Advisory Service (MAS) and Bath University, allowing us to provide a high level of technical input to the clients' design solution. A number of these relationships are governed by non-disclosure agreements (NDAs) and we are very comfortable in operating these partnership arrangements with our clients," Mark says.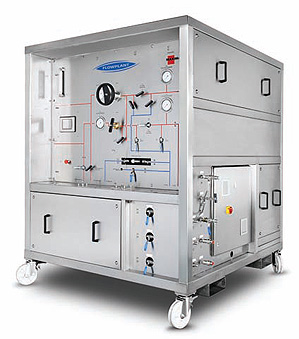 Although the uncertainty created by the depressed price of oil has created challenging trading conditions, Flowplant is keenly aware of the present market environment and optimistic that it will be able to capitalise on future opportunities owing to its comprehensive industry experience. "There is no doubt that the sudden fall in oil price last year hastened the move within the sector, towards greater cost control and to a reassessment of the viability of many capital projects. The levels of general activity have fallen and there has been some consolidation within the supply chain. Our customers have been forced to reassess their business models and focus on core activities," Mark elaborates. "The challenge for our business is to prove to customers that we can add value with innovative, cost effective solutions and to manage their projects efficiently and effectively, thus easing the burden on the smaller core teams that remain within client organisations. Opportunities exist for Flowplant to assist clients in specifying and designing equipment within the field of our core expertise."
As the company continues through the final months of 2015 and beyond it will continue to focus on increasing its footprint within the oil and gas industry. Flowplant recently enjoyed a successful presence at Offshore Europe 2015 and will actively seek to exhibit again in 2017. "Over the next 12 months we will be focused on increasing our presence in the Energy sector and promoting our products to the widest possible audience within the sector. Product development will be largely customer led (as it always is) and we will be pleased to discuss potential projects and products with both existing and potential customers," Mark concludes. "The strategic vision for the business is to increase critical mass through organic growth, particularly in oil and gas; becoming a go-to provider of fluid handling solutions based on innovation outstanding quality and customer focus."
Flowplant Group
Services: High-pressure pumps and pumping systems