Experience in motion
Flowserve is the world's premier provider of industrial flow management services.
The company produces engineered pumps, precision mechanical seals, automated and manual quarter-turn valves, control valves and actuators, and provides a range of related flow management services. Flowserve has about 14,000 employees and operates in over 56 countries.
Flowserve Villach Operation based in Austria, has been part of the Flowserve Flow Control group since 2002. Villach Operation, a company with more than 150 years experience, is a global supplier of control valve products for liquid and gaseous services in the oil & gas, power and chemical industries. Indeed, 2007 was Villach's most profitable year to date, with sales figure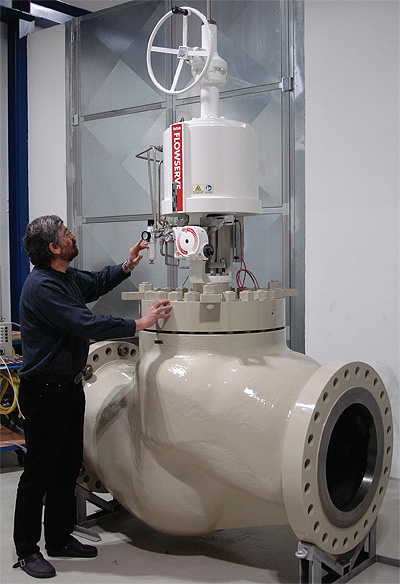 s in excess of $65.6 million. The Villach Operation with 200 employees was able to double its sales figures within the last three years.
Flowserve Villach Operation offers a range of control valve products, with pressure classes up to ANSI Class 2500, and can produce both standard and individually specified solutions for its customers. The company's modular and high-performance VALTEK FlowTop, VALTEK FlowPro and VALTEK Mark One control valves are usable in an array of industries, including LNG, PSA and cryogenic applications.
The VALTEK Mark One control valve is specially designed for severe service applications and is the "number one" valve for the oil & gas market. The VALTEK VariCool, a popular product within the steam systems industry, integrates a control valve into a desuperheater, and provides maximum responsiveness and control. Flowserve Villach Operation has also developed VALTEK FlowAct, a pneumatic diaphragm actuator, for direct or reverse action, that is compatible with all of its control valves.
Alongside its control valves, Flowserve Villach Operation offers a strong range of trims for severe service applications. All are designed with four core objectives in mind: that they offer high performance, easy maintenance, reliability, and the possibility of interchanging parts with other valve models. Beyond this, each has specific individual strengths for handling high differential pressures in liquid and gaseous services. MegaStream, ChannelStream, CavControl, TigerTooth and XStream are the best-known trims for noise reduction and cavitation control.
Flowserve has built its success upon several fundamental values. In particular, the company stresses six themes that are key to its reputation: commitment, creativity, competence, character, confidence and collaboration. In addition, Flowserve regards displaying the highest level of ethics and integrity as the most important factor in continuing to expand its global customer base.
Flowserve believes that, with its experience and expertise, it can help its customers exceed their business objectives. For this reason the company seeks to develop close working relationships with its clients, listening to their requirements and delivering to their individual needs. The business model of the company focuses on customer benefits through increased product reliability, advanced technology and reduced maintenance costs, which, for clients, should translate into higher productivity and increased market competitiveness.
Flowserve Austria GmbH Villach Operation
Products: Control valves