The preferred specialist
Fluidhouse is the leading supplier of hydraulic and oil lubrication systems in Finland and one of the most important manufacturers of paper machine hydraulics in the world.
It offers high-end, cost-efficient and environmentally friendly fluid automation and control technique solutions for industrial companies and equipment manufacturers. With extensive expertise and a comprehensive service concept, the company guarantees state-of-the-art solutions of impeccable quality for single applications as well as large systems. in addition, through its subsidiaries, Fluidhouse offers tools for the monitoring of production quality and efficiency.
The company currently serves customers in both Europe and Asia, including operators from the paper, process, metal, wood processing, energy, marine and offshore industries as well as machine and equipment manufacturers. Working with global customers effectively means Fluidhouse must have sites wherever its customers are located, in order to serve them locally if necessary. For example, the subsidiary in China serves the company's customers operating in Asia.
As managing director, Juha Kyllönen explains, Fluidhouse owes its success to more than 30 years of experience developing fluid power automation systems: "The innovative stance of our product development ensures that we offer high quality systems, which are known for their reliability and efficiency. Our all-round service enables our customers to concentrate on their own core business. This kind of project concept combined with the design of the engineering solutions makes us unique. We are also independent, as we are not tied up to any particular components manufacturer, but rather we can choose the best component from different suppliers.
"Another important point is that we have all those different quality systems available for the oil and gas industry, which has very high demands of the quality of areas such as welding solutions." Fluidhouse is an ISO 9001:2000, ISO 14001:2004 and OHSAS 18001:2007 certified company and it has ongoing certification of ISO 3834-2 Welding standard. These are the highest international standards for design and manufacturing excellence. In addition to this, its products and services are also qualified in the Achilles Joint Qualification System for suppliers to the oil industry.
Having moved into the oil and gas industry in 2004, Fluidhouse began to increasingly invest in this new market area. Juha describes the challenge of this fast-paced market: "We had some knowledge of this area already, and we made all the quality systems available, and ensured we were certificated. However we have discovered that there are even more requirements in the oil and gas business, so we have continued that quality work in special areas as in that ISO 3834-2 standard."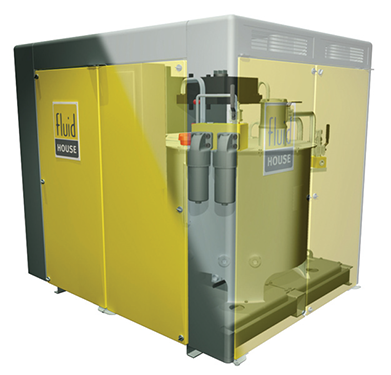 Based on experience received in marine hydraulics, Fluidhouse provides a wide variety of special solutions for the marine and offshore businesses. Able to provide one-time project deliveries and long-term subcontracting deliveries for clients, including shipyards and equipment manufacturers, Fluidhouse's hydraulic and lubrication systems are typically intended for applications using winches, propulsion and rudder systems, hatch covers, bow and stern gates, deck cranes, generator drives and adjustable ramps.
Having established additional sites, Fluidhouse is extending the volume of its production. Juha elaborates: "We have a competence centre here in Finland that is developing manufacturing solutions to improve the product we deliver. When working on the product, we also develop the manufacturing process itself and then when the finished article is ready and sustainable, we can move it to China for mass production. This Chinese factory has only been working for two years, so the business is not that big yet, but it is growing fast."
He goes on to talk about recent developments: "We're currently working closely with turbine manufacturers. In particular we are developing application systems for them. We also recently had a big investment for developing our Lubrication system Fluid Circ. The basic idea behind that in treating the oil in a certain way, we can make the volume of the oil much smaller than standard applications. It uses a special system where we can remove the embedded air, water and particles from the oil, better than normally. It also reduces problems on bearings caused by embedded substances in the oil."
Looking at the market, Juha explains that he sees big potential for growth in the oil and gas sector: "Because we see so many opportunities in this market, we've forged a special partnership with a machinery company named Meteco Oy so that we can really make a one-stop solutions for customers so they can have the design and supply of mechanics and hydraulic solutions, lubrication solutions, automation systems and overall support. We call this partnership the 'One Stop Group'."
Finally Juha outlines his plans for the future of the company: "We would like to see Fluidhouse become a preferred specialist supplier of sustainable automation for the oil and gas business. This would mean that we would be recognised within our special field as one of the top companies. We don't want to design and supply everything; rather we are aiming to become specialists in our niche, which is combining automation and oil lubrication with the hydraulics solutions. This is what we are going to build on in the future."
Fluidhouse
Services: Design and supply of hydraulic and lubrication systems