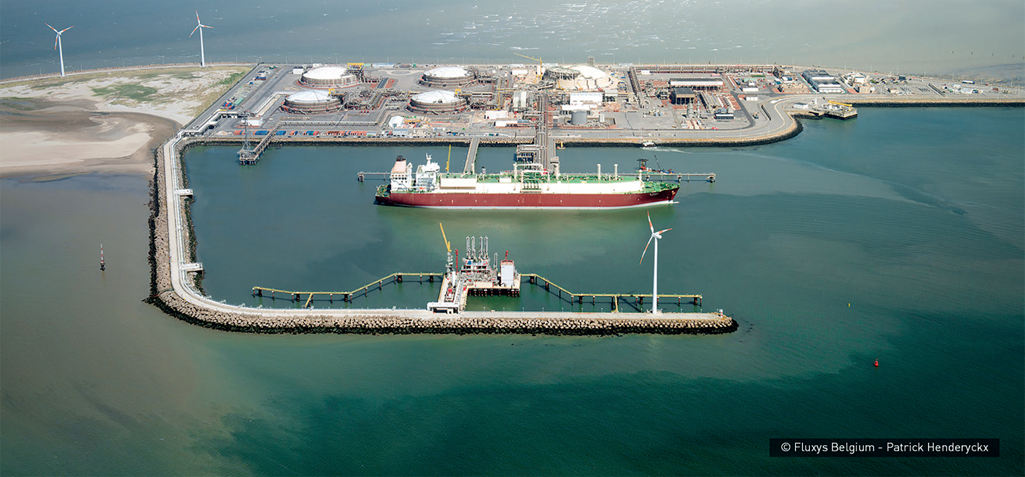 Energy in motion
Headquartered in Belgium, Fluxys is a fully independent gas infrastructure group with 1,200 employees active in gas transmission and storage and liquefied natural gas terminalling. Through its associated companies across Europe, Fluxys operates 9,000 kilometers of pipeline and liquefied natural gas terminals totaling a yearly regasification capacity of 29 billion cubic meters.
As a purpose-led organization, Fluxys continuously pushes itself to progress, and as Laurent Remy, Spokesman and Social Media Manager for the company explains, since the business was last featured in Energy, Oil & Gas in late 2019, it has significantly evolved. He first highlights both a brand refresh and a clear line of sight including a newly defined purpose providing sense and direction. "Our purpose, 'shaping together a bright energy future', showcases our commitment to continue building a greener energy future for the generations to come, required our brand to reflect this direction," he says.
Laurent goes on to describe the strategy that is articulated around three pillars: to be fit and grow in Belgium and Europe, to be the energy transporter of the future and finally, to invest outside Europe.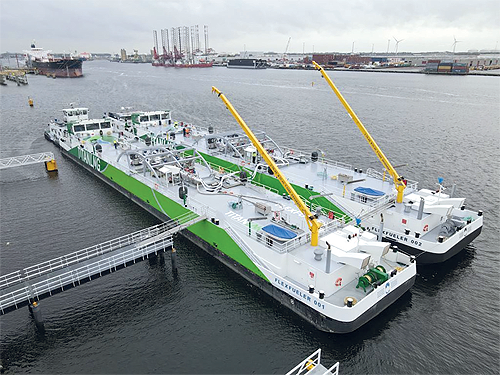 Latin America and Asia as growth areas beyond Europe
Already fulfilling the ambitions of the third pillar, in 2021 the organization set its views on a minority stake in the Brazilian gas operator TBG (Transportadora Brasileira Gasoduto Bolívia-Brasil), with the possibility for further collaboration in Latin America. "Completion of the transaction is expected in the coming weeks. As an independent infrastructure company, Fluxys Belgium has over 20 years of experience in open access and it can valorize its knowledge to the Brazilian natural gas network," Laurent revealed. "We also opened an office in Singapore last year, and a second will shortly follow suit in Brazil; this will put us in a position to look at business opportunities in Latin America and Asia, two major growth areas."
LNG activities on the rise
As the operator of the Zeebrugge LNG terminal, and co-owner of a further new comLNG Bunker Barge in Antwerp, Liquefied Natural Gas (LNG) remains very important for Fluxys. Laurent noted that the Zeebrugge LNG Terminal has seen a lot of success over the past 14 months. "The start of a long-term contract with Yamal Trade LNG operations pushed traffic at the Zeebrugge LNG terminal to new heights in 2020," he told us. "A total of 172 vessels docked at the terminal, smashing the previous record of 130 established in 2019. March 2020 was the busiest month ever for shipping traffic at the terminal, with a total of 30 LNG vessels docking, more than double the previous May 2019 record."
Laurent pointed out that expansion plans are already formulated for the Zeebrugge LNG terminal, thanks to a very successful open season organized in 2020. "Fluxys LNG is going to add three additional Open Rack Vaporizers, creating additional regasification capacity that will be provided in two steps. Firstly, early 2024, we will reach a total of 4.7 MTPA (or c. 8.2 GWh/h) of additional regasification capacity and from early 2026 onwards, we will achieve the full 6 MTPA of additional regasification capacity," noted Laurent.
"Truck Loading operations also reached an all-time high of 3,195 in 2020," he continued, "with a 22 per cent increase compared to 2019, which shows the unabated interest of the market for small-scale LNG activities.
"Finally, customers can use our newly introduced virtual liquefaction service, which allows them to make LNG available in their inventory without bringing an LNG ship into Zeebrugge. When limited volumes of LNG are needed, this option might prove uneconomic, which is why we allow LNG users to make counterflow nominations from Fluxys Belgium's network instead."
Furthermore, as recently as 25th March 2021, Fluxys, along with the Port of Antwerp and Titan LNG, celebrated the christening of a new LNG bunker barge, the FlexFueler 002, owned by Fluxys and Titan LNG. "The FlexFueler 002 will make LNG as a marine fuel widely available to vessels bunkering in the port of Antwerp," said Laurent.
In a further development on the LNG side, March 2021 also saw Fluxys sign an agreement to co-develop the Hanseatic Energy Hub (HEH) project in Germany, which involves the construction of an LNG terminal along the Elbe at Stade, near Hamburg. "This terminal has huge potential: besides improving German supply security through an increased diversification of sources through conventional LNG activities, it is bound to become a small-scale hub for (bio)LNG as an alternative fuel for ships and long-haul trucks, and to allow the future development of new energy vectors, including hydrogen – among others," said Laurent.
Hydrogen as an energy carrier for the future
Hydrogen is one of the future fuels upon which Fluxys is intensely focusing. com"Multifarious efforts are under way with a range of partners on various projects to carve out a place for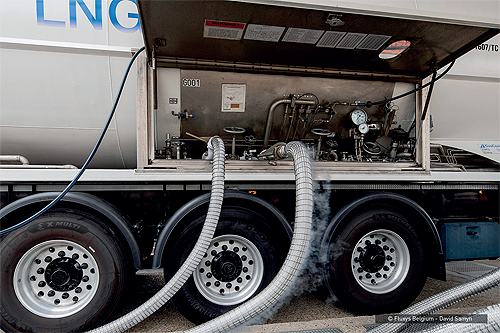 hydrogen as a carbon-neutral energy carrier as well as for CCUS (CO2 capture, reuse and storage)," Laurent confirmed.
"The Hydrogen Import Coalition completed a large-scale industrial study early 2021, mapping out the financial, technical and regulatory aspects of the entire hydrogen import chain, from production abroad to delivery via ships and pipelines to Belgium and inland distribution," he described. "The study concluded that the solution is both technically and economically feasible. Subsequent actions include pilot projects to supply green gases from countries where wind and sun are available in abundance."
Further to this study, Fluxys is involved in a vast array of projects aimed at furthering the energy transition. Just to give a few examples, power-to-methanol projects are also underway, whereby green hydrogen is combined with captured CO2 to produce green methanol. CCUS projects are also included, with several projects ongoing, like the Antwerp@C project, an initiative intended to halve CO2 emissions in the port of Antwerp by 2030.
Clearly a great advocate for working together with others to advance the energy transition in Europe, Fluxys is also part of the European Hydrogen Backbone. "We see Belgium's hydrogen infrastructure becoming part of a wider European system and laying the foundations for consolidating and shoring up our role as an energy crossroads at the heart of North-West Europe for many years to come," explained Laurent. "With this in mind, in 2020 Fluxys Belgium and ten other gas transmission system operators drafted a plan for a Europe-wide hydrogen transmission network." This plan aligns with the Hydrogen Strategy launched by the European Commission last year as part of the Green Deal.
Powering Fluxys' R&D and the driving force behind its external collaborative efforts, is the organization's dedication to the energy transition and to the goal of carbon neutrality. "We fully support the climate goals set out in the Paris agreement and the European Green Deal, and we are pressing ahead to enable a 100 per cent carbon neutral energy system by 2050," confirmed Laurent. "With our experience in natural gas, we are joining forces with industry, distribution system operators and other stakeholders such as universities and governmental authorities to turn our infrastructure into several complementary networks through which various molecules (hydrogen, biomethane or any other carbon-neutral energy carrier and CO2), key to the success of the energy transition, will flow."
During a webinar held in early 2021, Fluxys Belgium presented its Step-Wise plan to the market: a step-by-step approach in line with demand to ensure that the required capacities are made available as and when needed and with sufficient economies of scale.
Despite the pandemic: remaining fully operational to fulfill vital societal role
Laurent's insight into the activities of Fluxys show the organization's great willingness to invest in partnerships, sites, equipment and technology. He was keen to emphasize, however, that the most essential asset remains its people, and their dedication and talents. Given their pivotal role in the success of the business, it is unsurprising to learn that throughout the pandemic, Fluxys has rolled out numerous initiatives to ensure the safety and well-being of employees and to keep them connected. "The Covid-19 pandemic has been a difficult crisis period for everyone in society, in which the supply of energy to hospitals, public services, households and many industries is more crucial than ever," Laurent noted. "Despite the widespread impact of the pandemic, all of Fluxys Belgium's essential services have remained operational and the company has focused fully on playing its vital role in society and for its customers – namely ensuring the safety/security and continuity of the gas supply.
"When the outbreak began, we activated our emergency planning and quickly took the necessary steps to ensure the continuity of our activities, while carefully complying with government recommendations to limit the spread of the virus.
"We take real pride in the fact that our employees are going to great efforts to deliver the essential services provided by our company – safely and securely. It is worth mentioning that at the Zeebrugge LNG terminal, for instance, the first Covid-19 wave coincided with the highest levels of shipping traffic ever seen at the terminal.
Helping to change the world for the better
"Our purpose and our employees are also central to our Employer Branding campaign," Laurent concluded. "They are the ones who, as true ambassadors, tell us how exciting it is to work on the energy transition and what other benefits we offer as a growth company. Talented people are more than welcome to join our company, which offers so many possibilities to help change the world for the better."
Fluxys
www.fluxys.com
Services: Gas infrastructure group