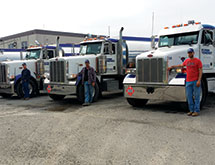 The worldwide, multitrillion-dollar oil and gas industry might seem so massive that only big companies can thrive. But it's really all about keeping track of the little things.
That's how Towanda, Pa., natives EJ and Jocelyn Flynn started Flynn Energy Transport, and it's the attitude that made the company a leading fuel supplier in the Marcellus and Utica plays and keeps them motivated to keep expanding the company.
It was 2008, and EJ was on his couch when he first heard the rumblings of what sounded like a business opportunity. The modern natural gas industry had recently arrived in rural northeastern Pennsylvania to tap the burgeoning Marcellus shale play. A wellsite was being constructed just yards from the Flynns' home.
Instead of storming over to complain, EJ went to observe and see how he could get involved. He already had experience in the trucking business through his father's automobile-transport company, so as soon as he noticed how much the sites depend on reliable fuel supplies, he knew he had something.
Dipping into their savings, the Flynns soon scraped together enough money to buy their first truck and started hauling. Customer by customer, they grew the business, which now employs nearly 100 people, boasts a fleet of 40 trucks and provides everything from bulk fuel to lubricants to flashlight batteries if that's what the customer needs.
"The oilfield is a very sensitive area as far as service because we always have to be on-call 24/7, every minute of the day," Flynn says.
A Personal Touch
Despite stiff competition from regional and national companies, Flynn Energy keeps its edge by maintaining a highly effective staff, offering more than the competition is willing to do and always being available.
"A lot of our competitors won't do that," Flynn says. "They won't work weekends or they won't work holidays. We build our business around that because we know that, in our industry, there is no downtime."
Flynn Energy Transport also is committed to being anywhere its customers need it to be. While that often means staying in the shale regions of Pennsylvania, New York, Ohio and West Virginia, the company has proven it's capable of going anywhere in the nation at a customer's request.
Emergency Service
These qualities helped Flynn Energy Transport come through in a big way when Hurricane Sandy ravaged the Eastern Seaboard in 2012. Flynn says the company was referred by a customer to the Port Authority of New York and New Jersey to supply it with fuel for emergency crews working on the recovery and restoration effort after the storm.
Although the company is 250 miles from New York City, Flynn Energy Transport immediately sent five trucks to provide emergency crews with the fuel they needed to clean up the city. The company was the first on the scene for crews at LaGuardia and JFK airports, and it also supplied fuel to crews pumping water out of the foundation at Ground Zero. "We were responsible for keeping the lights on at the Freedom Tower, which was a very proud moment for our company," Flynn says.
As the company contributed to the emergency efforts in New York City, Flynn Energy Transport developed a strong relationship with the port authority that has resulted in additional work and contracts to provide emergency services in the future.
Staying Focused
Flynn Energy Transport is growing steadily thanks in large part to strong relationships with customers such as the port authority, and Flynn says that growth is helping the company cope with many of the changes sweeping the oil and gas industry. One of the largest trends right now, for example, is the ongoing wave of mergers and acquisitions among oilfield services providers.
Although these mergers result in companies that are larger and have greater resources at their disposal, Flynn believes that actually compliments Flynn Energy's position. Larger companies may have more weight to throw around, he says, but they also run the risk of losing touch with their customers and employees.
"We feel that's actually good for our company because with our core values that include remaining a family-owned company, we know the importance of a personal relationship and rewarding the trust that comes with it," Flynn says.
Tomorrow's Energy Today
Providing customers with the best possible service continues to be Flynn Energy Transport's focus, as well as living up to its motto: "Delivering tomorrow's energy today." Flynn says the company recently secured fueling contracts with major global oil companies, and it has branched out into other areas, such as residential propane and heating oil delivery. Through its website (flynnenergy1.com), customers can easily manage their accounts and request deliveries.
Flynn says Flynn Energy Transport will always put the customer first and foremost. "The customer is everything. Without them we wouldn't have a business, so we're very aware of our responsibility to maintain that relationship," he says.