Out of Africa
The oldest Romanian drilling company in existence, FORADEX was originally established by the Romanian State in 1939 under the name of the Commercial Administration for Mining, Prospecting and Exploration (ACEX).
Between then and 1990 the company underwent three further name changes before it was transformed into the joint stock company that exists today.
Since its humble beginnings the main objectives of the company have been to undertake exploration and prospecting works using drilling, mining and other specialist methods to discover new fields of oil, gas, geothermal water and various other mineral deposits, and the design and manufacturing of the technical facilities needed for each individual drilling activity. In its more than seven decades of history the company has been successful in finding and identifying over 850 different individual deposits.
Since 1970, FORADEX has manufactured drilling tools with a natural diamond type surface set capable of being used in the process of geological drilling and drilling through reinforced concrete. It is this and various other technological achievements that helped the company become the first to identify oil and gas in the Black Sea, back in 1979.
"The company was fully privatised in 2007 and in the time since it has been concentrating fully on developing its activities in Africa," states Razvan Calangiu, president and chief executive officer of FORADEX. "At present the company has two branches working out of Tunisia, one concentrating on geothermal water drilling and the other on oil and gas. FORADEX has been present in the country for more than 20 years now, has another branch that had been conducting geothermal water drilling in Zambia for 36 years and is now working to expand its activities further along the West Coast of the continent."
FORADEX uses drilling rigs with hook loads between 50 and 400 tonnes and work-over test rigs for exploration wells: "The rig currently being used in Tunisia is a Drillmec MR 8000, a piece of machinery very well suited for the requirements of the region," Razvan continues. "At present the company is also in the process of upgrading and modernising its other rig types to bring them in line with the latest industry standards."
Alongside these rigs the company also owns a fleet of pumping and cementing trucks, specialist recovery tools, the base ingredients needed to prepare special cements for casing and a drilling mud laboratory. In its lifetime FORADEX has registered a total of 353 completed deep wells, 113 of which measure at more than 3000 metres deep, 15 that reach depths of over 4500 metres and a further two that go more than 6000 metres beneath the earth's surface.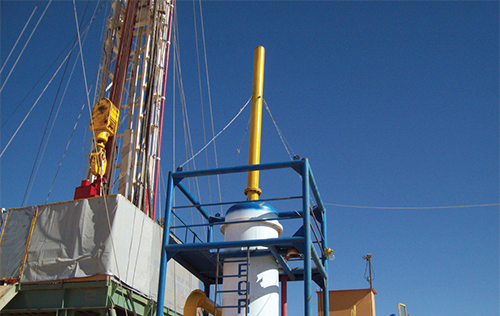 In spite of the company's previous successes, the fact remains that Tunisia makes for a very different and all-the-more challenging environment to that of Romania: "Obviously the company has made sure that all of its equipment and its rig are specially equipped and designed to handle the desert environment that Tunisia presents," Razvan says. "What has made it a particularly challenging country to operate in recent months is the fact that it is still in a period of adjustment following the Arab Spring revolution of earlier this year. This has resulted in a slowdown in activity as everyone awaits the outcome of fresh elections. Nevertheless there are still projects out there worth embarking on and the industry shares a strong degree of optimism that activity in Tunisia will accelerate over the next 12 months. In anticipation of this FORADEX is now working towards sending a second rig to the country in the early part of 2012."
With its sizable experience, its well-trained personnel and its commitment to keeping prices to their lowest possible levels, FORADEX is now pushing forward with its plan to increase its presence in West Africa by remaining true to its core strengths: "FORADEX is always looking to create long-lasting partnerships with its customers, something that makes it more than simply a drilling contractor. To do this the company gets wholly involved with their projects, get to know their individual needs and then adjusts its own activities to correspond to those special requirements," Razvan explains.
"Over the next 12 to 18 months FORADEX is hopeful of becoming very active across West Africa. By becoming more locally present the company can work to build on the reputation it has earned through various successful projects. In the African oil business companies tend to be awarded jobs more regularly when they are already present in the region and have a rig already present, one that has been tested previously. All of these traits are possessed by FORADEX and helps position it brilliantly for the lucrative years it feels are ahead for this exciting, developing market," Razvan concludes.
FORADEX S.A.
Services: Exploration and drilling