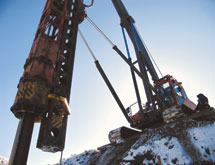 With piling jobs becoming increasingly large and more complicated, Dean Hall, part-owner of Force Pile Driving, says it's even more crucial today to make sure that the right equipment and people are on each job. "Six years ago, a 12-inch, 40-foot pile was a big pile," Hall says. "Now, they are getting larger. The average today is a 16-inch, 60-foot pile.
"Structures are just getting bigger," Hall continues, "and every year we turn around, customers are looking for longer and bigger piles."
Those customers Hall speaks of cover a number of industries. As a pile construction contractor, Force Pile Driving provides the foundation for a number of construction types, such as bridges, residential work and commercial work such as office buildings.
For the oil and gas industry, Force Pile Driving will construct pile systems for compressors, pump jacks, tanks, separators and oil battery sites. As a western Canada-based company, it derives most of its business working in the Alberta oil sands where its piles are used for above-ground pipelines to well pads, pilings for SAGD systems and for open-pit processing plants.
The company, formed in 2009, is one of the fastest-growing pile-driving companies in Western Canada, Hall says. The growth is definitely on track with the abundant work happening in its geographic area of business. "We have multiple jobs going on in the oil sands," he says. "We are almost in our own little economic boom or economic bubble out here in Western Canada."
Well-Equipped
Even with the growth of the oil sands, Force Pile Driving still has to be a company that can perform, which is why the young company has focused on building a strong foundation founded on some old-school values.
"It's a pretty simple, basic system," Hall says. "If you run the best equipment, run the best people and treat the customer as best you can, you'll have success. There is no big secret, but getting all those to fire at the same time isn't easy, but we've done a very good job at it."
Since its inception, Force Pile Driving has invested in what Hall says are pile-specific machines . The high-efficiency, common-sense design and strict adherence to quality of build on the pile-specific rig results in top performance and reliability on each job.
These pile-driving rigs can be transported without special arrangements in one piece thanks to their small transport dimensions and without having to remove the hammer. State-of-the-art technology is used in the design of the pile-specific piling rigs.
The low center of gravity, expandable tracks and movable counterweight ensure excellent rig stability and allow greater leader inclinations for battered piling.
Pile-specific is also friendlier to the environment and more practical than conventional diesel hammers and mechanical rigs, because they generate less noise and reduce vibration and harmful emissions.
"We focus on pile-specific machines," Hall says. "Lots of our competitors are using conventional cranes with a diesel hammer mounted on them but we buy products that are pile-specific so they are designed just for pile driving; they are not cranes being converted and that's what makes a big difference for us.
"We also use hydraulic hammers instead of diesel and there are quite a few pros for it. They are more efficient and in our green-focused world we're living in right now, they are a lot better for the environment. We run biodegradable oil in all of our machines so if we do have a line break, it's cleaned up very easily. There is no smoke or pollution with our hammer and no residue that comes off of them, unlike the diesel hammers."
"We always take a look at what others fail at and we try to fill those voids," Hall says. "We've done that very well with focusing on pile-specific machines and another thing we did was design and build our own pile drilling machine and no one else has anything like it out there.
"We are getting a very good response on the mobility of it. There was other equipment that we used out there, but it wasn't quite designed for our industry, so we took all the issues that we had and tried to correct the problem in order to fill this void in the piling market."
The People Factor
As the company invests in having the right machinery, it also invests in having the right people to operate those machines, as well as every other facet of the business. "Equipment is one thing, anyone can buy equipment," Hall says. "But if you don't have the right people behind the equipment, you don't have a company. Staff is our No. 1 asset and that's another thing too many people forget."
Force Pile Driving takes a long-term view in regards to its employees. Hall says that because retention is more cost-efficient than hiring and training new personnel, it gives employees the resources they need to be successful and safe.
"At Force Pile Driving, our most important resource is our employees," the company says. "We consider the safety of our people of utmost importance. Accidents are caused by factors that can be controlled, eliminated, and in most cases avoided. Health and safety considerations are an integral part of all Force Pile Driving operations. We promote an environment that reduces the likelihood of accidents through the enforcement of our health and safety program."
Customer-Oriented
The final, integral piece to the company's success is its emphasis on customer service. Though a simple concept, Hall says it is becoming a lost art in many industries. So, by focusing on superior service, Force Pile Driving has differentiated itself in a region that is flooded with competitors.
Force Pile Driving does not shun small jobs and it's not afraid to take on the big ones, either. By working with everyone on fair terms, it has created a strong foothold in its industry over the past three years.
"People seem to care more about the dollar than they do the quality of a project and how a person would like to be serviced," Hall says. "Customer service is big. It's such an easy thing to do but lots of people have forgotten how to do it. We are one of the fastest-growing piling companies in Western Canada and no one can figure out how we do it.
"But it's really just customer service." EMI