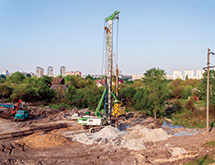 Force Pile Driving has become known as a reputable pile driving supplier that is focused on providing the best results for clients thanks to advanced technology and industry experience. A full-service pile driving company, Force Pile Driving is based in Red Deer, Alberta, and services all of western Canada and into the United States.
The company provides a complete suite of high-quality pile driving-related services, including pile driving installation, pre-drilling, pipe sales, welding, transportation, design engineering, optimization engineering, remote PDA testing, surveying and load testing. Force Pile Driving transports, installs and sells a wide variety of piles, including pipe piles, H-beam, sheet piles, concrete piles, screw piles, wood piles and soldier piles.
Ability to Execute
Force Pile Driving can perform any scale and type of project successfully across western Canada, including those located in extreme northern environments. No matter what the project scope, Force Pile Driving ensures the appropriate human, material and technical resources are applied. The company's advanced pre-drill services ensure that it can install piles in the most challenging sub-surface conditions, while its expert engineering, surveying and load testing abilities ensure that every job is done precisely right.
The company operates in numerous industries including the transportation, commercial, industrial, mining, oil sands, agricultural, pipeline and power transmission sectors. Clients include major oil and gas companies, engineering firms, construction companies, government organizations, civil construction, electrical transmission and bridge builders.
Force Pile Driving also has built reliable relationships with suppliers, organizations such as The Pipe Yard Ltd., which provides new and secondary steel pipe and piling pipe.
Another piece of Force Pile Driving's portfolio is a partnership with SITE Energy, a fully integrated environmental, infrastructure and access service provider for oil, gas and resource development companies. SITE complements Force Pile Driving by continuing to expertly serve its client base and assist the company in expanding its geographical presence so Force Pile Driving may continue to grow and succeed in the pile driving industry.
Key Pieces
The company has a wide array of top-quality equipment at its fingertips. Force Pile Driving utilizes Junttan pile driving rigs, one of the most advanced pile driver makes in the world. Its models are characterized by fast set-up time, extreme durability, low noise, minimal carbon footprint and efficient mobility. The company uses the Junttan PM16, Junttan PM20, Junttan PM23 and Junttan PM25.
Projects with 100 piles or fewer are one- to two-day jobs. Force Pile Driving will arrive promptly to complete the project within this time frame. For 100 to 1,000 piles, those projects take from one week to one month to complete. Force Pile Driving provides transportation of all equipment, materials and manpower and assigns a project manager, supervisor, operator and swamper to each project location for the duration of the project. As for projects with more than 1,000 piles, those jobs include transportation of all equipment, materials and manpower by Force Pile Driving.
Safety is a critical concern for Force Pile Driving, as it places a great deal of importance onto the safety of employees. The company strives to promote an environment that reduces the likelihood of accidents through the enforcement of its health and safety program. Additionally, Force Pile Driving recently received the Partnership in Injury Reduction Certificate from the Alberta Construction Safety Association.
As it has always done, Force Pile Driving will continue to focus on efficiently and safely completing pile driving jobs of all sizes.