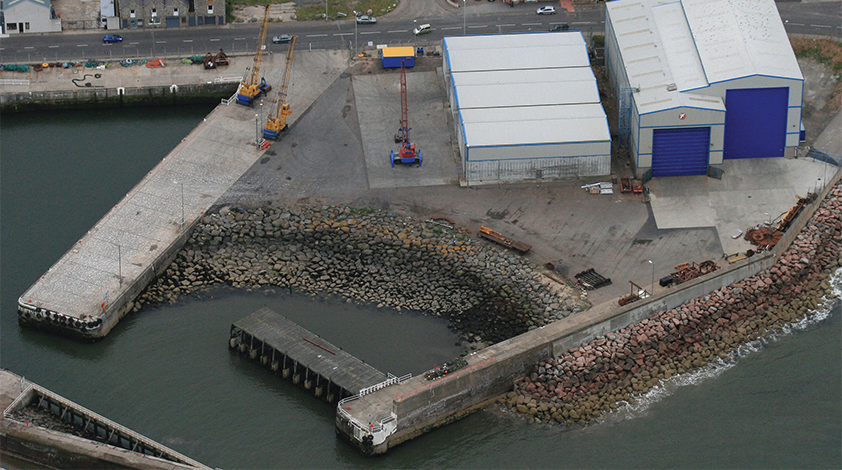 Modules and whisky
Forsyths is a comprehensive fabrication group supplying the alcoholic beverage and oil and gas industries.
Its range of products includes skid packages, pressure vessels, process piping, structural steelwork, and transportation reels for umbilical and flexi pipe, all of which are complemented by its electrical and instrumentation (E&I) arm and specialist coatings division. The group undertakes work on projects across the globe, though it has remained at its head office in Rothes, Scotland, since its inception in 1933. Today six fabrication shops are located across two sites – three in Rothes, and three at Buckie where it has dockside facilities – both of which have undergone an extensive £5 million upgrade in the last three years.
Over the last 18 months, Forsyths has experienced steady business growth and a healthy order book in line with the strength of the general global oil and gas market. Its order book today extends into 2014 and, as this continue to grow with some of its biggest projects yet, in January 2012 the group began investing to meet these new demands.
Director Neil Grant discusses the upgrade: "This is the biggest investment we have carried out to date and the decision was not taken lightly. We have spent circa £3 million on our facilities in the last year, the main part being on a purpose-built workshop for exotic material fabrication. We can see a need for us to have these facilities in order to survive in the competitive fabrication market and realised it was essential to meet the requirements of our customers. Historically Forsyths has always invested in capital assets in order to be in a better position to meet future demands and we anticipate this investment will enable us to continue to expand. We are very pleased with our growth in recent years."
Owner and chairman Richard Forsyth elaborates on the purpose of the expansion: "The bulk of material used for the oil and gas industry today is duplex and super duplex for their saline resistance. These materials are highly delicate during fabrication and must be welded in a very clean atmosphere. We have built dedicated workshops so that the materials can be worked and welded without contamination from other metals, and they are fitted with high quality welding plant, extraction units and other specialist machinery. The workshops are now considered to be some of the best cleanshops in Europe with an overhead lifting capacity of 80 tonnes."
One of the projects that will benefit from Forsyths' new workshops is its contract on the Laggan-Tormore gas fields, which are located offshore from the Shetland Isles. Forsyths is employed by process design house Cameron, which in turn is working for the site's contractor Petrofac. Forsyths was awarded the 18-month contract, which is the largest yet in its history, in September 2011. Forsyths' role is to fabricate three skid packages. Work has progressed successfully so far and the project is expected to be complete on time in early 2013.
Forsyths has a longstanding business relationship with Cameron, the two having collaborated on several projects, and this was a contributing factor in the Laggan-Tormore contract. "We pride ourselves on the fact that these design houses keep coming back to us," Richard says. "We build up good relationships with these people because they are pleased with our dedication, quality of workmanship and on-time deliveries. Forsyths has established similar relations with many other design houses working in the oil and gas industry as well."
Whilst the UK North Sea continues to be a rich source of oil and gas activity, Forsyths is also gaining traction in the world's growth regions such as South America and the Middle East. In 2011, for example, the group undertook sizeable orders for modular skid units now being used offshore Brazil and Azerbaijan. The success it has had in these regions abroad has provided the group with confidence in pursuing projects appearing in some of the world's freshest prospects such as the Falkland Islands. "Our main customer base is in the UK and we appreciate that our clients are close to home, but having the opportunity to be global is, for a family-owned and operated company such as Forsyths, an excellent achievement," Neil adds. As with the Laggan-Tormore units for Total, the end customers of Forsyths' fabricated products will be Blue Chip companies like Statoil, BP and Shell, hence its fabrications often end up in all corners of the world.
As the oil and gas industry develops, Forsyths is confident in its ability to provide many of the world's majors with highest quality standards. Working closely with significant design houses, Forsyths' opportunities in a still-expanding industry are plenty. "Both our major customer bases – oil and gas, and potable alcohol industries – are very buoyant and we see growth continuing in both sectors," Richard predicts. "We feel there will always be a place for traditional fossil fuels and see no reason why it will not continue to grow, with Forsyths growing alongside it. Fields are being discovered and developed in new areas of the world every day so we see business as being very buoyant far into the future."
Forsyths
Services: Duplex and super duplex fabrication