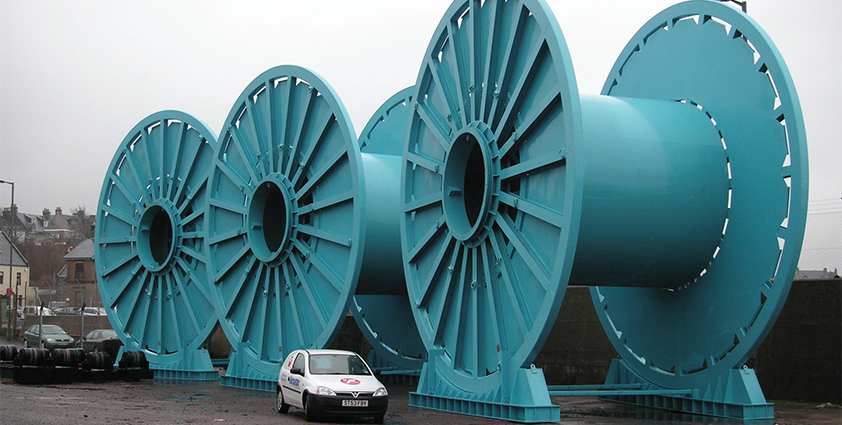 A bright future
"The company originally started life as a supplier of distillation equipment to the local malt whisky industry, however over the years it has greatly diversified its operations," says Richard Forsyth, chairman and owner of Forsyths.
"Today the majority of the company's turnover comes from providing fabrications to the oil and gas sector. This is mainly achieved through third parties like process and design houses, which work on behalf of all the major oil and gas companies."
In the oil and gas business Forsyths mechanically designs and manufactures a wide variety of products in different grades of material. Its load out capabilities, stationed at its dockside facility in Buckie, makes the company perfectly placed to supply equipment to the oil and gas industries. These products typically include structural steelwork, piping, pressure vessels, tanks and umbilical pipe reels. Forsyths' engineering and quality team ensure full material and welder traceability and provide on site radiography examinations, hydrostatic testing and surface preparation and coating facilities.
"Forsyths prides itself on quality. It has been praised time and again for its skilled workmanship and on time deliveries," states Richard. "It has quayside facilities where it fabricates and assembles key units, skid units and flexi-pipe reels which are then shipped out by sea. These units are too big to be transported by road so the whole process is quite specialised compared to those of other fabrication companies.
"Forsyths' quality control is extremely strict and comes as a result of a very through training regime that all apprentices coming into the company are expected to participate in. This regime is all based on maintaining the company's high standards and its commitment to assuring quality in every task it undertakes."
Since 2000, Forsyths has invested heavily in its own operations, as Richard highlights: "A new assembly shop facility has been specially constructed to build and ship out bigger units to all sectors of the industry, the biggest one to date weighing in excess of 320 tonnes. There is also site development work presently ongoing to cater for a larger clean shop, which will enable the company to manufacture vessels and pipe work up to 60 tonnes in weight.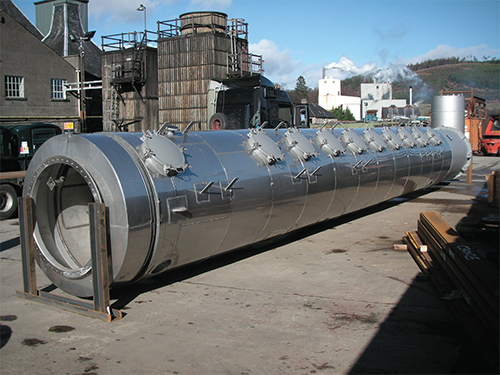 "The company is also a specialist in exotic metals like duplex and super duplex. The industry is using more and more of these materials as they are very resistant to saline water and it makes sense for Forsyths to be heavily involved in the manufacture of its products in these metals, alongside more traditional elements like titanium, copper and stainless steel."
The moves made by oil and gas companies into increasingly deep waters have brought about an expansion of Forsyths' flexi-pipe and umbilical reel business. These reels that the company fabricates can measure up to 11 metres in diameter and are specialised for deep-sea water use.
2009 saw the undertaking of Forsyths' biggest project to date with the fabrication and assembly of a MEG re-generation skid unit that was put together at its own quayside facility: "This was the biggest and heaviest unit Forsyths had ever made, weighing 320 tonnes. Shipped to Statoil in Norway on time, it is now successfully operating off the Norwegian coast and Forsyths has received a number of accolades from Statoil, which were extremely pleased with our performance on this project. Needless to say this job took the company to a whole new level," Richard enthuses.
While the company has yet to take on a project of such a size in the two years since, the units it has completed in that time have come in a variety of weights from 50 to 150 tonnes.
"In terms of the market conditions in recent years Forsyths, like most of our competitors, saw a drop off in business towards the end of 2009, going into 2010. However after an initial slow start to that year, things began picking up and since the middle of 2010 business has been very brisk," Richard explains. "Conditions now in the fabrication industry are possibly some of the best the company has ever seen. This has made the business very buoyant and means the company will certainly exceed last year's turnover.
"With the right investment the foreseeable future looks very positive for the company," concludes Richard. "The price of oil will play a big factor, as when it is high companies tend to forge ahead with their projects. If this remains the case Forsyths will continue to heavily reinvest in its buildings, plant equipment and its people, making the future look very bright for it as a company."
Forsyths
Products: Design and manufacture steelwork, piping, pressure vessels and tanks